Western Digital WD TV Live HD Media Player Review
By Rachel Cericola
Edited by Chris Boylan
Little Media Player, Big Possibilties
Not too long ago, Western Digital put out the WD TV, a nice little device that delivered PC content on the TV screen. Unfortunately, that box had no networking features, so it needed to be paired with a portable hard drive. Who needs a middleman? Not the WD TV Live, the company's latest HD Media Player.

The WD TV Live player looks very similar to its predecessor. It's a little less shiny, but it's still very compact (3.94 x 4.94 x 1.57 inches), making it easy to squeeze into your already overcrowded A/V cabinet. 

The Setup
Like the WD TV, the WD TV Live has an insanely easy setup process. Inside the box, there's the media player, a remote control, the AC adapter, and the typical user guides. We like to keep things simple, so we hooked the unit up with an HDMI cable. Once again, Western Digital did not include an HDMI cable, but the box does have composite and component cables, if you're itching to stream right out of the box.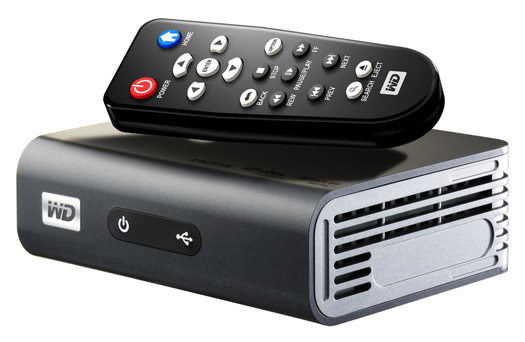 Lacking built-in WiFi, the player needs to be hard-wired in order to get network access, which is sort of a bummer. The unit does offer wireless support, if an optional wireless adapter is connected to one of the unit's USB ports. Maybe built-in Wi-Fi support will come in the
next
WD TV unit. Still, all we had to do was hook up our HDMI and Ethernet cables, plug in the AC adapter, and we instantly had a menu to choose from.
That main menu offers Video, Photo, Music and Settings options. Can it get any easier than that?
So Many Choices, So Little Time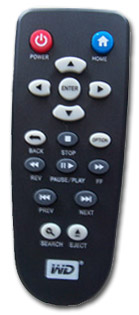 Under Video, there are options for Media Servers, Network Shares and YouTube. If you have a portable hard drive, that can also be added into the mix, via one of the unit's two USB ports. Viewing video from your personal collection is both easy and convenient. First, make sure that the files you want to view on your main computer have been set up for sharing. Next, type your computer's user name and password into the WD TV Live's on-screen interface. Moving around the screen with the tiny remote is tedious, but you only have to do it once, if you're willing to save the account information to the unit.
Once the unit was set up for sharing, we were able to tap into some of the video on our home PC. The WD TV Live was able to deliver a nice big picture for all of our videos -- even the ones that we can't seem to blow up on our PC screen. The unit supports almost every format you can imagine (see the list below), promising 1080p playback. Our home videos and some of the other little snippets we had collected on our desktop looked a lot cooler on the big screen in the living room. What doesn't?
Well, YouTube, for the most part. YouTube is kind of a weird addition. It was extremely fun to watch our uploaded videos on the larger screen. In fact, the WD TV Live streamed the best images we've ever seen from our personal collection. The navigation within YouTube, however, leaves a bit to be desired. There is no search offering, which means you either watch your own videos or choose from Recent, Most Popular or Most Viewed. That random content, coupled with short descriptions, means you're sometimes playing YouTube Russian roulette. However, if the video says something like "pole dance ruins wedding," you probably know what you're getting into.
YouTube is a neat feature, but also shows that the WD TV Live has left out a lot of video possibilities, most notably Netflix and Hulu. With boxes like Roku running under the $100 mark, Western Digital should think about upgrading its device pretty quickly. The system does offer upgrades, which involve one button and about 3 minutes of wait time.
The box taps into personal audio the same way, but also offers selections from both Pandora and Live365. Since we were already setup to share video, audio was a no-brainer. Sadly, it can't tap into iTunes, Rhapsody or any other protected content. However, we loaded several CDs via Windows Media Player, and had them instantly available for playback. The playback was seamless and sounded good, too.
For Pandora use, you'll need an online account, which is free. As with YouTube, you can't do much in the way of customization or set-up. You'll need to go to the website to set up your Pandora stations. On the WD TV Live, you can access the stations you've created or go for the QuickMix. There are also options to add more than one Pandora account on the box.
Live365 users are treated to five free days of VIP service upon firing up the system. From there, you'll have to pay $7.95 per month for commercial-free service. The on-screen interface allows for access to Presets, Free Stations, VIP Stations, and even offers Recommendations. Like YouTube, Live365 can be a bit frustrating on the WD box. Users can't search for stations or genres on the big screen. Sometimes stations offer a decent description, but more often it's very vague and you only really know what you're getting after you select one.
Also, you will be subjected to the station's sound quality, which varies from station to station, but is typically kind of crappy. We had a '70s station playing the Jackson 5, and it may as well have been playing from four houses away on a transistor radio. Same deal with Gamers Radio. Apparently gamers like metal that sounds like it's playing inside a high school gym around the block from your house.  In contrast, Pandora sounded awesome. Every song had a consistent sound -- consistently good. Set up your favorite stations on the site and you should have enough music on Pandora that Live365 won't be necessary.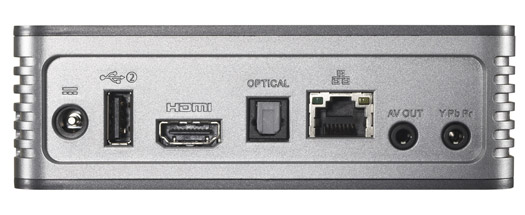 Last, but not least, the WD TV Live can stream photos. Just like audio and video, you can access pics from external devices or ones that are linked to your network. As long as the folder on your computer shares with others, you can use your TV as a giant, awesome picture frame.
In case you are bored with looking at your own family, there's always Flickr. Unlike the A/V, Flickr allows you to search by keyword or member name. It also allows you to browse through the most recent uploads or a section titled "Last 7 days interesting." Image quality was excellent; it was like watching a manufacturer demo. Free artwork is nice, but why would you want to browse a stranger's pictures on a big screen? We like to leave that kind of prying to the privacy of our small computer screen. However, it could be a very cool party backdrop.
Spreading the Wealth
The WD TV Live doesn't just share; it also allows users to transfer, move or delete files. This is a neat little feature if you want to transfer files on your desktop to a USB drive or just need to clean house while lounging on the couch. To access this option, go to Settings in the main menu. From there, all of the excitement is under File Management. It did take about 2 minutes for the unit to find our computer, which seemed odd since we were streaming music off it. However, once we were in sync, we could copy and move files using a few simple on-screen comments.

Turn Ons
Incredibly Easy Setup
Compact enough to fit into any A/V rig
Up to 1080p output
Excellent sound quality
Copy, move or delete files from the couch
Turn Offs
No Wi-Fi out of the box
No HDMI cable included
A lot of missed opportunity with services
No search features for audio/video services
Final Thoughts
Chances are, one of your many devices already streams YouTube, photos, music or other media from your network or from the internet at large. If not, the WD TV live could be a fun little gadget. However, for $149, we'd like to see it add Netflix or other streaming media into its mix. We certainly like the direction that Western Digital is headed in with this device. Just let us know when they reach the final destination.
Where to Buy:
Media Supported
Video - AVI (Xvid, AVC, MPEG1/2/4), MPG/MPEG, VOB, MKV (h.264, x.264, AVC, MPEG1/2/4, VC-1), TS/TP/M2T (MPEG1/2/4, AVC, VC-1), MP4/MOV (MPEG4, h.264), M2TS, WMV
Photo - JPEG, GIF, TIF/TIFF, BMP, PNG
Audio - MP3, WAV/PCM/LPCM, WMA, AAC, FLAC, MKA, AIF/AIFF, OGG, Dolby Digital, DTS
Playlist - PLS, M3U, WPL
Subtitle - SRT, ASS, SSA, SUB, SMI
Specifications
Interface: Ethernet, HDMI, Composite A/V, Component video, USB 2.0
Dimensions: 1.57 x 3.94 x 4.94 inches
Weight: 0.67 pounds
What's in the Box?
HD Media Player
Remote with batteries
Composite AV cable
Component cable
AC adapter
Quick install guide
Manufacturer's Contact Information:
Western Digital
20511 Lake Forest Drive
Lake Forest, CA 92630-7741
(800) 275-4932
Web site: www.wdc.com