Wanted on Blu-ray Disc Review
By Chris Chiarella
The Film
Based upon the Top Cow comic book written by Mark Millar and drawn by J.G. Jones, Wanted is an in-your-face action-for-action's-sake popcorn flick. As directed by Timur Bekmambetov, it is at times very clever in small ways and offers physics-defying tricks which we didn't even see in The Matrix.
This story--about a downtrodden drone (James McAvoy) who is suddenly drafted into an elite band of über-assassins, including one who looks just like Angelina Jolie!--supposedly takes place in the real world, and so Bekmambetov seeks to blow our minds when the action is frequently pushed beyond even what we might have seen in an old-school James Bond picture. Much of it is familiar, however, from the archetypal unlikely, reluctant "hero" to variations on "bullet time" slow motion photography to certain themes best left unmentioned here, lest I spoil one of the movie's central surprises. But for sheer "thrill ride" entertainment, Wanted is hard to match.
Check out Joe Lozito's take on Wanted here.
The Picture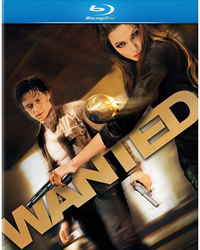 There's almost a sort of contradiction within the video quality here, as many scenes show excellent clarity--actors' faces in close-up, the texture of cloth--while many others just lie there without distinction. I noted a frequent twitchiness in the shadows and in the out-of-focus areas of the 2.35:1 frame throughout the movie, and specifically a long, predominately smoky shot late in the film is distractingly digital in appearance. Certain scenes are given a weird pulsing ripple effect, which work swell and reproduces enjoyably in high-definition.
The Sound
The DTS-HD Master Audio 5.1 soundtrack is exquisite in its subtlety at times, with individual musical instruments discernible in the rears. The resonance of a voice, the buzz of a fly, the pop and ping of a bullet shell hitting the floor, or the presence of cars driving by all help to ground this over-the-top adventure. But of course it is the overblown action sequences where the audio really shines, with many chases/shootouts/etc. where the soundfield becomes very busy and very loud, with active use of every speaker and unabashed exploitation of the subwoofer for added oomph.
The Extras
Wanted serves up a slew of bonus clips and featurettes in high-definition. In addition to a Blu-ray-exclusive alternate opening, and what looks to be a pretty expensive-looking one at that, there are assorted vignettes exploring the stunts, special effects, the adaptation of the comic book, up close with director Bekmambetov, and a look at the tie-in videogame with a cheat code thrown in. There's also an extended scene in standard-def. Universal went all next-gen with some additional features, too. "Wanted: Motion Comics" presents the original graphic novel as a multimedia experience on the TV, with accompanying audio; "Scene Explorer" supplies production insights, at times with multiple windows; "Assassin Profiles" are accessible during key scenes with GPS locator and weapon analysis; and picture-in-picture commentary pulls the curtain back even further, all of these available during the movie, although not all at the same time.
Some nice little touches are delivered here, like the ability to set the P-I-P volume low, medium or high, plus a motion screensaver with the Universal logo, when the player is left idle. The second disc here is a DVD containing a Digital Copy of the movie for PC and iPod.
Final Thoughts
Mark Millar is one of the best comic book scribes working today, so I was expecting a bit more originality from the big-screen Wanted, and the video left something to be desired as well. But a top-notch cast and hefty Blu-ray extras make this one worth at least a rental.
Where to Buy:
Product Details:
Actors: James McAvoy, Morgan Freeman, Angelina Jolie, Terence Stamp, Thomas Kretschmann, Common, Marc Warren, David O'Hara, Dato Bakhtadze, Konstantin Khabensky
Director: Timur Bekmambetov
Audio Format/Languages: DTS-HD Master Audio 5.1 (English), DTS 5.1 (French, Spanish)
Subtitles: English SDH, Spanish, French
Aspect Ratio: 2.35:1
Number of discs: 2
Rating: R
Studio: Universal Studios
Release Date: December 2, 2008
Run Time: 110 minutes
List Price: $39.98
Extras:

Picture-in-Picture Commentary
Wanted: Motion Comics
Scene Explorer
Assassin Profiles
Alternate Opening
Extended Scene
"Stunts on the L Train"
"Special Effects: The Art of the Impossible"
Groundbreaking Visual Effects: From Imagination to Execution"
"The Origins of Wanted: Brigning the Graphic Novel to Life"
Through the Eyes of Visionary Director Timur Bekmambetov"
"The Making ofl Wanted: The Game"
"Cast and Characters"