VIZIO SV471XVT 47-Inch 1080p LCD HDTV Review
By Greg Robinson
Edited by Chris Boylan
Vizio's XVT: X-treme Value Television
During the recent Labor Day weekend, many retailers were advertising delicious deals and fantastic financing offers on HDTVs. Some of the sales were so appetizing, so hard to pass up, that they managed to get my good, fence-sitting friend to finally hop down from his lofty vantage point and accompany me to the store. With hopes of finding a new flat panel for his living room, we headed on down to the bright lights of the big city. Interestingly, although countless press releases and HDTV-related emails pass through my inbox on a daily basis, it had been quite some time since I last walked The Wall of Televisions and confronted the truly dizzying array of flat panel choices facing today's TV shopper. Where does one begin?
Size is usually a good place to start. 42 inches has become a popular option, but in many rooms it can seem a tad small and commonplace. My friend's better half had already informed him that 50 inches was NOT allowed - that's just way too big, apparently. Consequently, we landed on the 46/47-inch size range - not too big, not too small. Next came the inevitable LCD versus plasma debate.
On account of its superior performance during daytime viewing and its (typically) lower rate of power consumption, we decided to focus on LCD flat panels as opposed to plasma. There are also considerably more LCD models to choose from. Plasma, despite its superior picture quality in a darkened theater, seems to be losing its allure among TV makers.
The final decision had to do with options. The only "Must Haves" in my book were a healthy array of HDMI inputs and picture calibration flexibility. 120Hz or 240Hz processing was not high on the list, but more on that later. Although the LED backlighting available on select LCD models can sometimes deliver deeper blacks - and in turn a more attractive picture - its novelty will still add several hundred dollars to your bottom line. So, to recap, my friend and I were on the prowl for a high value LCD flat panel in the 46/47-inch size category. The store we were at didn't carry VIZIO brand displays, but if they had, I have no doubt that the SV471XVT would have made the short list of final contenders.

Like its predecessor/sibling, the SV470XVT, Vizio's SV471XVT continues the manufacturer's tradition of delivering solid-performing, well-equipped displays at an affordable price. The 471 offers a handful of improvements over the 470, chief among them a brighter panel, (arguably) improved motion processing and a USB port for photo and video playback.

First Impressions
Upon plugging in and powering up the SV471XVT, I immediately formed two first impressions. One was good, the other not so much. The latter came from the large "VIZIO" light which sits front and center below the screen. The prominent logo glows orange when the TV is in standby mode and white when the set is powered on. For the same reason I always insist car dealers leave their name badges and license plate frames off my new car, I would prefer not to see a constant, glowing reminder of who made my television. I hoped to find a menu setting which would disable this power status indicator, but no such luck. This minor irritant certainly wouldn't stop me from buying the SV471XVT, but it does blemish the face of an otherwise attractive television.

Once I unwrinkled my nose and stopped staring at the logo, a smile replaced my mild frown. The SV471XVT features an attractive and intuitive wizard which quickly guides you through the display's initial setup. Since I live in the rural backwoods of northeast Connecticut where over-the-air HDTV reception is sketchy at best (and because cable television operators are collectively The Devil), I'm a DISH Network satellite customer. So, although the SV471XVT offers built-in ATSC, NTSC and QAM tuners, I didn't have much use for them. This greatly reduced the time needed to pass though the setup wizard, but I do give VIZIO props for an elegant and well-executed welcome for new users.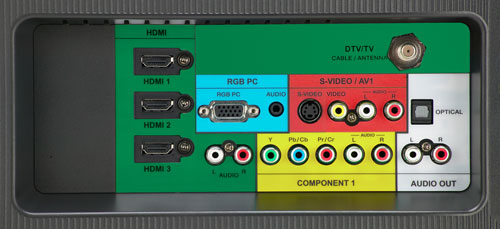 The Hook-Up
The SV471XVT comes well equipped to handle the bulk of your connectivity needs. On the rear jack pack you'll find three HDMI ports with a fourth conveniently located on the side panel. For analog HD connections, you get one component video input out back and another on the side panel. Composite and S-video ports are also available but if you know what's good for you you'll avoid using these at all costs. Flat panel HDTVs have a hard enough time with standard definition programming as it is. If you deliver it via composite or S-video, you're just asking for trouble. Rounding out the connections, you'll find a VGA/PC input on the back panel and a USB port on the side panel - a convenient location when connecting flash drives or an external hard drive.  I tried the former and browsed a few photos with relative ease. It should also be noted that the SV471XVT lacks internet connectivity, so you won't find an ethernet port or integrated wireless on this display.
Rather than hook up my full surround sound rig, I simply connected my DISH Network ViP722 satellite receiver and Philips BDP7200 Blu-ray Disc player using BetterCables HDMI and component video cables, respectively. While switching between inputs, I noted an interesting capability of the SV471XVT. Although many modern displays and projectors (including the SV471XVT) allow you to maintain different picture settings for each input, the SV471XVT also maintains independent volume controls, remembering the last volume used for each. This is helpful if one of your devices is frequently louder or softer than standard television, but it can also be frustrating when you're trying to keep quiet at night and you switch inputs only to find the volume much louder than it was a minute ago.
While we're on the subject of volume, I should mention that the SV471XVT's audio performance was above average for flat panel displays. Though I wouldn't trade it for my Noble Fidelity in-wall setup, the Vizio's SRS TruSurround HD option provided the most satisfying and immersive experience of the choices available. One other feature that' was fun to play with is SRS TruVolume, which attempts to reduce volume inconsistencies between regular programming and commercials, not to mention the sometimes vast volume differences that can exist between two different stations.  Although not a cure-all, it certainly did help minimize this irritating phenomenon on more than a few occasions.

Remote, Control

Ergonomics and User Interface (UI) can make or break long-term satisfaction with any piece of gear - especially your television. The SV471XVT gets fair marks in this department - but they could be better. The supplied remote is well-designed and the most commonly-used controls (Channel, Volume, Source) are all smartly placed on the bottom half of the remote for convenient thumb access. The cursor pad was my only major complaint; it felt rather chintzy and was somewhat temperamental when it came to registering clicks.
The SV471XVT's on-screen menu system was frustrating at first but soon became easy enough to live with.  I like to be able to see everything a menu contains without scrolling, but the Vizio engineers opted for a less-is-more approach. Consequently, the menu is rather small and its confusing text layout makes accessing sub-menus less than intuitive. (Do I click ENTER here or do I click left and right?) Once you get the hang of it, it's easy enough to live with, but there is definitely some room for improvement.
Picture Time!
Before breaking out the HQV test disc and a few Blu-rays, I first spent some time time performing a full picture calibration using Datacolor's SpyderTV PRO 2007 colorimeter and software. The SV471XVT offers a number of different Picture preset modes, though any of them can be adjusted to your preferred settings. I used "Movie" as my starting point to see how close to accurate this preset was.

Before making changes to the core settings, I identified the "Normal" color temperature preset as being the most accurate and closest to the D65 target (6500 Kelvin for the color white that is). I next disabled the SV471XVT's assortment of processing "features," namely Noise Reduction, Advanced Adaptive Luma, Color Enhancement and Backlight Control. (Though I will say this, I did find myself setting Noise Reduction to Low during some standard definition viewing. I generally leave it off at all times, but Low did make a worthwhile improvement at times.)

Using SpyderTV PRO, I gave minor boosts to Brightness and Color and made slight reductions to both Contrast and Tint. The SV471XVT's "Movie" preset tended to skew a bit heavy on the blue, so I also had to reign that in a bit to achieve optimum results. Overall, the SV471XVT did very well in the color temperature and color accuracy departments, so I was eager to see how it handled the HQV gauntlet and some regular programming.

The Good, the Bad and the Ugly
Let's take those in reverse order and start with the ugly. 120Hz and 240Hz "smooth motion" technology is all the rage in LCD flat panels right now, but I'm not among its fans. Attempting to reduce judder from film sources and make on-screen motion appear less blurry -- historically a problem for LCDs -- these "smoothing" algorithms have the nasty side effect of making 24fps film look like the evening news and just plain wrong. It's quite disconcerting for many viewers (including yours truly) and you really have to see it firsthand to fully appreciate its effect. The SV471XVT offers 120Hz processing combined with a scanning backlight to achieve what VIZIO calls "240 SPS" or 240 "Scenes Per Second."  Except for those times where I verified my continued dislike for this feature, I left the "Smooth Motion" setting in the OFF position.  Your tastes may vary, though, so experiment with this setting on your own.  

Using my Philips BDP7200 Blu-ray player connected via component video, I fired up the HQV Benchmark DVD and Blu-ray version using 480i and 1080i output, respectively. Although the SV471XVT passed the high def jaggies tests, the standard definition version presented some unsightly stair-stepping on the second and third moving bars within the circle. This means the set's diagonal filter algorithm is not ideal.  The flower and sailboat noise tests revealed a fair amount of video noise at times, but engaging the "Low" mode on the Vizio's Noise Reduction feature did help minimize the offense.
The SV471XVT also stumbled a bit during the Film Resolution Loss Test resulting in some often distracting flicker and moiré artifacts on the "Super Speedway" segment.  Eventually it locked onto the underlying 3:2 cadence and the moiré disappeared but it took longer than we've seen in other TVs and Blu-ray players.  This means the set has some difficulty recognizing and correcting for the inherent 3:2 cadence embedded in 24 frame/second sources (which includes most movies).

Processing issues aside, it's real world programming that matters most and for the most part, the SV471XVT was a pleasure to watch.  Although standard definition programming and regular DVDs looked less than fantastic on the SV471XVT, I have yet to encounter a flat panel display where those sources have looked much better. Like all flat panel HDTVs, the SV471XVT does its best work when fed a high resolution HD signal, preferably via HDMI. With the exception of blacks, which often looked more charcoal gray than black, the SV471XVT was an able performer.
Whether it was U.S. Open tennis on DISH's TennisHD network, or the Blu-ray edition of the film Drum Line (an exceptional-looking disc - thanks for the recommendation, boss) the SV471XVT put forth a bright, mostly uniform and accurately-colored picture. As a matter of fact, the 1080p/24 image on Drum Line looked staggeringly good at times and my only real complaint pertained to viewing angle; the SV471XVT's viewing angle is quite narrow and as such I wouldn't recommend sitting at the far end of the sectional sofa when watching this TV.


Turn-Ons:
Solid HD picture at an attractive price
Independent volume settings across all inputs
Good connectivity including four HDMI inputs and one for your computer
Turn-Offs:
"Smooth Motion" processing creates an unsettling picture
Blacks often appeared more charcoal gray than black
Irritating logo light front and center beneath the screen
Poor off-axis performance
Final Thoughts
Despite the hard time it had with a few of the HQV torture tests and its relatively narrow viewing angle, the SV471XVT is still a large and attractive display that's capable of delivering tremendous color and clarity with high definition programming. Feed it HD, sit in the middle of the room and you should be a happy camper. And with its list price of only $1,499 the SV471XVT does offer considerable bang for the buck and warrants your serious consideration.
Where to Buy:
Manufacturer's Specifications for Vizio SV471XVT LCD HDTV:
Video:
Panel Type: 47-inch class (46.96" actual) 16:9 widescreen, TFT active matrix LCD
Pixel/Dot Pitch: 0.5415mm (H) x 0.5415mm (V)
Display Compatibility: Full HDTV 1080p
Signal Compatibility: 480i, 480p, 720p, 1080i, 1080p
Native Panel Resolution: 1920 x 1080 pixels
Supported PC Resolutions: 1920x1080, 1360x768, 1024x768, 800x600, 640x480
Response Time: 4 ms (typical)
Colors: 1.06 Billion
Brightness: 500 cd/m2 (typical)
Contrast Ratio: 50,000:1 (w/DCR)
Refresh Rate: 240Hz (120Hz plus scanning backlight)
Viewable Angle: <178 degrees (horizontal and vertical)
3:2 or 2:2 Reverse Pull-down
Color Temperature: 6500K (standard), 5400K and 9300K
Color Fine Tuning: Independent Red, Green and Blue
Tuner: Integrated NTSC/ATSC/QAM HDTV Tuner
Audio:
Onboard Speakers: 15W x 2
SRS TruSurround HD
SRS TruVolume
Inputs:
HDMI with HDCP: 4
Analog Stereo Audio for HDMI Inputs: 1
Component (YPbPr) Video plus Analog Stereo: 2
Composite Video: 1
S-Video plus Stereo Audio: 1
Computer RGB plus Stereo Audio (mini-jack): 1
RF (F-connector for internal tuner): 1
USB: 1
Outputs:
Analog Stereo (RCA-type): 1
Digital Optical Audio: 1
Additional:
Picture-in-Picture (PIP)
Picture-outside-Picture (POP)
V-Chip
3D Comb Filter
Panel Lamp Life: 50,000 hours
Power Consumption: 176W average, 1.0W standby
Removable Base
Warranty: One Year Parts & Labor, Free Lifetime Technical Support, Free On-Site Repair
MSRP: $1,499.99
Weight and Dimensions:
Weight: 44.1 lbs
Weight with Stand: 49.3 lbs.
Weight with Packaging: 63.7 lbs.
Dimensions: 43.9" x 28.1" x 4" (WxHxD)
Dimensions with Stand: 43.9" x 29.7" x 10" (WxHxD)
Manufacturer's Contact Information:
VIZIO, Inc.
39 Tesla
Irvine, CA 92618
Phone: 949-428-2525
Toll Free: 888 VIZIO CE (888.849.4623)
Web: www.vizio.com