Vicky Cristina Barcelona on Blu-ray Disc Review
By Brandon A. DuHamel
The Film

One thing filmgoers can pretty much count on from any Woody Allen film is consistency and Vicky Cristina Barcelona is more evidence of that. Being neither revolutionary nor disappointing, Vicky Cristina is Woody Allen on cruise control, but even that surpasses many lesser filmmakers on their best days.

Woody Allen's Vicky Cristina Barcelona takes the picturesque cities of Barcelona and Oviedo in the summertime as its backdrop for a breezy and meandering yet sexy comedy drama that follows two friends with disparate personalities fresh out of college. Vicky (Rebecca Hall), the level-headed one engaged to be married in a couple of weeks, and Cristina (Scarlett Johansson), the flighty, rebellious artistic type, spend a summer together in Spain and both end up romantically entangled with a womanizing Spanish artist, Juan Antonio (Javier Bardem).
As if things were not complicated enough, Juan's mentally unstable ex-wife, Maria Elena (Penélope Cruz) comes back into the picture just as Juan and Cristina's relationship starts heating up. The three shack up together in a fiery love-triangle and their art begins to flourish. Meanwhile, Vicky, fresh from her own late-night encounter with Juan and now stuck with her fiancé who has come to Barcelona to stay with her, begins having second thoughts about her plans to marry.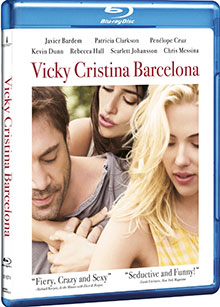 In typical Woody Allen fashion, Christopher Even Welch narrates the sordid series of events matter-of-factly, and Allen's writing and dialogue flow so naturally it's as if one is watching a slice of life. Cruz and Bardem absolutely steal the film portraying the self-destructive, love/hate relationship of tortured artists meant to be together, but absolutely dangerous for each other.
Although smartly written and easy to watch, the strongest aspect of Vicky Cristina is the beauty of the visual palette. Allen skillfully uses the film's color scheme -- warm flesh tones, yellows, and oranges -- to give the film an amber glow that evokes the feeling and warmth of Spain in summertime. In many ways, they even hint at the colors of the Spanish flag. It's heartening to see a veteran director still making quality films and making an honest effort at doing something true to his voice.

For different views on this film see our theatrical reviews of Vicky Cristina Barcelona by David Kempler and Joe Lozito.

The Picture

Vicky Cristina Barcelona's 1.85:1 framing arrives on Blu-ray disc in a fine VC-1 transfer at ~30Mbps. The film has a warm amber glow that captures the look of summertime in Barcelona -- the glowing sun, orange and yellows. The transfer captures that look and the film's fine grain structure without any hints of compression artifacts. Contrast levels are set without any blooming, but perhaps a little too dull. Although black levels are stable showing fine delineation in shadow detail, blacks aren't quite as deep as they could be.

The Sound

Vicky Cristina Barcelona comes with a simple English PCM 3.0 (48kHz/16-bit) soundtrack as its sole audio option. The dialogue driven film driven film is well recorded, with intelligible dialogue mixed into the center channel. The film's traditional Spanish guitar soundtrack occasionally comes to the fore with natural, woodsy sounding guitars that resonate realistically. The overall mix sounds a tad dry, but it works for the material at hand.

The Extras

There are no extras available on this release.

Final Thoughts

Vicky Cristina Barcelona is not the sort of comedy that's going to bowl you over with belly laughs. It's not knock you over the head humor, but it is thoughtful, sometimes insightful and skillfully written and directed, surpassing much of the drivel that gets released into theatres these days. This bare bones release on Blu-ray doesn't offer much in the way of added value, but this is a quality transfer with adequate sound that won't disappoint.

Product Details
Actors: Penelope Cruz, Javier Bardem, Scarlett Johannsson, Rebecca Hall
Director: Woody Allen
Audio/Languages: English PCM 3.0 (48kHz/16-bit)
Subtitles: English SDH, Spanish
Region: Region A
Number of discs: 1
Studio: Weinstein
Blu-ray Disc Release Date: January 13th, 2008
Run Time: 96 minutes
List Price: $34.99