VIZIO Takes Top Spot for 2010 LCD TV Sales
By Rachel Cericola
The VIZIO train just can't be stopped! Once again, the company has taken the top sales spot for LCD TV shipments, at least according to independent research firms, iSuppli, and DisplaySearch.
According to a new announcement, VIZIO shipped the most LCD HDTVs in North America in the fourth quarter of 2010. A Q1 2011 report by iSuppli Research has VIZIO accouting for 28 percent of the LCD HDTV market share. DisplaySearch also says that the company shipped more than 50 percent of the LED LCDs in Q4.
DisplaySearch says that VIZIO took the top spot in North America for the year, with Samsung, Funai, Sony and LG rounding out the top five. In the U.S., iSuppli says that VIZIO hangs onto the top spot, with Samsung, Sony, LG and Toshiba following behind.
"U.S. consumers are demanding full-featured LCD TVs at the lowest possible prices," said Riddhi Patel, director of television systems for IHS/iSuppli. "Television brands that successfully offer a combination of low pricing and advanced features, such as LED backlighting, Internet connectivity are gaining market share."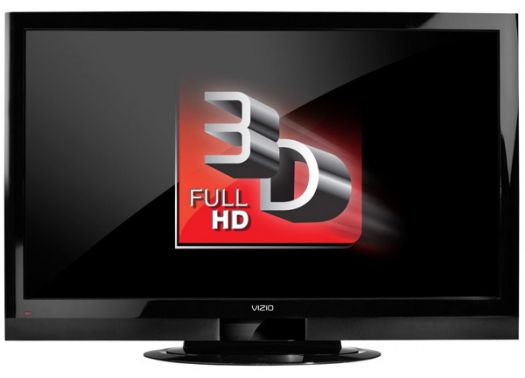 VIZIO contributes its 2010 success to the XVT LCD series, as well as TruLED and Razor LED products. In the summer, VIZIO announced a slew of new XVT (Xtreme VIZIO Technology) models, including the 55-inch XVT553SV, the 47-inch XVT473SV, and the 42-inch XVT423SV. All three include TruLED LED backlighting, boasting brighter images, better black levels, and better viewing angles. The 55- and 42-inchers have 120 zones of Smart Dimming, while the 47-inch XVT473SV has 160 zones. All of the sets also feature 240Hz SPS Smooth Motion technology, built-in dual-band Wi-Fi, and access to VIZIO Internet Apps.
At the end of the year, VIZIO unleashed even newer XVT TVs, adding in 3D features. All three feature a 1080p image, 480Hz SPS technology, and SRS TruSurround HD audio. The 47-inch XVT3D474SV and 55-inch XVT3D554SV have TruLED backlighting with Smart Dimming, while the 42-inch XVT3D424SV does the Smart Dimming, but with Razor LED backlighting. Like the non-3D models, these newer HDTVs include built-in dual-band 802.11n Wi-Fi and a Bluetooth remote with sliding QWERTY keypad.
XVT3D424SV 42-inch 1080p 480Hz 3D Razor LED LCD HDTV (MSRP: $1299.99) - Buy it on Amazon
XVT3D474SV 47-inch 1080p 480Hz 3D TruLED LCD HDTV (MSRP: $1699.99) - Buy it on Amazon
XVT3D554SV 55-inch 108p 480Hz 3D TruLED LCD HDTV (MSRP: $2199.99) - Buy it on Amazon
The company also saw significant increase in the "Beyond TV" category, which includes Blu-ray players and soundbars. VIZIO says that the soundbar category had an increase of 200 percent, with Blu-ray players up 163 percent during Q4 2010.
"Customers have embraced our higher performance product lineup and efficient retail partners in TVs and have now carried over their brand loyalty to our Beyond TV products, making VIZIO's Soundbars best sellers as well," said Randy Waynick, VIZIO's chief sales officer. "Stay tuned in 2011 as we extend our 'Entertainment Freedom for All' brand vision to Theater 3D HDTVs, tablets and smartphones."