VIZIO Begins Shipping XVT3D580CM CinemaWide 21:9 HDTV in US (Finally!)
By Enid Burns
Two and a half years after showing a prototype at CES, and another incarnation at last year's CEA Line Shows, VIZIO says it is now preparing to ship its first ultra widescreen HDTV, the 58-inch XVT3D580CM. VIZIO originally showed the set behind closed doors at CES in 2010 under product number XVTPRO580CD Cinema Display, which it promised to bring to market within a few months. It's finally ready for home theaters, and it's the first ultra-widescreen set to become available in the United States.
VIZIO is now producing its XVT Series Cinemawide LED Smart TV with Theater 3D for sale. The LED set features a 21:9 (technically 2.37:1) ultra-wide aspect ratio, a format made increasingly popular by Hollywood to differentiate the movie theater experience from what is now available as standard widescreen HDTV ratio (16:9).
In a way this sounds like a repeat of widescreen versus full-frame and technically it is. As a refresher, movies were originally presented in a 4:3 ratio (1.33:1) in theaters - the image is a little wider than it is tall.  Classics like "Casablanca" and "It's a Wonderful Life" were composed and shown at this aspect ratio.  This aspect ratio was chosen to replicate the stage of live theater. As TVs entered the home in the 1950s in what Hollywood saw as an alarming number, the movie industry adapted by presenting various attempts to make the picture wider and larger (and in their minds better). This led to a variety of formats, all of which were wider than the TV aspect ratio of 4:3.
Eventually with the onset of HD, TVs got the widescreen love with 16:9 (1.78:1). That has been great for TV shows but it meant that movies - the majority of which are increasingly presented in CinemaScope (2.35:1 or 2.4:1) still get the black bars at the top and bottom in order to fit that ultra wide image on a slightly less wide screen. And you thought we saw the last of "letterboxing."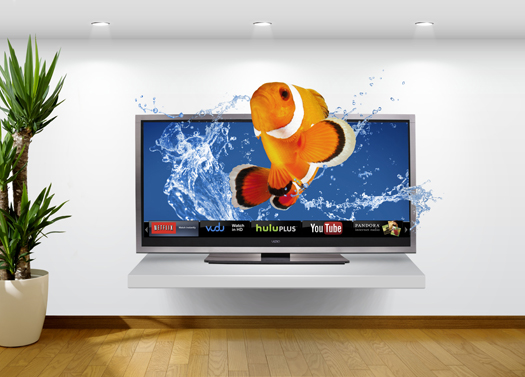 The Cinemawide VIZIO screen shows movies and other video at a 2.37:1 aspect ratio, which is a compromise between the two CinemaScope aspect ratios (2.35:1 and 2.4:1). To do so, the XVT3D580CM set presents the picture with a 2560 x 1080 pixel screen. Yes, this means it has more pixels than the highest resolution HD signal (1920x1080), but don't get too excited about that.  When viewing a Blu-ray or other source in 2.35:1, the TV blows up the image to fill the screen from edge to edge.  So it upconverts or "zooms in" the Blu-ray signal to fit the screen with no black bars on the top and bottom.  It means you do get a geometrically accurate image, without black bars, though there is some video processing involved to do so (scaling).
If you're watching traditional 16:9 content, you can either center it at its native resolution, zoom or stretch it to fit the screen, or position that 1080p image to one side while you load up VIZIO Internet Apps on the other side of the screen. For example, you might watch a football game and bring up Yahoo sports scores on the side to track the scores of other games. You can do this without losing any of your 1080p TV image, which is a nice feature.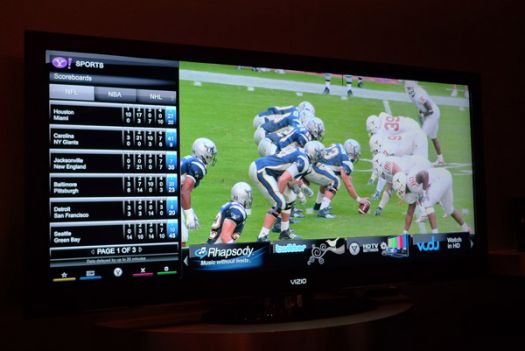 The Edge Lit Razor LED lighting technology features Smart Dimming, which selectively dims certain parts of the backlight based on content in order to enhance contrast and black levels. VIZIO also includes SRS StudioSound HD to boost the audio performance of the ultra-widescreen set.
VIZIO sees the elimination of the black bars for watching movies as a major benefit of the ultra-widescreen TV. "We're proud to be giving consumers the opportunity to view movies the way they were meant to be enjoyed," said Matt McRae, chief technology officer at VIZIO, in a statement.
In addition to being ultra-widescreen, the XVT Series Cinemawide HDTV sets offer 3D support. The sets provide flicker-free passive 3D that the company claims is "two-times brighter than conventional 3DTVs with a clear and crisp picture." VIZIO plans to sell each set with four pairs of lightweight, inexpensive and battery-free 3D glasses to enjoy Cinemawide 3D HDTV.
As part of the Smart TV component of the VIZIO XVT series, viewers will be able to access VIZIO Internet Apps including streaming movies, TV shows, songs and other entertainment programs on the big, wide screen of the Wi-Fi connected TV. Apps include sports channels that update scores, news headlines and Tweets. The ultra-widescreen XVT Series sets include a premium Bluetooth universal remote with a full keyboard to better interact with apps.
The VIZIO model XVT3D580CM 58-inch Cinemawide LED Smart TV with Theater 3D is available for $2799 (MSRP).  It is currently available online at the VIZIO store.  There is no word yet on any other dealers carrying or planning to carry the set.
This set could certainly be ideal for a dedicated home theater room, but anyone who hates the black bars on the side of the screen while watching old episodes of Cheers will have even more to hate. In other words, here we go again.
Where to Buy VIZIO TVs:
More Information: