Ultimate Ears TripleFi 10vi (Triple.fi 10 Pro) Noise Isolating Earphones Review
By Chris Boylan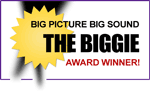 A pair of headphones that costs more than an iPhone?  Are you crazy?  Well, maybe, but not for this specific reason.  The Ultimate Ears TripleFi 10vi Noise Isolating Earphones with Microphone (and microphone-free Triple.fi 10 Pro) are designed to provide the ultimate listening experience -- portable or otherwise -- but it's in the portable environment where they really sing.  And that quality comes at a price.
Ultimate Ears, recently acquired by Logitech, claims over 70% of the live performance market.  In other words, when professional touring musicians need to hear the sounds of their fellow performers on stage, chances are they're sticking a pair of Ultimate Ears' custom earphones in their ears.  Ultimate Ears' cutom line ranges from $400 to about $1400 per pair.  With the same goals in mind - high performance reference-quality sound, superb comfort and sound isolation - Ultimate Ears consumer line brings a taste of the Ultimate home to consumers for a more affordable price.  The TripleFi 10 is the top of that consumer line.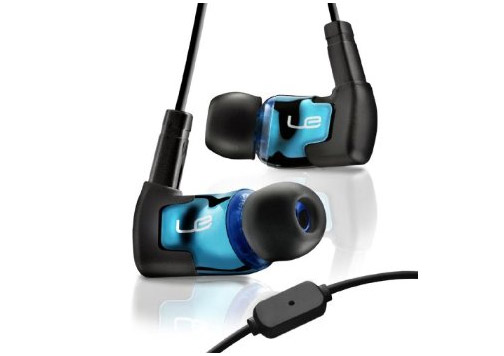 The Sounds of Silence
One of the tricky things about listening to music on the go is drowning out all the background noise that comes with travelling from place to place.  Whether it's the roar of a jet engine, the rumble of a subway or the chatter of fellow city dwellers, the background din can sometimes be overwhelming.  Of course, you can just crank up the volume to compensate, but then you risk long term hearing loss.
There are two approaches to reducing background noise: noise cancellation samples the external sound and cancels it using active electronic technology built into the headphones; noise isolation uses either ear cups that surround the ear or an in-ear-canal design that effectively works like wearing earplugs.  The Ultimate Ears 'phones use the noise isolation approach with an earplug-like design featuring three tiny high quality speaker drivers inside belting out sound.
With a passive in-ear canal design, you can get a hefty amount of noise reduction -- up to 26 decibels (dB) on the TripleFi 10 -- without the sonic artifacts that can occur with electronic noise cancellation.  Also, because the noise isolation is based on physical design, not on active electronics, you don't have to worry about batteries wearing out on the middle of a long airline flight.  And with that drastic reduction of external noise, you can keep the volume of your music or video content at a reasonable level while still hearing every last detail.
Here's a Tip for You
Not all ears and ear canals are the same size and shape.  With this in mind the TripleFi 10 earphones come with an assortment of tips designed for virtually any ear.  I found that the simple spherical tips that came attached to the earphones worked fine for me, creating a nice seal and blocking background noise a comfortable amount while still allowing me to hear subtle hints of what was going on around me.  It's important to get a nice tight seal as this allows the soundstage -- and more obviously the bass frequencies -- to really lock into place.  Try a few of the supplied tips and decide which is best for your ears in terms of comfort and audio performance.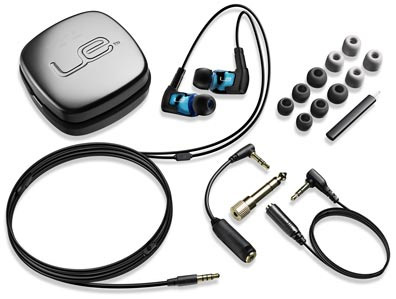 Please Step Away from the Microphone
The TripleFi 10 earphones are available in two flavors: with or without microphone.  The microphone version (TripleFi 10vi) features a built-in mic and push to talk button which allows you to take calls while listening to your iPhone or Blackberry.  It also works well with my Palm Pre Plus as well as other smart phones with a compatible 3.5mm tip-ring-ring-sleeve phone/mic jack. The microphone-free version (TripleFi 10 Pro) features identical drivers and styling, but lacks the integrated microphone.  The 10 Pro features a standard 3.5mm (1/8") headphone plug that will work with virtually any MP3 or media player on the market, iPod, iPhone or otherwise.  But even the microphone-enabled TripleFi 10vi version will work with a standard portable media player or laptop headphone jack due to its standard headphone plug.
Auditory Bliss
I've listened to a great deal of headphones in my time, and have 4 or 5 pairs in my active listening stable. But still I was amazed by the clarity and deep substantial bass frequencies that I found coming out of the TripleFi 10vi system.  Of course, the standard in-ear rules apply: if you don't get a solid, nearly airtight seal between plug and ear canal, then performance suffers significantly and you will only hear a fraction of the sound, losing just about all of the low bass.  But if you've got them in nice and snug, you're in for a sonic treat.
Bass drum has a hefty kick to it while cymbals and other high treble sounds take on a sparkling clarity without any abrasiveness or metallic harshness. Both male and female vocals are presented effortlessly without being boomy or raspy, except of course where it's supposed to sound raspy, as with Louis Armstrong or Melissa Etheridge.  The TripleFi earphones are more than capable of representing music and movies with a great deal of dynamics without strain or congestion.  Dialog in movies or TV shows come through articulately and clearly.
The secret to the Triple.Fi earphone's success, particularly in the low bass, is its multi-driver design.  Like a big three-way tower speaker in a hifi system, the Triple.Fi has three dedicated drivers: one for bass, one for midrange and one for treble.  And this allows the 'phones to effectively reproduce frequencies that span just about the upper and lower limits of human hearing.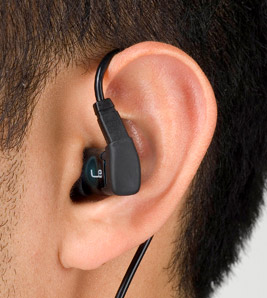 Ergonomically Correct
One of the tricky things about in-ear canal earphones is that, even if you get a good fit, and tight seal, it's relatively easy for the earphones to slip out of your ear, particularly if you like to be active while you listen.  The Ultimate Ears Triple.Fi 10 feature a cord that is stiff but flexible for the last 3 to 4 inches.  This allows you to bend it to fit around the top of your ears.  Positioned this way, the wires actually provide support for the earphones so they are not constantly being tugged or pulled down by gravity.  In fact, even fairly forceful tugs on the cord provided little discomfort and left the earphones firmly seated in place in my ears.
Look Ma, No Hands!
Performance of the attached hands-free microphone was about average - no better or worse in clarity than the Etymotic Research HF2 which I reviewed last year.  The microphone is integrated into the cord and fell just below my chin with no clip.  Holding the mic it up closer to my mouth, listeners told me the sound cleared up significantly but before trying that I did have to suffer through a grilled chicken salad for dinner one night when I had clearly told my wife I wanted the crispy chicken sandwich. The generic push-to-talk button worked well when taking incoming calls and can also be used to operate certain functions such as pause and skip on an iPhone, Palm Pre+ or other compatible smart phone.
A Word about Aural Hygiene
One thing I did notice with the Triple.Fi earphones, which is an issue for most in-ear canal models is that earwax can accumulate on the eartips.  This requires a type of maintenance that you might want to do in the privacy of your home or the backseat of a taxicab.  Otherwise your seat mate on the plane, train or subway might get a little grossed out.  Keeping your ears themselves clean is also a good idea but that goes without saying.
Accessorize Your Earphones
Logitech thoughtfully includes a few useful accessories in the box with the Triple.Fi 10 'phones.  A stylish square metal box with rounded edges and a rubber gasket separating the top and bottom provides a sturdy and fairly compact home for the earphones when not in use.  Also included is an airline adapter that can equalize the volume level of sound coming out of an airline's audio output, in case you want to watch the in-flight movie or listen to the funky tunes over the airplane's music channels.  A good selection of eartips is included, both foam and plastic, in order to ensure a comfortable and secure fit, and you also get a headphone extension cable and a 1/4-inch adapter for home use.
Turn Ons
Remarkably clean and details sound with substantial bass response
Excellent ergonomics and comfort
Solid consutrction holds up well on the road
Turn Offs
Final Thoughts
At a list price of $419 (with integrated microphone) or $399 (earphones only), the Ultimate Ears TripleFi 10vi and 10 Pro earphones are not going to appeal to everyone.  But with excellent performance, solid construction and a comfortable and thoughtful ergonomic design, it's hard to imagine a better gift for the aficionado of portable music and media, even if that person is you.
Where to Buy:
What's in the Box
1/4" adapter jack
Metal Carrying Case 3" by 2"
Cleaning Tool
26" Extender Cable
Sound Level Attenuator
Universal Fit Eartip Kit
Manufacturer's Specs
Earphones

Type: in-ear
Frequency response: 10Hz - 17kHz
Impedance: 32 Ohms, 1kHz
Sensitivity: 117 dB SPL/mW, 1kHz
Speaker type: 3 individual, proprietary, armature speakers
Weight: 0.73 ounces (20.6 grams)
Noise isolation: 26 dB

Microphone

Sensitivity: -40dBV / Pa at 1kH

Cable

Cable length: 46 inches (116.8 cm)
Input connector: 1/8 inch (3.5 mm), gold plated

Warranty: 1-year limited hardware warranty
MSRP: $399 (Triple.Fi 10 Pro); $419.99 (Triple.Fi 10vi)
Manufacturer's Contact Information:
Logitech, Inc.
6505 Kaiser Dr.
Fremont, CA 94555 USA
ph: +1 510-795-8500
On the web: www.logitech.com/en-us/speakers_audio/earphones