Logitech Ultimate Ears 700 Noise-Isolating Earphones Review
By Saul Slotnick
Edited by Chris Boylan
For Those About to Rock...Isolate You
Whether you're a self-appointed audiophile, or even just the average everyday music appreciator, you should consider yourself lucky. Why, you may ask? Well, right now there's no shortage of affordable, yet extremely high quality earphones to choose from, for your portable listening pleasure.  It's becoming easier to really experience your music the way the artists and producers intended you to. I'm here to tell you about one of these earphones that I feel stands out from the pack. Logitech's Ultimate Ears 700 Noise-Isolating Earphones provide a 3-D listening experience in a slick, compact design. And with a retail price of only $149, they won't break the bank either.
Ultimate Ears is by no mean a new-comer to the earphone world. Starting with custom fit in-ear monitors 15 years ago, UE claims over 70% of the live performance market. They are trusted by a who's-who of musicians around the world to deliver the highest quality of in-ear sound on stage. In 2005, UE took this success to the universal fit earphone market, and in 2008, the brand was acquired by Logitech, leveraging the larger companies economies of scale in manufacturing, distribution and marketing. The fruits of their labor are evident in every note you will hear - and you'll hear many more than you thought you would. Let's get on with the review, shall we?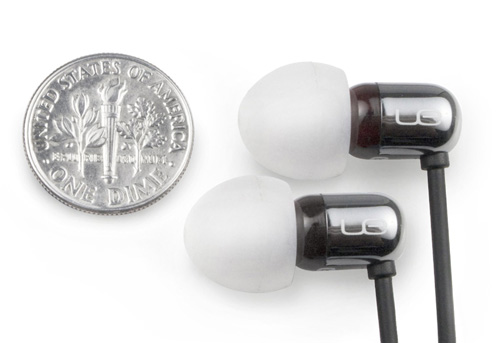 Set the Controls for the Heart of the Sound
Before we get into things such as comfort, design, and noise isolation, I'd like to talk about the factor that matters the most...the sound itself. As an iPod devouring society, we too often unknowingly sacrifice the quality of our music (and the health of our eardrums) for the apparent value of a super cheap pair of headphones.
The Ultimate Ears 700 Noise-Isolating Earphones provide a very clear, almost three-dimensional sound experience, made possible by two custom-tuned armature speakers in each ear. In actual listening, I find that the output is very balanced across the full sonic spectrum. The punchy bass, delivered by one of the armature speakers, is full and substantial, without being overpowering. The treble and mids, delivered by the other tiny speaker, are rich and detailed, without crossing over into sounding harsh or shrill. If you are looking for over-emphasized bass frequencies or excessive sizzle, or trying to recreate a dance floor sound, you may want to look elsewhere.  But for those seeking precision and musicality, whether it's for rock, pop, classical, jazz, country or any other genre, the UE 700 provides excellent sound.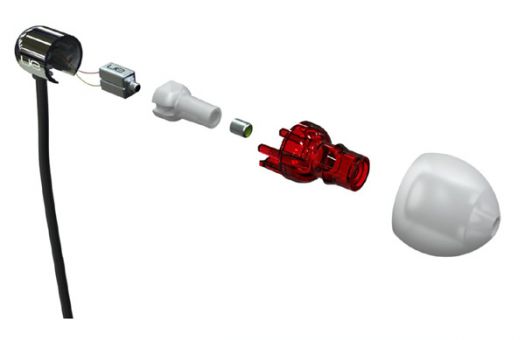 You know how old folks always say things like "they don't make them like they used to!" Well, when it comes to rock and roll records, they actually don't. This becomes more obvious with a pair of good earphones and a classic album such as Pink Floyd's "Dark Side of the Moon," or Led Zeppelin III. With standard earphones, or even low level 'upgrades,' a listener will miss out on so much of the recording genius that went into these albums. Without having to spend more on your headphones than you did on your iPod, the Ultimate Ears 700 Noise-Isolating Earphones give you as detailed a glimpse into the recording session as you are likely to get. I get excited about music very often, and these headphones allowed me to revisit, and be in awe of all over again, musicians and albums I first discovered in my teens.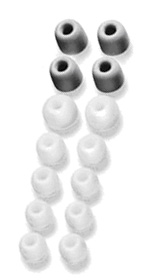 As with all noise-isolating earphones, a good fit is essential in getting a good sound, and I had no problem adjusting to these buds...
Fit It and Quit It
My last pair of noise isolating headphones were from Etymotic Research, and with those, in order for me to get a tight fit I had to put the earphones in my ear in such a manner that I needed to gently remove them, because the fit was almost too good. Any pull on the wire jolted my head in that direction, because they wouldn't easily pop out. While this provided stellar isolation, it was also troublesome for someone on the go as often as I am.
With the Ultimate Ears 700's it is a lot easier to get a good fit, ensuring proper noise isolation and the best possible sound, but eithout worrying about them getting stuck or being difficult to remove. The earphones come packaged with multiple tapered silicone ear cushions in XX-small, X-small, small, medium and large cushions, to make sure there is a size for everyone. They also come with two sets of Comply foam ear tips, however I found the foam ones to be a little too soft and they didn't provide the proper fit for me (YMMV, of course). The tapered silicone ear cushions are easy to clean, easy to insert, and just as important - easy to remove - but they wont fall out on their own.
Splendid Isolation
I live in Manhattan, so in other words, I am able to provide as good a review of noise-isolating headphones as anyone, short of someone working on an airport runway. Cab noises, subway trains, drunk people yelling at each other - I hear it all, and like they say, this city never sleeps. The noise isolation on the UE 700's is very good, however it is not absolute.
With the headphones in, but music off, I can still hear the noises around me, and make out what people are saying (although faintly). With my old Etymotics, I was able to isolate almost all outside noise, even with the music off. Once the music is on though, the Ultimate Ears do a great job at isolating the outside world, and allowing me to focus on my music at an appropriate volume. The more I think about it, I actually prefer the Ultimate Ears, because being able to hear a very little bit of outside noise when my music off is actually a little safer.  You never know when you might need to hear something like the sound of an oncoming bus or a crazy bike messenger.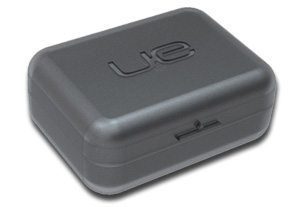 Carry On My Wayward Son
With any pair of quality earphones comes the responsibility of taking care of them. This is made a lot easier with the carrying case that comes with these earphones. The small plastic case is the perfect size; small enough to throw in a bag, pocket or purse, yet large enough to easily fit the earphones.
The earphones themselves are very light and compact. With each bud being the size of a fingernail, there are no obtrusive objects sticking out of your ear. The fact that they are so light also minimizes the drag on your ears as you are walking around or exercising. One downside that I find with all noise isolating earphones to a certain extent is that sometimes you can hear yourself walking. When standing still or sitting, this isn't an issue, but the micrphonic noise of the cable combined with the near-complete reduction in outside noise can cause you to be more aware of the sound of your own movement.  This can be minimized with a clip from the earphones wire on to your shirt, however this does not come standard with these earphones.
Turn Ons:
Fantastic sound quality
Affordable pricing
Lightweight
Good fit with silicone cushions
Turn Offs:
Wire movement is audible while listening
Less noise isolation than some competitive models

Final Thoughts
The Ultimate Ears 700 Noise-Isolating Earphones stand out over the competition in the overcrowded earphone market. With exceptional sound quality, light weight, numerous fit options, and a very reasonable retail price, they bring the sound quality that touring musicians around the world depend on, to the average music listener. If you are on the fence for a mid-range pair of noise isolating buds, look no further than these underpriced overachievers from Logitech/Ultimate Ears.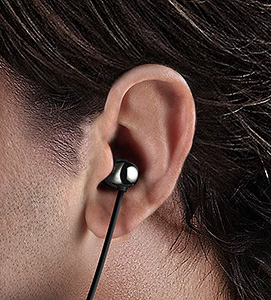 Where to Buy:
What's in the Box
Ultimate Ears 700 earphones
1/4" adapter jack
Pocket Ready Hard Case (3" by 2")
Cleaning Tool
26" Extender Cable
Airline attenuator for hearing protection
Five different-sized silicone ear cushions (XXS, XS, S, M, L) and two sets of ComplyTM Foam Tips.
Instruction manual
Manufacturer's Specs:
Earphone:

Type: In-ear
Frequency response: 20Hz-20 kHz
Impedance: 40 Ohms, 1 kHz
Sensitivity: 113 dB SPL/mW at 1kHz
Weight: 0.41 ounces (11.6 grams)
Noise isolation: 26 dB
MSRP: $149.99
Warranty: 2-year limited hardware warranty

Connection:

Cable length: 46 inches (116.8 cm)
Input connector: 1/8 inch (3.5 mm)
Manufacturer's Contact Information:
Logitech, Inc. 6505 Kaiser Dr. Fremont, CA 94555 USA
ph: +1 510-795-8500
On the web: ultimateears.com