The Site for Home Theater and Movie Reviews
URC Digital R50 Universal Remote Control Review
By Chris Boylan
URC Digital R50 Review
Remotely Interesting
With its bright colorful LCD screen on top, and logically laid out hard buttons below, the URC Digital R50 looks like it means business. But what sets this little guy apart from similar remotes from Logitech and others is that the R50 doesn't need an internet connection, nor even a computer, in order to get it configured - it comes with all the device codes you need built in (at least in theory).
I decided to run the R50 through its paces in my primary review system. With over a dozen devices, many of which are new models, I thought this would give the R50's built in code database a run for its money. The R50 can store up to 18 devices in its beefy on-board memory so it was certainly up to the task. And even in this challenging set-up, the remote did pretty well.
Unlike some of the more expensive Logitech remotes, the URC Digital R50 lacks a charging station and rechargeable batteries. But considering the problems Logitech has had with these charging base stations, I'm glad the URC remote works with standard AA batteries instead. Just buy yourself four (or eight) good hybrid rechargeable NiMH batteries and a good AA charger and you'll be in business.

I had resolved to not consult the owner's manual for this review, and I made it pretty far along without doing so. I almost got stuck when I took an extended break during the configuration. With several devices to add, it was unlikely that I would have an uninterrupted stretch of 30-45 minutes to configure the remote. When I returned to resume set-up, the set-up screen was gone, replaced by the main screen that an end-user would see after the remote is completely set up. But it took me less than a minute to try holding in that big fat "Main" button for a few seconds, and sure enough, this took me right back into the set-up screens.
Instead of asking you to enter the make and model number of your devices, the R50 asks only for the type of device (hint, Blu-ray players are in the "DVD" category) and the brand of the device, then it begins cycling through codes that it believes will be a best fit for each component. When you get to a code set that successfully turns off your device, you hit the "test" button to test a few more functions, then you can either save the code or keep moving on to one that might be a better fit.
The routine worked pretty well for most of my components, except for a Cables-To-Go (Impact Acoustics) HDMI switch which I could not find listed in any of the expected categories. Fortunately, the R50 also allows you to learn commands from an existing factory remote control if the R50's code database comes up empty. Teaching the R50 the power on/off and input buttons of this device should have been a simple affair, pressing the desired button on the R50 followed by the corresponding button on the original remote. But unfortunately, the first time through, only about half of the buttons were successfully learned. It took four attempts for the R50 to finally learn the "Power On" function from the switch's remote. But once that was done, the R50 could successfully control all operations of the HDMI switch.
On the devices that the R50 did find in its database, I found the button layout pretty intuitive, mapping to similar functions on the device without the need for additional customization. And the functions that had no corresponding hard button (like the ever-popular "DVR" button on a DISH Network DVR, which brings up the list of available DVR recordings) were right there on the color LCD screen at the top of the remote, again, without the need for any additional customization. Overall, in terms of device set-up from devices in its built-in code database, the R50 performed exceptionally well without having to get into too much customization.
Remotely Advanced
After adding the devices to the remote, I naturally wanted to program it to perform more complex tasks - to power up multiple components at once, as is often required in today's multi-component home theater systems. On the R50, these are called macros (common lingo in the industry, actually) and on the R50, macros are really simple to program in the Advanced Set-Up section. Simply assign a macro to a particular button on the remote (preferably one of the "soft" LCD buttons), then "record" a series of remote keystrokes, and the R50 will capture the sequence for later "playback." In other words, when you hit that button later, the R50 will repeat the series of button presses that you recorded in the macro in order to perform multiple commands.
For example, I set up a macro that selected the TV device, hit the power button and switched it to the HDMI1 input, selected the preamp/processor, powered that on and switched it to the "AUX1" input, and then selected a Panasonic Blu-ray Disc player and powered that on. This worked pretty well, except for the fact that the Pioneer PDP-5020FD TV that we had in for review takes a while to warm up before it will respond to any commands (like an input command). Eventually I figured out that hitting the "pause" key on the remote would add a half second delay into the macro, but that meant I had to program the macro all over again with the delays added (the R50 does not allow you to edit macros, at least not by any means that I found). Once correctly configured, however, the R50 was able to execute macros properly and did so reliably.
At first when I set up a macro, I assigned it to one of the main device buttons in the LCD color screen ("Blu-ray Player"). This worked as expected, however every time I switched to a different device then back to the Blu-ray player, it executed the macro again, wreaking havoc by turning devices off that were already on, etc. To solve this problem, the R50 offers a "press and hold" option which will only execute a macro if the button is held in for a period of time, rather than just pushed. To enable this function, simply press the pause button (there's that magic pause button again) a few times at the very beginning of a macro recording session. This way you have to hold in the device button for a couple of seconds to execute the macro but a simple quick button press will switch over control to that device without executing the macro.
A Real Multi-tasker
For those of us who are used to the Logitech/Harmony "activity" paradigm, it was a little difficult to get used to the simpler "macro" facility on the R50. One thing I like about the Harmony remotes is that when you create an activity that includes multiple devices (e.g., a TV, Satellite DVR and A/V receiver), the Harmony sets up intelligent defaults to map specific buttons to different devices, based on how you answer questions posed by the Harmony set-up wizard. For example, the volume up/down buttons automatically control the receiver, while the channel up/down and "guide" buttons operate the satellite DVR.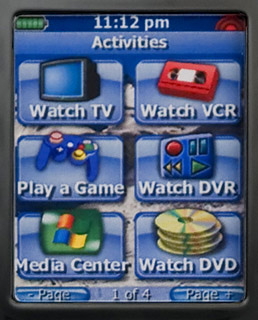 On the R50, since there are no multi-device "activities," only macros, you'll need to re-map buttons from one device to another device. The procedure to copy controls over from one device to another is called (appropriately enough) "cut and paste." After adding devices, you can go into the remote's Advanced Set-Up to specify controls that you want to copy from one device to another. This will allow you to change volume on the receiver while still changing channels on the TV, all without switching back and forth between devices on the remote.
The only problem here is that this will always remap the controls for that device. In other words, if you want to re-map the volume controls to work your AV receiver while watching movies, you can cut and paste the volume controls from your receiver to your TV. But if you also want to have the option of using the TV's volume controls when the receiver is off, then you're stuck. As a work-around, you can add the TV device to your remote twice (once for TV-only activities, and once for "home theater" activities), and you can include different button mappings for each device. A little different from the "activity" based approach, but it gets the job done. And the remote's 18-device capacity leaves it plenty of room for this kind of operation.
Turn Ons:
Bright colorful LCD screen and backlit buttons allow easy operation in a darkened room
Fairly intuitive button layout and ergonomic design allow for one-hand eyes-off operation
Turn Offs:
A little tricky to set it up to control multiple devices at once
Remote takes itself out of set-up mode (losing any pending settings for a device) after a brief idle time
Default illumination time of button backlight is too short
A bit pricy
Final Thoughts
For those who aren't comfortable or simply don't like the idea of using a computer to program their universal remote control, the URC's R50 provides a reasonable alternative to Logitech's Harmony series of universal remotes. The R50's comfortable ergonomics and bright color screen make it competitive with the higher priced Harmony remotes, and, while it may take a few extra steps, it can accomplish the same kind of intelligent and unified system control that you find on even the most expensive competitive remotes.
Where to Buy:
Specifications:
Size: 2.3" x 8.9" x 1.1" (W x H x D)
Weight: 0.55 lbs (w/ batteries)
Learning Capabilities: up to 1,500 Buttons - Standard frequencies (15kHz to 100kHz)
Macro Capabilities: 1,500 macro buttons (up to 255 steps each)
Memory: Non-Volatile Flash Memory: 32 MB
Range: Range: IR (infrared): 30 - 50 feet. Approximate range will vary depending upon operational and environmental conditions
Power Supply: AA x 4 (included)
Warranty: 1 year parts & labor when purchased from an authorized dealer
Controls up to 18 Devices
MSRP: $149.99
Manufacturer's Contact Information:
Universal Remote Control
500 Mamaroneck Ave.
Harrison, NY 10528

Toll Free: 1 (800) 901-0800
Main: (914) 835-4484
Fax: (914) 835-4532
On the Web: www.universalremote.com
What did you think?
The Scores for URC Digital R50 Universal Remote Control
| | |
| --- | --- |
| Overall | |
| Value | |
| Performance | |
| Features/Ergonomics | |
Explore Big Picture Big Sound