Trouble with the Curve Blu-ray Review
By Rachel Cericola
The Film
Trouble with the Curve is the first Clint Eastwood film since 2008's Gran Torino, and the first one where Eastwood hasn't pulled double-duty as actor/director since 1993's In the Line of Fire. It's not exactly a triumphant return.
Eastwood plays Gus, an old coot with an attitude and an eye for baseball. It's not a good eye, but it's an eye nonetheless. That's because Gus is getting on in years and he can't pick winners like he used to -- or at least that's what some of the hotshots in the front office seem to think. For plot reasons, boss and good friend Pete (John Goodman) calls in Gus' daughter Mickey (Amy Adams) to watch over the old guy. Of course, she has problems with her dad, her career and her own lovelife. Cue Justin Timberlake!
The film has a beloved baseball theme and an exceptional cast. However, the trouble with Trouble with the Curve is that it's insanely predicatable and boring. The real draw here is Eastwood and longtime collaborator/director Robert Lorenz should thank his lucky stars for that. Otherwise, it's hard to imagine why a cast of this caliber, which also includes Matthew Lillard and Robert Patrick, would bother with this film.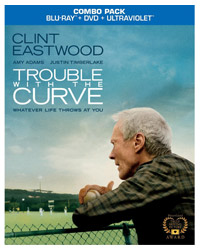 Think this review is a little bush leagure? Check out Lexi Feinberg's theatrical review of Trouble with the Curve.
The Picture
There's absolutely no trouble here; Trouble with the Curve has an all-star 2.40:1 image. It has a great, lifelike color palette and there are plenty of interesting textures in clothing, on the ball field, and certainly in Clint's weathered face.
The Sound
Even better is Trouble with the Curve's DTS-HD Master Audio track, which is pretty close to perfect. The crack of the bat, the cheers (and jeers) of the crowd, and the cloggin'; for such a boring movie, this is a pretty exciting, immersive track.
The Extras
It would have been nice to have Robert Lorenz and Clint Eastwood sit down for a commentary track. That's one of the many ommissions here. Instead, Warner Bros. opted for two incredibly short promo pieces. "Rising Through the Ranks" is 4.5 minutes of the cast and crew fawning over Lorenz and Eastwood. "For the Love of the Game" gives Amy Adams and Justin Timberlake a bit of the spotlight, with 6 minutes of interviews intertwined with clips from the film.
Final Thoughts
Trouble with the Curve has an excellent image, a great audio track and an all-star cast. So what's the trouble here? The story. It's slow, sappy and not really worth the talent that's wasted on this movie. Diehard baseball and Clint Eastwood fans have so many other excellent films to pick over this sap-fest.
Product Details
Actors: Clint Eastwood, Amy Adams, Justin Timberlake, John Goodman
Director: Robert Lorenz
Audio/Languages: DTS-HD Master Audio 5.1 (English), Dolby Digital 5.1 (French, Portuguese, Spanish)
Subtitles: English SDH, French, Portuguese, Spanish
Aspect Ratio: 2.40:1
Number of Discs: 2
Rating: PG-13
Studio: Warner Bros.
Blu-ray Disc Release Date: December 18, 2012
Run Time: 111 minutes
List Price: $35.99
Extras:

Behind the Scenes: Trouble with the Curve: Rising Through the Ranks
Behind the Scenes: Trouble with the Curve: For the Love of the Game
Standard-Def DVD
UltraViolet Digital Copy