Top Gun Blu-ray 3D Review
By Rachel Cericola
The Film
I have a confession to make. Going into this review, I had never seen Top Gun. It's a bit of a phenonmenon, actually. I grew up in the '80s, loving both '80s music and '80s movies. Looking at the top grossing movies from 1986, I've seen every single one of them -- except the top one, Top Gun.
Also, I've always considered the late Tony Scott's True Romance to be one of my favorite films. Familiar with the director, the actors, the story, and the songs, I wasn't exactly going in blind. After 27 years, it was time to enter the Danger Zone, with Top Gun 3D.
On the off chance there's others like me out there, Top Gun is the story of Pete "Maverick" Mitchell (Cruise), a hotshot pilot with a killer smile and awesome flying abilities. He's so good that he gets asked to attend an elite program, known as Top Gun. While there, he experiences a lot of ups, downs and even a few tailspins. That said, he finds a lot of solace by loving on an instructor known as Charlie (Kelly McGillis).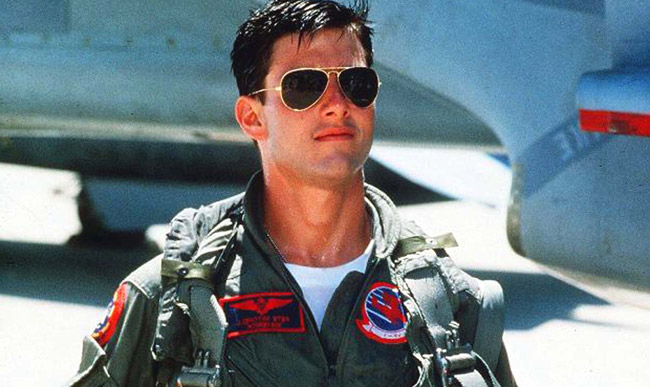 Top Gun has a lot of great talent, including Val Kilmer, Anthony Edwards, Meg Ryan, Tim Robbins, Tom Skerritt and Michael Ironside. It's also filled to the brim with cheesy dialogue backed by a cheesy soundtrack. It doesn't matter, though. The action scenes are great and it will always be known as the film that launched Tom Cruise (as well as thousands of Naval careers).
The Picture
Top Gun has been released on Blu-ray twice already. However, Paramount is trading in the Ray-Bans for 3D glasses with this release. Why? Well, that's unknown. It's not an anniversary release or anything. It will be far from the best 3D you've ever seen, given the dated look of the film. That said, it looks pretty darn good here -- and you can thank the late Tony Scott and Legend3D for that. Both worked on the conversion process and it's quite enjoyable, especially during the film's many aerial shots. It's didn't have the pop that I was expecting, but there's definitely depth going on here and the colors look great for a film this age.
The Sound
Can you truly appreciate the magic of Kenny Loggins without 6.1 sound? Thankfully, you don't have to answer that question. Paramount has given this release Dolby TrueHD 5.1 and DTS-HD Master Audio 6.1 tracks. Both have been picked up from the previous Blu-ray, but it's probably the best part about this release because it's so darn loud. Expect those jets to soar through those surrounds and that soundtrack to rock harder than a high-school dance. Overall, it's a fun, immersive track.
The Extras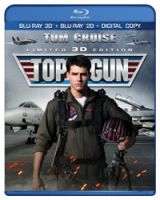 This is the third time that
Top Gun
has gotten a Blu-ray release. However, don't expect anything new here, beyond the 3D disc. Paramount has picked up all of the special features from the original version. That said, there's plenty of additional adrenaline in this section. The highlights include the late Tony Scott and just about everyone from behind the scenes sitting down for the commentary track, as well as the 2.5-hour (!), six-part making-of documentary. It would have been nice to have a cast reunion, given everyone's post-
Top Gun
existence. Honestly though, if you need more than what's presented here, you're in the Danger Zone when it comes to this movie.
Final Thoughts
I expected Top Gun to be a little cheesy and it absolutely delivered. That said, it's the ultimate '80s movie, which is fairly high praise in my book. It's unfortunate that the 3D is the only thing new about this release, which makes it a hard sell. Do you really need Top Gun to be in 3D? Probably not, but it's a nice little adrenaline rush. Enter the Danger Zone at your own risk.
Product Details
Actors: Tom Cruise, Kelly McGillis, Val Kilmer, Anthony Edwards, Tom Skerritt
Director: Tony Scott
Audio/Languages: Dolby TrueHD 5.1 (English), DTS-HD Master Audio 6.1 (English), Dolby Digital 5.1 (French, Spanish)
Subtitles: English, English SDH, French, Portuguese, Spanish
Aspect Ratio: 2.35:1
Number of Discs: 2
Rating: PG
Studio: Paramount
Blu-ray Disc Release Date: February 19, 2013
Run Time: 109 minutes
List Price: $39.99
Extras:

Commentary by Producer Jerry Bruckheimer, Director Tony Scott, Co-Screenwriter Jack Epps, Jr., Captain Mike Galpin, Technical Advisor Pete Pettigrew and Vice Admiral Mike McCabe

Danger Zone: The Making of Top Gun

Best of the Best: Inside the Real Top Gun

Vintage Gallery

Music Videos
TV Spots
Behind-the-Scenes Featurette
Survival Training Featurette
Tom Cruise Interviews