Tinker Tailor Soldier Spy (1979) Blu-ray Review
By Peter Suciu
The Film
Just when he thinks he's out, George Smiley (Alec Guinness) is pulled back in. In the original adaptation of Tinker Tailor Soldier Spy, the retired British intelligence officer is asked by the Prime Minister to help uncover which of the men in the top secret MI-6 community may in fact be a Russian spy. Smiley must do this, without access to his secret files in the "Circus," and without letting anyone know what he is doing. The result is an intriguing, and at times tense trip inside the world of spies, secret agents and loyal soldiers. There are no James Bond gizmos or gadgets, nor evil masterminds, but for Smiley, it is a do or die situation - and that makes this still one of the best spy thrillers yet.
The Picture
While the creators did not attempt to create a period look, this miniseries - which was filmed in 1979 - evokes true Cold War tension. The 1080i presentation, with a1.33:1 aspect ratio, lacks the pop and visual clarity of the recent theatrical remake, yet still retains a more authentic visual look. There is the expected grain and noise, but the producers have done a good job of remastering this one for a new generation of viewers.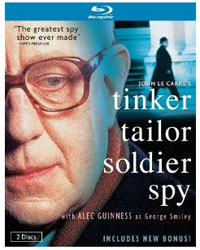 The Sound
Again this is not a James Bond thriller, and it is for the most part very dialogue heavy, so the Dolby Digital 2.0 soundtrack is more than sufficient. Dialogue is clear and easy to understand, but there is little in the way of ambient sounds, nor is this the most immersive of releases. The sound is adequate, and that's about the best we could hope for.
The Extras
Although not packed with extra features, someone apparently opened the secret file for Tinker Tailor Soldier Spy on Blu-ray. Bonus materials include an exclusive interview with director John Irvin, deleted scenes, an interview with author John le Carré, production notes, glossary of main characters and terms, and the author's biography. If there are any bonus materials missing, Smiley ain't talking.
Final Thoughts
Some stories cannot be rushed, and this slow burn inside the Circus flows nicely through six episodes on two discs. With a stellar cast, solid story, and enough extras to at least pique your curiosity, this Cold War package might just have you smiling.
Product Details
Actors: Alec Guinness, Ian Richardson, Michael Aldridge, Josh Ackland, Ian Bannen, Bernard Hepton, Terence Rigby, Michael Jayston, Hywel Bennett, and Anthony Bate.
Director: John Irvin
Audio Languages: English 2.0 Dolby Digital
Subtitles: English SDH
Aspect Ratio: 1.33:1
Number of Discs: 2
Rating: NR
Studio: Warner Brothers
Release Date: April 24, 2012
Run Time: 324 minutes
List Price: $59.99
Extras:

Exclusive interview with director John Irvin
Deleted scenes
John le Carré interview
Production notes
Glossary of main characters and terms
Le Carré biography and booklist