Tinker Bell: Secret of the Wings Blu-ray 3D Review
By Rachel Cericola
The Film
Tinker Bell is one of Disney's most iconic characters -- and one of the few of her stature (not literally) that has yet to achieve theatrical film success. Sure, she's part of the wildly successful Peter Pan and has popped up in a few other theatrical efforts. However, this pint-sized character has made quite a splash with her small-screen, direct-to-video efforts.
The fourth film in the franchise is Tinker Bell: Secret of the Wings. Mae Whitman (Arrested Development) continues to voice the title character, with a pretty stellar backup roster, especially for a direct-to-video title. That voice cast includes Anjelica Huston, Timothy Dalton, Lucy Liu and Raven-Symone.
In her latest adventure, our favorite fairy finds herself drawn to the Winter Woods, where Pixie Hollow fairies are strictly forbidden. Isn't that always the way? However, Tink seems pretty bent on crossing the border because it makes her wings all sparkly. Unfortunately, too much time in the Winter Woods can also make those same wings freeze up and even crack!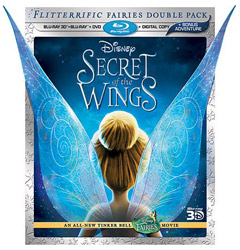 It could be worth the sacrifice, though. See, there's a fairy named Periwinkle (Lucy Hale) on the other side, and she and Tinker Bell seem to have a special bond -- because they're sisters, of course. And when the two get together, they laugh, fly and sparkle like never before.
With all of the giggling and girlieness, Tinker Bell: Secret of the Wings is going to be a tough sell for most little boys. However, girls and even some parents will enjoy this latest adventure and the many fairies sprinkled throughout. It has a sweet little message and just enough sparkle to keep its target audience riveted for just over an hour.

The Picture
At this point, it shouldn't be too surprising to hear that Disney delivers a stunning image on Blu-ray. Tinker Bell's 1.78:1 image is filled with pretty colors and sharp imagery. It's not exactly on par with any of the House of Mouse's theatrical efforts, but for a direct-to-video release, it's stellar. Greens are particularly gorgeous as are the film's many close-up shots. However, for a film about flying things, the 3D is just average. It does add a decent layer to the image, but there are no real pop-out effects. That would be fine, if there wasn't so much opportunity.
The Sound
Disney has included a nice DTS-HD Master Audio 5.1 track with this release. The dialogue is the star here, and is crystal clear throughout. There are plenty of sounds for your surrounds and the track does deliver some decent directional effects. However, for a movie with fairies flying everywhere, it could have been a bit more of an immersive experience.
The Extras
All of the special features are on the set's 2D disc and are really geared towards this film's target audience. Maybe that's why the selection is so slim. That said, there is some quality stuff here, most notably the "Pixie Hollow Games." This 22-minute short has some of the fairies competing in Olympic-style games, such as waterskiing, riding a bunch of mice, some type of frog races, and more. It's a shame that only a Dolby Digital 5.1 track is available for this one. However, girls will love this extra short nonetheless. Otherwise, there's a pair of music videos and a quick extra minute of animation labeled as "Fright Light."
Final Thoughts
If your little princess enjoys the animated adventures of Tinker Bell, she will be pretty pleased with Tinker Bell: Secret of the Wings. It's perky, pretty and pretty much in line with the other Tinker Bell releases. While the film's 3D doesn't pop enough, it does add a nice extra layer. And frankly, the film should have plenty of magic to keep its audience glued many times over.
Product Details
Voice Actors: Mae Whitman, Lucy Hale, Lucy Liu, Angela Bartys, Raven-Symone, Megan Hilty, Pamela Adlon, Jeff Bennett, Anjelica Huston, Timothy Dalton
Directors: Peggy Holmes, Bobs Gannaway
Audio/Languages: DTS-HD Master Audio 5.1 (English), Dolby Digital 5.1 (French, Spanish)
Subtitles: English, English SDH, French, Spanish
Aspect Ratio: 1.78:1
Number of Discs:3
Rating: G
Studio: Walt Disney Home Entertainment
Blu-ray Disc Release Date: October 23, 2012
Run Time: 75 minutes
List Price: $49.99
Extras:

2D Blu-ray
"Great Divide" Music Video Performed by McClain Sisters
Pixie Hollow Games
"Dig Down Deeper" Music Video Performed by Zendaya
Pixie Preview: "Fright Light"
Sneak Peeks
Standard-Def DVD
Digital Copy