The Final Countdown on Blu-ray Disc Review
By Chris Chiarella
The Film
A nuclear-powered aircraft carrier at the battle of Pearl Harbor? The Final Countdown hails from the Twilight Zone school of fantasy, where a lot of the possibilities are left to our own imaginations and not actually shown. But the premise of a mysterious time portal sending a modern warship back almost four decades--specifically to December 6, 1941--is certainly intriguing.
Filmed with the cooperation of the U.S. Navy, the film is often a love letter to the military, fighter pilots particularly, with an optimism obvious even in the musical score by Alan Howarth and John Scott. We're given plenty of procedural footage of sailors at work, lots of aircraft deployed in defense of freedom, and an underlying "What would you do?" morality play that takes on new meaning in a post-9/11 world. A little corny, largely upbeat, and with a few curveballs, it still entertains, 28 years later.
The Picture
The anamorphic photography, preserved here at 2.35:1, is characterized by subtle differences in focus, even within a static frame. It's a little off-putting frankly, but for better or worse, no detail appears lost from the original film element. The feel here is often documentary-like and the range of colors is somewhat limited, but what there is reproduces very accurately. Martin Sheen's civilian consultant character is one of the few not in a uniform and his pinstriped suit tends to alias. There's occasional film damage and evidence of film grain which varies quite a bit, with drastic shifts as we cut to and from stock footage.

The producers utilized real airplanes for the most part, and that absence of photographic effects helps to draw us in visually. Maurice Binder, the legendary title designer for the James Bond films, is credited with the special effects, fairly low-tech swirls of smoke and flashing lights for the time portal simply composited over shots of the U.S.S. Nimitz. It's a little cheesy, and I kept waiting for the silhouettes of naked women to drift by, but then again I also expect that every time I look out the window.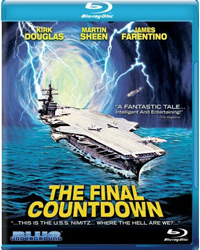 The Sound
Home video label Blue Underground has a reputation for ambitious modernizations of "genre" films and their first-ever Blu-ray is no exception. I can't recall the last disc I reviewed which packed both a DTS HD Master Audio 7.1 track and slightly lower bitrate Dolby TrueHD 7.1, those in addition to Dolby Digital EX 5.1. We're teased with the low voices of air traffic controllers against a black screen before the frequent parade of heavy metal begins, ample footage of F-14s and other then-state-of-the-art machinery. The rear channels are filled with the coming and going of aircraft, engines and rotors populating the soundstage. Camera flybys and flyovers offer a real sense of directionality, gunshots are sharp, and the weird sound effect which accompanies the time travel phenomenon borders on the painful, as it should.
The Extras
In "Lloyd Kaufman Goes Hollywood" (14 minutes, standard definition), the associate producer who would later make a name for himself with Troma Films (Toxic Avenger et. al.) offers up his uncensored insights not only into his own credentials but also how the movie got made. It's a one-on-one interview with a very colorful old-school filmmaker. "Starring The Jolly Rogers" (31 minutes, SD) reunites the elite unit of naval aviators who performed the flying in the movie. These are very cool dudes with some great stories, a must-watch for aviation buffs. Victor J. Kemper, ASC, the director of photography, also shares with viewers his particular challenges in a commentary track.
A D-BOX Motion Code file is included on the disc, for folks with interactive D-BOX gear in their home theaters. Missing from this Blu-ray are the still-frame photos/text and DVD-ROM content from the 2004 special edition DVD.
Final Thoughts
Delivering the real thing on a shoestring, The Final Countdown serves up high-flying, unassuming patriotism with a side-order of fantasy, a fan favorite that looks and sounds better than ever on Blue Underground's Blu(e)-ray.
Where to Buy:
Product Details:
Actors: Kirk Douglas, Martin Sheen, James Farentino, Katharine Ross, Ron O'Neal, Charles Durning, Soon-Teck Oh
Director: Don Taylor
Audio Format/Languages: DTS HD Master Audio 7.1 96/24 (English), Dolby TrueHD 7.1 (English), Dolby Digital EX 5.1 (English)
Subtitles: English SDH, French, Spanish
Aspect Ratio: 2.35:1
Number of discs: 1
Rating: PG
Studio: Blue Underground
Release Date: November 4, 2008
Run Time: 103 minutes
List Price: $34.95
Extras:

Commentary by director of photography Victor J. Kemper
"Lloyd Kaufman Goes Hollywood"
"Starring the Jolly Rogers"