ButtKicker Wireless Home Theater Kit with ButtKicker Advance, BKA300 Amp Review
By Chris Chiarella
ButtKicker Wireless Home Theater Kit Review
A Whole Lotta Shakin' Goin' On
When I first reviewed an earlier model of The ButtKicker shaker back in 2001, I had my misgivings. After many impressive demonstrations at consumer electronics trade shows, where there's always a line of thrill-seekers eager for a test drive, I finally had my chance to try it out in my own home theater, choosing my favorite showoff scenes.  Performance remained outstanding in that initial evaluation, but my main gripe was the installation, which was more complicated than a middling entertainment buff would likely want to undertake.
For those unfamiliar with the ButtKicker product line, it's a collection of devices designed to add synchronized, tactile vibrations to movies, music and games: anything with a low-frequency (low bass) component. In a nutshell, it detects low bass in the program material and translates this into furniture-shaking vibrations, adding a whole new dimension to your music listening and movie watching experience.  This is the same technology used in theme park attractions and elsewhere, only redesigned (and repriced) for our home enjoyment.
But at home, we'd rather not incur the cost of a carpenter or an exceptional amount of DIY construction skills just to get a taste of that butt-shaking goodness. The recommended installation of the earliest Buttkickers was be mounted in the ceiling joists of the room beneath the home theater, or we could build a wooden platform upon which the sofa and ButtKicker would sit and attach the Buttkicker to this. Failing that, we could attach the device directly to the sofa, but this was considered a compromise for that original hardware, and not particularly elegant. Even then, the audio signal had to be delivered from the receiver to a cumbersome supplemental power amplifier, which then connected to the shaker itself, a wiry proposition.
Simpler configurations have come from the shaky minds of The Guitammer Company in the years since, and their newest solution is one of their most attractive yet. The ButtKicker Wireless Home Theater Kit (which includes the Buttkicker Advance transducer and BKA300 Power Amplifier) is a complete package offering a quick and simple installation while maintaining the unique benefit of the original 'Kicker.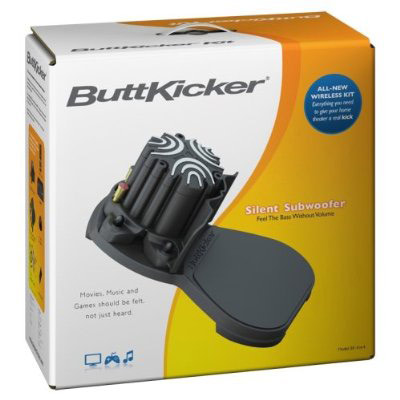 Butt What Is It?
The ButtKicker is a mover, a shaker, a transducer: Inside a hefty metal shell resides a powerful one-pound magnet, the movements of which are precisely controlled in response to the low-frequency audio data from just about any source. It works much the same way as a subwoofer, although instead of moving large quantities of air to provide profound booms, the ButtKicker brings its good vibrations directly to the furniture, providing tactile feedback to the viewer via, you know, the buttocks. It should be used in conjunction with the sub rather than in place of it. Then, if we want to do a little serious late-night viewing, there's the option of turning off the air-pumping (read: noise-making) sub and relying instead upon the ButtKicker for silent oomph.
Set-up involves a few different steps, none particularly arduous. First we assemble the shaker unit, screwing the ButtKicker Advance low frequency audio transducer onto the base plate. This new, wider plate is essential to Guitammer's user-friendlier approach, designed to slide easily under one leg of a sofa (up to a three-seater), loveseat or chair and optimally transfer the vibrations. The transducer is in turn is connected to the extremely compact amplifier via the bundled speaker cable.
The wireless transmitter pod needs to be plugged into the Subwoofer Preamplifier Output of the receiver, which will require the use of an RCA-type Y-cable/splitter to share the one port between the ButtKicker and sub. This is the preferred method, Y-cable included. For use with passive subwoofer systems, we'll need the more esoteric Speaker-Level-Interface-Adaptor-to-Subwoofer-Output dongle (also included: I told you this kit was "complete"!) To get the most out of the 300 watts at work, we should take the time to install the rubber isolators under the remaining feet of the furniture, so that more of the shaking grabs the couch and doesn't get lost on the floor. This is the part that will probably require a Butt Buddy, as it involves heavy lifting, literally.
The rear panel of the amp accepts a little USB plug-in module to receive the wireless LFE signals from the transmitter via radio frequency (RF), so that all this gear can be tucked out of sight. (I think it looks kind of cool, but there's the wife to consider.) A little blue light here and a red light on the transmitter pod indicate that it they are working properly, wirelessly, sharing data from across the home theater, between receiver and seating. Unlike some Wi-Fi devices I've worked with, this linkup was absolutely idiot-proof. And one of the best parts: If we've hooked it all up correctly, we'll know immediately.
Butt Now...
Yes, by God, the very seat beneath our bum is... alive, alive with pleasure. Overall, the greatest entertainment enhancement came on Blu-rays, which not only offer the highest-quality signal but tend to include the most ambitious audio mixes available. Action movies are a no-brainer for the ButtKicker, as we are now able to feel impacts, explosions or the rev of a car engine, making us a part of the scene more than any subwoofer alone ever could. The effect is entirely new to most people and so it will likely take a little getting used to. Similarly, we might want to adjust the intensity of the effect depending upon content, which can be done one of two ways: The simple master control (+/-) or one of the three EQ presets.
The frequency response in "Movie" mode is flat, with no filtering or cutoffs; "Music" adds a six-dB bump to those frequencies below 25 Hz, with a frequency roll-off of -12 dB per octave above 100 Hz; while "Game" reduces sub-25 Hz frequencies by six dB with the same roll-off. I personally didn't notice a huge difference between the modes, and was happy to keep it on Movie most of the time, with just the occasional adjustment down or up, from a subtle emphasis to a full-on thrill ride.
Listening to music with this added dimension is definitely a trip, although I would tend to crank it down a tad as it's harder to lose yourself in the tune-age amid disproportionate ass-thumping. Surprisingly, it works well even with lowly MP3s, although the effect is not as pronounced as on full-fledged music CDs. In turn, 5.1-channel music DVDs, DVD-Audio discs and Super Audio CDs provide even more powerful, precise feedback via the ButtKicker, not just jolts but sustained rumbles. It can also make videogames livelier in unexpected ways, as when I stumbled into some bonus points during Bejeweled 2 and the sofa itself expressed its congratulations. The unit is designed to accommodate up to three average adults, or just me after Thanksgiving dinner.

There's the further benefit of revealing--in undeniable terms--just how much or how little dedicated LFE a soundtrack actually has. I was watching a random DVR'd movie one afternoon, Smart People, and figured that despite its official Dolby Digital 5.1 status it simply didn't meet the requirements to reproduce well on The ButtKicker, until the bass from an incidental cue in the musical score would give me an unexpected shake, then just as quickly subside. My philosophy: If you're gonna put some low-end in your soundtrack, put in some low end, y'know?
Guitammer has a few more next-gen tricks up their collective sleeve, working with sports leagues and broadcasters to test a patent-pending TV technology called ButtKicker Live!, which will give home viewers not only the illusion of being at a sporting event but a taste of what it's like to get rocked by a linebacker, or slammed into the boards at a hockey game. The room-shaking immediacy of a concert could also be simulated in real time, for a whole new way to enjoy live music.
Turn-Ons
Makes good on its promise to bring genuine tactile involvement to movies
Absolutely everything included, with accessories to support different setups
Turn-Offs
An acquired taste that some might never get used to
No readout on the face of the unit
Final Thoughts
While not a home theater "necessity," neither is The ButtKicker a wild extravagance: For $400 (list) we can take our movies someplace they (and we) have never been before, while impressing our friends... and rivals, too!
Where to Buy:
Manufacturer's Specifications
Item name: ButtKicker Wireless Home Theater Kit
Item model number: BK-Kit-4
Shipping Weight: 15 pounds
Dimensions: 19.5 x 10.5 x 19.5 inches
Color: Black
Warranty: 1 Year, Limited
MSRP: $399.95
What's in the Box?
ButtKicker Advance transducer
BKA300-4 Power Amplifier
Chair/Couch Mounting Accessory Kit
Wireless Transmitter (with power adapter) & Receiver
ButtKicker Cable Kit
Manufacturer Contact Information:
The Guitammer Company
6117 Maxtown Road
Westerville OH 43082
phone: 614-898-9370
on the web: www.thebuttkicker.com