The Site for Home Theater and Movie Reviews
The Vampire Diaries: The Complete Third Season Blu-ray Review
By Rachel Cericola
The Film
Vampires continue to be interesting TV fodder, probably because they're so damn beautiful and have so much drama to give, with their lives being endless and all. Speaking of endless: The Vampire Diaries marches on, and continues to be a guilty pleasure -- like most of what's featured on The CW.
Before the show begins its fourth season next month, there's still time to catch up on The Vampire Diaries: The Complete Third Season. This installment gives you the opportunity to sink your teeth into topics such as the Original family and vampire/werewolf hybrid Klaus (Joseph Morgan), who's been bumped up to series regular.
The dramatic action picks up after Stefan (Paul Wesley) went over to the dark side -- as if being a vampire wasn't dark enough. Now, he's hanging around with Klaus, who's looking to make more hybrid creatures like himself. There are problems, though. There are always problems on this show. It wouldn't be The Vampire Diaries if the kids were just hanging around, drinking a little blood.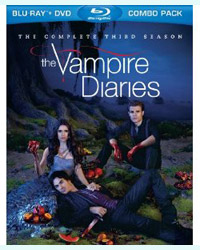 It's all a little hokey, as all seasons of this show has been. That said,
The Vampire Diaries: The Complete Third Season
is probably the best of the bunch, if you're into this sort of thing. It definitely packs in the most sex, violence and alcohol -- oh boy, these people love their alcohol. Hey, it's got to keep up with the
True Blood
s of the world, right?
The Picture
If you have any of the other Vampire Diaries seasons on Blu-ray, the 1.78:1 image on this set should be no surprise. It's a nice bump up from The CW's television broadcast. However, this is still a vampire show, so it has a pretty dark palette. Those darker scenes don't show off great detail, but the stubble, stylish clothes, and scenery are sharp enough. Colors are definitely the set's strong suit, especially in outdoor scenes. Fans of the show should be happy with what's presented here.
The Sound
The DTS-HD Master Audio 5.1 track is nice, with strong dialogue and a nice collection of atmospheric effects. The soundfield stays pretty busy throughout the season, with creatures whooshing around, various crowds congregating, and the show's super-sappy, dramatic soundtrack.
The Extras
All of this set's extras can be found on the fourth disc. Like the show, you probably shouldn't expect anything too deep. However, there are deleted scenes, a gag reel, a featurette about the entire family tree, and one that focuses specifically on Stefan. The gem of the lot, however, is "The Producer's Pages," which covers the show's score, the special effects, and other aspects of the production. It also highlights writers Kevin Williamson and Julie Plec.
Final Thoughts
If you're at the point where you're even contemplating The Vampire Diaries: The Complete Third Season as a worthy purchase, it's probably too late to turn back. The audio and video are on par with previous seasons and the extras are just enough to make sure this package doesn't completely suck. Enjoy.
Product Details
Actors: Nina Dobrev, Paul Wesley, Ian Somerhalder, Steven R. McQueen, Katerina Graham, Candice Accola, Zach Roerig, Michael Trevino, Matt Davis, Joseph Morgan
Directors: Lance Anderson, John Behring, Joshua Butler, John Dahl, Chris Grismer, Rob Hardy, Jeffrey Hunt, David Jackson, Wendey Stanzler, J. Miller Tobin, Pascal Verschooris
Audio/Languages: DTS-HD Master Audio 5.1 (English), Dolby Digital 2.0 (Portuguese)
Subtitles: English SDH, Finnish, French, Portuguese, Spanish, Swedish
Aspect Ratio: 1.78:1
Number of Discs:5
Rating:NR
Studio: Warner Bros.
Blu-ray Disc Release Date: September 11, 2012
Run Time: 927 minutes
List Price: $45.99
Extras:

Deleted Scenes
Stefan's Descent into Darkness
The Original Vampires: The Beginning
Second Bite
The Producer's Pages
Favorite Scenes
UltraViolet Digital Copy
What do you think?
| | |
| --- | --- |
| Overall | |
| Video | |
| Audio | |
| Movie | |
| Extras | |
Explore Big Picture Big Sound