The Theory of Everything Blu-ray Review
By Rachel Cericola
The Film
Astrophysicist Stephen Hawking is not an easy subject to tackle -- in books, movies, conversation or anywhere else. This genius, this man, his work and his disease are especially tough topics to put to film. However, The Theory of Everything does it quite nicely, which is probably why it's currently in the running for five Academy Awards, including Best Picture, Best Actor and Best Actress.
Just know that the film is more love story than biopic, chronicling the 30-year marriage of Stephen (Eddie Redmayne) and his wife, Jane (Felicity Jones). It shows the two meeting in college and before you know it, they've fallen in love. As the relationship progresses, Stephen's health begins to deteriorate, due to a slow-progressing form of ALS. On the surface, one would expect the movie to cover more about this debilitating disease. Instead, it's more about what Hawking did with it, including having a family and becoming one of the greatest minds we've ever seen.
While some may be disappointed that the film doesn't delve more into Hawking's disease or his work, there's no denying that The Theory of Everything is a good movie. As mentioned, Hawking's life is a complication one; it's hard to pack all of that into a mere two hours. Instead, the film hits the highlights, showing how one man (and woman) managed to overcome incredible odds. It's also a showpiece for great acting -- and great acting you shall receive. Jones is wonderful as Jane. She oozes love and pretty much every other emotion you can imagine. However, Redmayne is the real lure here. He transforms himself into Hawking in every stage of his life. From his awkward youth to his diagnosis to the point where he can no longer speak; he not only earned that nomination, but seems to be the one to beat on Oscar night.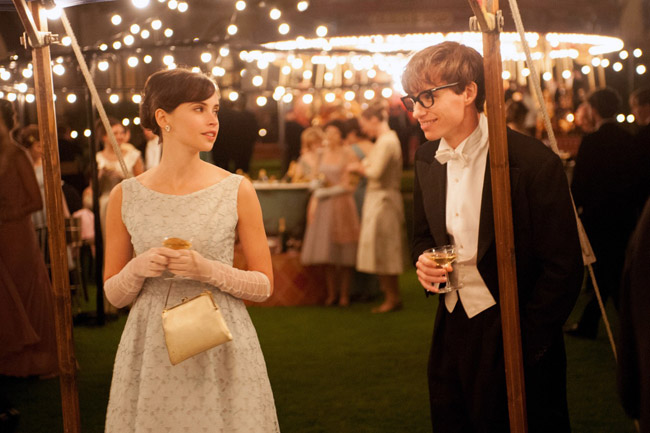 Want to find out more about this movie before Oscar night? Check out Lexi Feinberg's theatrical review of The Theory of Everything.
The Picture
The Theory of Everything is very soft in spots, which gives the image some style and actually conveys the time period very well. That's not my nice way of saying that this 2.40:1 image is bad, though. It's actually quite enjoyable and offers plenty of pop. There are scenes that tint a heavy blue or orange/red. Then other times, there are bursts of color, particularly in the lush outdoor scenery or those bold red theater seats. It's all intentional, but it's also not quite as sharp as you'd expect from a brand-new Oscar contender. That said, this film does have moments where the detail is quite impressive, most notably when close up on Eddie Redmayne's face, his blazer, his shaking hands, and even during his spinal tap.
The Sound
Universal has given The Theory of Everything a lone DTS-HD Master Audio 5.1 track. It's nothing spectacular, but it's perfect for this type of movie. Birds, the ocean, parties and other portions of the film do provide some great atmospheric sounds. The theater scene is especially powerful, due to the use of music and the rest of the film's soundtrack is subtle, but present in all of the speakers. However, this is really a dialogue-driven movie and this track delivers every word clearly.
The Extras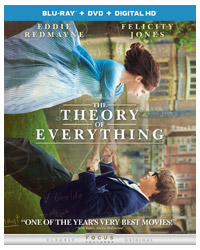 For such a fascinating topic, the extras for
The Theory of Everything
are a bit of a letdown. Director James Marsh does provide a comprehensive feature-lengthy commentary track. The Deleted Scenes section has eight different snippets, which clock in at under 11 minutes total. Otherwise, there's one 7-minute featurette. It does have a few good snippets though, most notably a few seconds with the real Stephen Hawking and Jane Wilde approving of the two leads.
Final Thoughts
Some may be put off by the love story aspects (and maybe even the lack of special features), but The Theory of Everything has everything you'd want in a Blu-ray purchase. An enjoyable AV experience and captivating, Oscar-caliber content make this one worth picking up the day it's released.
Product Details
Actors: Eddie Redmayne, Felicity Jones, Charlie Cox, Emily Watson, Simon McBurney, David Thewlis, Christian McKay
Director: James Marsh
Audio/Languages: DTS-HD Master Audio 5.1 (English)
Subtitles: English SDH, French, Spanish
Aspect Ratio: 2.40:1
Number of Discs: 2
Rating: PG-13
Studio: Universal
Blu-ray Disc Release Date: February 17, 2015
Run Time: 124 minutes
List Price: $34.98
Extras:

Feature Commentary with Director James Marsh
Deleted Scenes
Becoming the Hawkings
Previews
Standard-Def DVD
Digital Copy
UltraViolet Digital Copy