The Dictator Blu-ray Review
By Rachel Cericola
The Film
You can't spell The Dictator without "dic" -- and you should expect to see some of that as well as an entire in-vagina scene in Sasha Baron Cohen's new spectacle.
If you were one of the many offended by Borat and Cohen's follow-up Bruno, you'd be wise to shield yourself from this one. Absolutely nothing is off limits here, from a film dedication to Kim Jong-il to 911 jokes to a supposed tryst with Oprah. For the rest, well... this film is kind of funny.
The Dictator is the story of Admiral General Shabazz Aladeen (Cohen), a man who rules his beloved Wadiya with an iron fist and an itchy trigger finger. While on a trip to the United States, he is kidnapped. But instead of losing his head, he just loses his beard. The man that wanted him dead (Ben Kingsley!) assumes the worst/best, and replaces Aladeen with an Aladeen lookalike. However, the real Aladeen isn't really dead. Of course, there would be no movie. Instead, he's just hiding out in a co-op with an activist named Zoey (Anna Faris) and plotting his revenge and a triumphant return.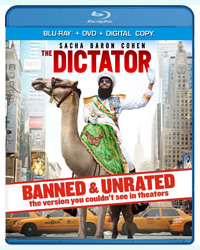 Did I mention it's offensive? Seriously, the film tries its hardest to offend at almost every turn. Sometimes it will leave you speechless, sometimes bored, and something gasping for air. When
The Dictator
is funny, it's really funny. That said, some scenes sort of drag out, which isn't an easy feat for a film that runs only 83 minutes long.
If you're looking for more detail about this movie, bow down and read David Kempler's theatrical review of The Dictator.

The Picture
The Dictator is pretty much what you'd expect from a newer film with a big budget. It has good colors and nice details throughout. Aladeen's beard, the fake head, and inside the market all look great, as do the costumes, palace life and the cityscapes. Just know that during those parts when you're wincing, the image here looks good.
The Sound
The DTS-HD Master Audio track is fine, but nothing special. The dialogue is clear, with the music dominating most of the surrounds. Considering the theatrics in portions of the film, I expected a bit more of an immersive experience on this one. That said, it's pretty basic for a comedy and more than serviceable.
The Extras
Paramount should have to answer to Aladeen's henchmen for this collection of extras. The unrated version has just a few extras minutes. Otherwise, it's just deleted and extended scenes, an Aladeen music video, and another 3 minutes between Larry King and Aladeen. That's it.
Final Thoughts
Whoever was in charge of picking extras for The Dictator deserves an Aladeen-inspired punishment. Otherwise, this release is pretty decent. It has excellent video, good audio, and enough laughs to make it worth a peek.
Product Details
Actors: Sacha Baron Cohen, Anna Faris, Ben Kingsley
Director: Larry Charles
Audio/Languages: DTS-HD Master Audio 5.1 (English), Dolby Digital 5.1 (French, Portuguese, Spanish), DVS 2.0 (English)
Subtitles: English, English SDH, French, Portuguese, Spanish
Aspect Ratio: 2.40:1
Number of Discs: 2
Rating: R
Studio: Paramount Pictures
Blu-ray Disc Release Date: August 21, 2012
Run Time: 83 minutes (theatrical), 98 minutes (unrated)
List Price: $44.99
Extras:

Unrated Version
Deleted and Extended Scenes
"Your Money is on the Dresser" Music Video
Larry King Interview
Standard-Def DVD
UltraViolet Digital Copy