The Descendants Blu-ray Review
By Rachel Cericola
The Film
It's hard to imagine eternal bachelor and babe magnet George Clooney as a jilted family man, but he pulls it all off beautifully in The Descendants.
Clooney plays Matt King, a husband, a father, a lawyer and a descendant of royal Hawaiian heritage -- although not necessarily in that order. When Matt's wife ends up in a coma following a boating accident, he's forced to make the move from "backup parent" to first string. Besides having to bond with daughters Alexandra and Scottie (Shailene Woodley and Amara Miller), he also needs to be the barer of bad news to his family's friends and loved ones, which includes his wife's boyfriend Brian (Matthew Lillard -- and yes, the one from Scream). This is all while he simultaneously negotiates a land deal that would sell off 25,000 acres of paradise, piss off the locals, and make his army of cousins rich beyond their Hawaiian dreams.
The Descendants is pretty straightforward in the plot department. It actually starts extremely sad and a little slow, eventually turning into a movie that you don't want to end. With the inevitable looming, it's hard for Matt and his family to let go -- and it's pretty painful for the viewer as well. There aren't a whole lot of surprises, but there's plenty of emotion to be had.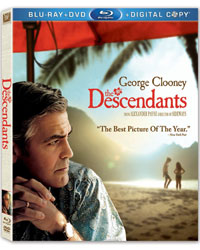 Director/writer Alexander Payne (Sideways) and co-writers Nat Faxon and Jim Rash all snagged a well-deserved Oscar for adapting the 2009 Kaui Hart Hemmings novel. Pack some Kleenex and get ready for a roller coaster of emotions, as well as another wonderful turn for Clooney. Also look for a lot of surprise performances, most notably Judy Greer as Brian's wife, Beau Bridges as one of the greedy cousins, and Nick Krause as Alexandra's stoner boyfriend.
If you think this movie doesn't evoke every emotion, check out David Kempler's less enthusiastic theatrical review of The Descendants.

The Picture
While the subject matter is on the sad side, this film delivers a ton of eye candy. If you're going to be sad, this is the place you want to be. If not, still expect to be surfing the web for deals to Hawaii. The imagery presented here is downright drool-worthy. The Hawaiian backdrop offers up a ton of stunning colors and this 2.40:1 transfer handles every single one of them perfectly. Some of the wider shots lose a little of the detail, but the close-ups, especially on Clooney's face, offer up a lot of emotion and facial details. For those few times where detail is a problem, there's still the surf, the sand, and the aerial shots to ogle over.
The Sound
The film opens with the roar of a boat and lapping waves. It's so good, you can almost feel the spray. From there, the DTS-HD Master Audio 5.1 track sort of settles down, to focus more on the dialogue and the Hawaiian-themed score. Don't pack up your sandals, though. The film does spread around a few beachy sounds here and there, but it's not as immersive as Hawaii should be -- or you're going to want it to be.
The Extras
This release offers a nice collection of short, but informative and fairly entertaining, special features. Of course, a George Clooney release isn't complete without cast members talking up Clooney as a great guy. In other words, you can probably skip "Everybody Loves George." The rest, however, is fairly amusing, most notably the conversation between Clooney and director Alexander Payne. Also make sure to check out "The World Parade," a silent short that displays all of the beauty of Hawaii, in black and white.
Final Thoughts
George Clooney is a hard man to resist. Maybe not so much Facts of Life Clooney, but the guy has certainly been on a roll for the past 15 years or so. The Descendants continues the winning streak. He doesn't do it alone, though. Besides a notable cast, director Alexander Payne absolutely knows how to suck the viewer into a story. This release's gorgeous image certainly doesn't hurt, either.
Product Details
Actors: George Clooney, Shailene Woodley, Beau Bridges, Judy Greer
Director: Alexander Payne
Audio/Languages: DTS-HD Master Audio 5.1 (English), Dolby Digital 5.1 (Spanish, French), DVS 2.0 (English)
Subtitles: English SDH, Spanish
Aspect Ratio: 2.40:1
Number of Discs: 2
Rating: R
Studio: 20th Century Fox
Blu-ray Disc Release Date: March 13, 2012
Run Time: 115 minutes
List Price: $39.99
Extras:

Deleted Scenes with Director Introductions
Everybody Loves George
Working with Alexander
The Real Descendents
Hawaiian Style
Casting
Working with Water
Music Videos
Waiting for the Light
The World Parade: Hawaii (Silent Film)
A Conversation with George Clooney and Alexander Payne
Theatrical Trailer
Sneak Peek
Standard-Def DVD
Digital Copy