The BFG Blu-ray Review
By Rachel Cericola
The Film
The work of Roald Dahl has been a favorite for filmmakers over the years -- typically ones with an artistic flair, like Tim Burton, Wes Anderson, and Henry Selick. So does it seem sort of strange that one of the weirdest subjects to come out of Dahl's pen was brought to the big screen by the same guy who gave us Jaws, Schindler's List, and Lincoln?

Well, Steven Spielberg can be pretty darn creative. After all, his resume does include E.T. the Extra-Terrestrial, Hook, and Jurassic Park. And apparently, he still has a little magic left in the tank for The BFG.
This is the story of young orphan Sophie (Ruby Barnhill), who wakes up one night to see a giant figure (Mark Rylance) outside her window. The giant captures Sophie and tells her his name is "Big Friendly Giant" (which she later shortens to "BFG"). Despite his friendly nature, he tells Sophie that she must live with him forever, because she now knows about the existence of giants.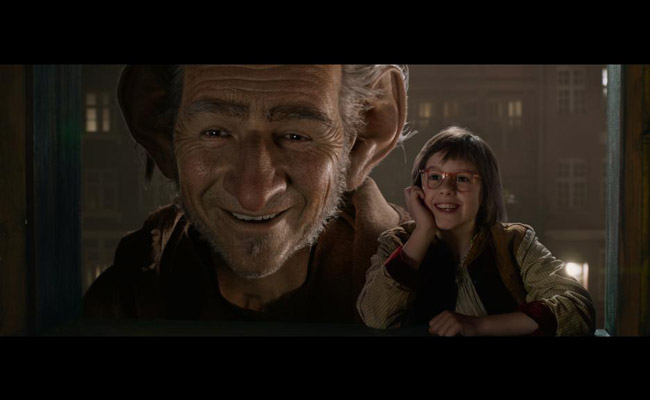 And he's not the only one, either. Apparently, there are a slew of giants, and most of them aren't as friendly as BFG. In fact, they're a crop of man-eaters, who have been terrorizing the streets of London.

While trying to dodge those giants, Sophie joins BFG on his daily rounds of dream-catching, spreading some good cheer in the process. She also has a major impact on BFG, teaching him to stand up to the other giants, as well as helping to devise a plan to get rid of them for good.
The BFG is wildly creative, sometimes creepy, and often a bit too lengthy. It drags in some spots, with a 118-minute runtime that may be a bit too much for smaller audience members. That said, it does have a bit of that Disney magic, which is always so hard to resist. Overall, an interesting story and wonderful special effects manage to make The BFG a whoopsy-wiffling adventure -- and that's a good thing.
The Picture
This is a Disney release, so it shouldn't surprise anyone that it looks fantastic. The movie mixes live action with CGI, really leaning on the latter. That leads to a little softness on occasion. However, it's rare -- and frankly, there's just so many awesome things to look at in this film, you'll barely notice it. The wrinkles on BFG's face, his bushy eyebrows, and his clothing are all insanely detailed. The Fleshlumpeater's funky facial hair and hairy fingers also deserve a shout-out, because they are just so creepy and so in-your-face. The entire 2.39:1 image is filled with fun details like that. You can almost count the bricks on the side of the orphanage and in the London and Buckingham Palace is a delight, both inside and out. Colors are just as lovely, from skintones to scenery. However, that detail is really what makes this image a must-see on Blu-ray.
The Sound
This is another wonderfully active DTS-HD Master Audio 7.1 track from Disney. Dialog is always clear, but the giants featured in the film are an endless source of surround sound. Every word and movement from the Fleshlumpeater engulfs the listener. Of course, BFG delivers plenty of big sounds, too. Otherwise, geese squawk in the surrounds, thunder rumbles from every angle, glass shatters off in the distance, and John Williams' score adds additional whimsy to the story by swirling throughout the soundfield for the film's 118 minutes. In between all of that, there are creaks, thuds, and screams aplenty.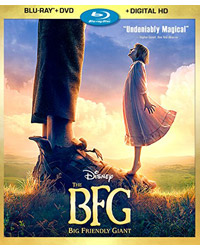 The Extras
Like Disney's other new release this week, The BFG is light on the extras. There are no deleted scenes, trailers, or commentary tracks. Instead, there's a total of five featurettes. The lengthiest of the lot is " Bringing The BFG to Life," a 27-minute video diary with actress Ruby Barnhill. To call it a "video diary" is sort of a stretch, though. It's not like it's a bunch of shaky-cam snippets. There's some of that, but it's mostly a collection of behind-the-scenes peeks mixed with interviews with Lucy Dahl (Roald's daughter), Kathleen Kennedy (executive producer), Frank Marshall (producer), Steven Spielberg (director/producer), the late Melissa Mathison (screenwriter), and more. Otherwise, there's another three minutes on the BFG's funky vocabulary, five on the giants, and a cartoon that condenses the entire story into under two minutes. The final short is a 6-minute tribute to Mathison, who passed away in November 2015.
Final Thoughts
The BFG isn't one of Spielberg's best. It's not even one of the best Roald Dahl adaptations. However, there is enough Disney magic to make it worth your while. A lot of that comes from the audio and video presentation, which are just too good to pass up.
Product Details
Actors: Mark Rylance, Ruby Barnhill, Penelope Wilton, Jemaine Clement, Rebecca Hall, Rafe Spall, Bill Hader
Director: Steven Spielberg
Audio/Languages: DTS-HD Master Audio 7.1 (English), Dolby Digital 5.1 (French, Spanish), DVS 2.0 (English)
Subtitles: English SDH, French, Indonesian, Korean, Portuguese, Spanish, Thai
Aspect Ratio: 2.39:1
Number of Discs: 2
Rating: PG
Studio: Disney
Blu-ray Disc Release Date: November 29, 2016
Run Time: 118 minutes
List Price: $39.99
Extras:

Bringing The BFG to Life
The Big Friendly Giant and Me
Gobblefunk: The Wonderful Words of The BFG
Giants 101
Melissa Mathison: A Tribute
Sneak Peeks
Standard-Def DVD
Digital Copy