Stuff You Should Know Does Comic-Con on its Way to Science Channel
By Lora Grady
"Stuff You Should Know" is a consistently fascinating podcast wherein, in twice-weekly installments, hosts Josh Clark and Chuck Bryant spend half an hour or so verbally exploring a truly staggering range of topics drawn from science, history, urban legends, and pop culture, with the occasional conspiracy theory thrown in for good measure. A selection of recent episode titles says it all: "How Icebergs Work", "Are Contrails Actually Chemtrails?", "What's the deal with Executive Orders?", and, "Social Security Numbers: Less Boring Than You'd Think".
The episodes are fast paced and informative, with humor, and trivia-you-can't-wait-to-quote keeping even the occasionally heavy topic entertaining; but what really sells the podcast is the chemistry between the two hosts, as they frame each episode's subject and then take turns providing facts to give the listener a basic working knowledge of that subject.
With over 400 popular and well researched podcast episodes to back them up, Josh and Chuck are now poised to make the move to television. This winter the Discovery Network's Science Channel will debut a series based on the "Stuff You Should Know" podcast. Season one will consist of a pilot and 10 episodes , during which the duo will explore such topics as night terrors, bees, weather modification, and artificial intelligence. Included in the broadcast run will be an episode filmed live at this year's Comic-Con, during a Thursday afternoon panel titled, "Time Travel: Science Fact or Science Fiction?".
Prior to their Thursday panel Josh and Chuck participated in a press roundtable, where they were joined by Science Channel general manager Debbie Myers in a discussion of the format of the new series, the process of tailoring "SYSK" for television without losing the enormous appeal of the podcast, and what makes the show such a good fit for Science.
"SYSK" on Science
The format of the new show will be a behind the scenes look at the production of the podcast, and each show's topic will drive that particular episode's content. The approach isn't quite documentary - instead it was described as "hyper-reality", with some segments being scripted and some improv.
In trying to finesse the framework for the program, an opportunity to hold focus groups in Austin, TX during this year's South By Southwest festival came in handy. Debbie Myers noted that the Austin audiences, "loved the reality of the interaction between Chuck and Josh, loved the humor and the info", but recommended shortening some of the segments. "(The feedback) really helped with the show's pacing."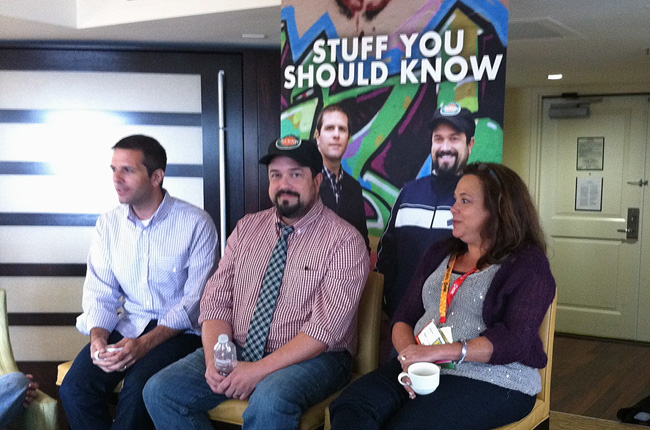 Debbie also noted that the production resulted in, "the most expensive pilot the network has ever done." But it is clear that Science stands behind their choice to work with the "SYSK" crew. Debbie feels that the show is, "a way to get people to enjoy science. (Science) can be a cold word, all knowledge-based", and the personality that Josh and Chuck bring to the presentation and exploration of their topics is what made them appealing to the Science Channel.
"SYSK" podcast
In addition to the Science series, the guys plan to continue their twice-weekly podcast production schedule. When asked what kind of advice he would offer to other podcasters, Chuck noted that it is important to "sound good", and "be regular". "If someone likes your podcast, likes what you're doing, but you're not updating regularly, they're going to lose interest." The show isn't expected to compete with the existing podcast; rather, they will "use the show to promote viewers to the podcast".
This multi-platform approach to content presentation isn't unexpected, as the "SYSK" podcast was itself initially created to supplement the "How Stuff Works" website. In developing content for the new show, the hosts don't plan to redo any of their existing podcasts, though some shows will refer back to previous podcasts. When asked about some of their favorite topics from previous shows, Josh mentioned an episode dealing with the CIA -- "The title was, "Did the CIA Test LSD on Unsuspecting Americans?", and it turns out, yeah, they did!" - while Chuck's favorite was the perhaps somewhat less controversial, "How Shrunken Heads Work".
"SYSK" is regularly listed in the Top 10 among iTunes podcasts, and their highest rated show so far? "The one we did about the Muppets - it got lots of feedback." Asked about shows that generated less enthusiastic feedback, the guys cited the following topics: homelessness/addiction, Tourette's Syndrome, and transgender issues. One topic they have considered covering that has so far proven elusive? Both agreed on that one: "Scientology". And of course they maintain a wishlist of special guests that they would like to bring on: astrophysicist Neil deGrasse Tyson, theoretical physicist Michio Kaku, and entertaining generalist John Hodgman.
On Comic-Con and Fandom
Being at Comic-Con, Chuck and Josh were asked about their particular pop culture passions.
Chuck: "'Star Wars'. I'm not into 'Star Trek'. It seems like that's the way it is - you're on one side of the scale or the other. " He also mentioned his interest in comedy, and in sci-fi in general. "Ridley Scott. Also, 'Game of Thrones', 'Firefly', and 'True Blood'.
Josh: "There's a book I'm really into, "1491" by Charles C. Mann, about the pre-Columbian Americas. I tell everybody to read it. That's about it."
Chuck: "You're really into 'The Simpsons'.
Josh: Oh, yeah, 'The Simpsons'. And 'Firefly'. And Quentin Tarrantino - I'm looking forward to the "Django" trailer (scheduled to be shown during Tarrantino's Comic-Con panel on Saturday in Hall H)."
Wrapup
Josh and Chuck fielded a question about the tone of their podcasts, with the questioner noting that they sometimes seem surprised by what the other one is saying during an episode - is that genuine? The pair revealed that part of their process is to do independent research on a topic, which they do not share with each other before going in to record a show. So, the podcast recording session is the first time hearing each other's research, and they try to surprise each other. That they succeed so often, and are so clearly delighted at the new information being presented, is part of the charm of the approach to learning that makes their podcast so wildly successful, and is sure to translate to equally great success when "SYSK" debuts on Science in January. "Stuff You Should Know" is on its way to becoming "Stuff You Should Watch" - and you know, you should. You really should.