Star Trek: The Original Series - Season One on Blu-ray Disc Review
By Chris Chiarella
The Show
There's a reason that Star Trek has spawned six weekly TV series and eleven feature films, and it all began right here. The premiere season of 1966-67 is packed with iconic installments: "Balance of Terror," "Arena," "Space Seed" (which would later sprout into Star Trek II: The Wrath of Khan) and of course my (and creator Gene Roddenberry's) all-time favorite, "The City on the Edge of Forever." Combining ceaselessly imaginative science fiction postulations with profoundly human drama, Trek had license to tackle hot topics (racism, women's rights, drug addition, the war in Viet Nam) when no other show could, thanks to its veil of fantasy. And it's always a hell of a lot of fun.
A few years ago, significant efforts were undertaken by Paramount to improve the look and sound of the show for modern audiences. Production values were actually quite good for its era, but like Star Wars which followed, the vision was so grand that it strained against what was possible to capture on film, on a budget at the time, hence much ridicule for the sets, costumes and optical effects ensued. All of the big effects shots and even many quick inserts have been redesigned, digitally rendered and edited in, reminiscent of George Lucas's big-screen labors of the late '90s. This set boldly goes where no Trek discs have gone before, allowing us to watch these "Remastered" episodes or the original versions via seamless branching, switching back and forth between the two on the fly, with a press of the Angle button.
The Picture
Shot on 35mm film for the standard 4:3 TV screen, Star Trek has great potential for high-definition when handled properly. The elements were cleaned, color-corrected and the contrast boosted to pop more at 1080p. Ample detail is on display, although really challenging bits or shadows can reveal compression artifacts, and fine textures that are not in sharp focus can buzz. But the real character of the show is maintained; instances of soft focus, the filters frequently used on close-ups; with excellent blacks. The new special effects reproduce well in HD, but not so well that they don't fit with the old-school scenes, despite an occasionally blatant digital look.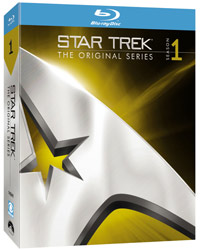 The Sound
Available for the first time ever in a 7.1-channel remix, these episodes are presented in wider, fuller DTS-HD Master Audio that does not seek to reinvent the wheel, and which for the most part avoids any gimmicky tricks. The Enterprise flybys during the opening credits are a particularly clear demonstration of the new multichannel use. The music was authentically re-recorded as part of the remastering process, and it exhibits a greater dynamic range than the original soundtrack, which is preserved in two-channel Dolby Digital on an alternate track. The Dolby option is actually quite pleasant, not fancy, although fidelity appears a bit strained, and voices can still sound thin at times in either format.
The Extras
The ample extras spread across the seven platters are a generous mix of previously released featurettes and nifty interactive treats. The 20-minute "Spacelift: Transporting Trek Into the 21st Century" is required viewing to understand the transformation, not just to refresh the show visually but taking into account discoveries/advancements in science fact since the '60s. "Sci-Fi Visionaries" (sixteen-and-a-half minutes) celebrates the amazing stable of writing talent, "Kiss 'n" Tell: Romance in the 23rd Century" is a fun look at the frequent hookups of the future (eight minutes), while affable bit player "Billy Blackburn's Treasure Chest: Rare Home Movies and Special Memories" (13 minutes) are actually more special memories than home movies. All are in HD, although subtitles strangely popped on automatically for some of these. Other featurettes include "Reflections on Spock," "Life Beyond Trek: William Shatner," "To Boldly Go... (Season One)" and "The Birth of a Timeless Legacy."
A total of six episodes are proffered in the optional "Starfleet Access" picture-in-picture mode, with separate text and video windows fueled by various expert voices: "Where No Man Has Gone Before," "The Menagerie" Pts. 1 & 2, "Balance of Terror," "Space Seed" and "Errand of Mercy." In addition to great stories from the people who were there, this Access often compares the original effects while the enhanced scene is playing. The Interactive Enterprise Inspection enables us to zip around everyone's favorite Constitution-class starship and learn more about its key attributes with amazing new-school clarity. The original weekly previews for all 29 Season One broadcast episodes are also included.
Final Thoughts
These new high-definition versions are more than an indulgence for the eyes and ears, they are a reminder of how good television can be. The bonus materials offer surprisingly rich context, and the easy toggling between the original and enhanced effects is a priceless carrot for indecisive Trekkers and Trekkies alike. Plus now I'm especially curious to see what the next two Blu-ray seasons hold. (Tribbles, anyone...?)
Where to Buy:
Product Details
Actors: William Shatner, Leonard Nimoy, DeForest Kelley, Nichelle Nichols, James Doohan, George Takei, Majel Barrett, Joan Collins, Sally Kellerman, Gary Lockwood, Robert Walker
Directors: Joseph Pevney, Marc Daniels, Vincent McEveety, Robert Butler, Gerd Oswald, James Goldstone, Herschel Daugherty, Lawrence Dobkin, Leo Penn, Harvey Hart, Joseph Sargent, Robert Sparr, Robert Gist, Michael O'Herlihy, John Newland
Audio Format/Languages: DTS-HD Master Audio 7.1 (English), Dolby Digital 2.0 Mono (English, Spanish and French)
Subtitles: English SDH, Spanish, French, Portuguese
Aspect Ratio: 1.33:1
Number of discs: 7
Rating: NR
Studio: Paramount
Release Date: April 28, 2009
Run Time: 1,460 minutes
List Price: $129.99
Extras:

"Spacelift: Transporting Trek Into The 21st Century"
"Reflections on Spock"
"Life Beyond Trek: William Shatner"
"To Boldly Go... (Season One)"
"The Birth of a Timeless Legacy"
"Sci-Fi Visionaries"
"Kiss 'N' Tell: Romance in the 23rd Century"
"Billy Blackburn's Treasure Chest: Rare Home Movies and Special Memories"
Interactive Enterprise Inspection
Six "Starfleet Access" enhanced episodes