Star Trek Beyond 3D Blu-ray Review Review
By Rachel Cericola
The Film
After two outings on the Starship Enterprise, J.J. Abrams has jumped ship on the Star Trek franchise. Well, sort of.
Similar to the other insanely successful sci-fi franchise he rebooted (you may have heard of it), Abrams is swapping out his director's chair for a producing credit on Star Trek Beyond. Justin Lin has taken the helm, so you'd better strap yourself in. The director has made this installment both fast and furious.
Star Trek Beyond picks up three years into the Enterprise's five-year mission. Kirk (Chris Pine) is bored, Spock (Zachary Quinto) and Uhura (Zoe Saldana) are uncoupling, Sulu (John Cho) has a family, and Bones (Karl Urban) is a bit of a wise-guy. That daily grind gets sidetracked by what seems like a standardc rescue mission. Instead, the crew gets ambushed by Krall (Idris Elba), a villain bent on finding a relic known as the Abronath, as well as a bit of revenge. The entire adventure brings the crew to a remote planet, which is very reminiscent of the original TV show.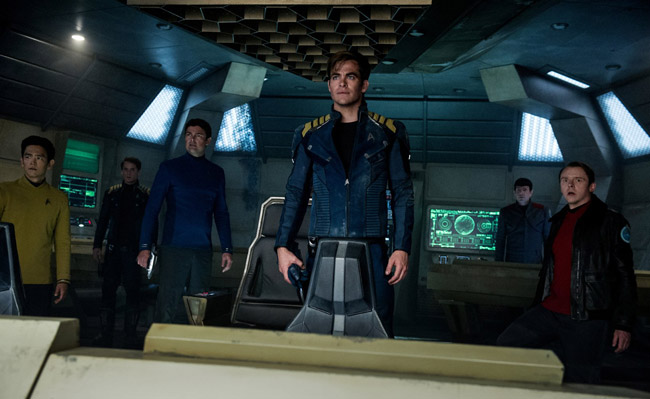 The nostalgia doesn't stop there, though. Star Trek Beyond has plenty of campy fun. What it doesn't have is a ton of character development. The film is consumed by subplots and action, so some of the details do get lost. Still, Lin does a good job of putting his stamp on the series, making Star Trek Beyond a lot of fun to watch.
Looking for a little more on this movie? Check out Matthew Passantino's theatrical review of Stay Trek Beyond.
The Picture
One of my favorite things about the Star Trek universe is that everything is so insanely detailed. Exactly how all of that comes through at home will depend on the version you choose to watch. I found the 2D version of this 2.39:1 transfer to be much more enjoyable than the 3D. The 3D edition does include some great depth, but dims down the movie -- all the way to the point where some sections are borderline unwatchable. Just compare the opening shot on Kirk's sparkling blue eyes on both versions and you will instantly see what I'm talking about. However, it's also really evident in some of the action-heavy scenes. For instance, when Krall makes his first appearance, the 3D effects completely mess with the black levels and all of the detail seen on the standard Blu-ray. Star Trek Beyond is a pretty dark movie in the first place, so making it darker isn't a good thing. Of course, there are plenty of brighter moments in the movie where it isn't so bad, but I would recommend the 2D version for a better overall experience.
The Sound
The same opening scene mentioned above shows off how awesome it is that Star Trek Beyond has a Dolby Atmos track. The echo of that head creature and the chaos of their attack rumbles from every angle. The immersive fun continues when those small ships attack the Enterprise and Krall makes his first appearance. Spaceships, phasers, and explosions come from every direction. Even Public Enemy and the Beastie Boys manage to fill the soundfield quite nicely ("Is that classical music?"). Even with all of the action though, dialogue is never drowned out and Michael Giacchino's score still gets plenty of opportunity to shine.
Also worth mentioning is that Paramount isn't hoarding anything here; the track is featured on both the 3D and standard Blu-ray discs.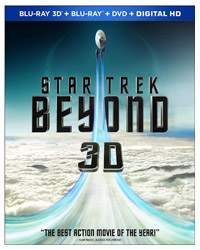 The Extras
Star Trek Beyond has a lengthy list of special features. However, when you add everything up, there's only about an hour's worth of goodies featured here. That includes a gag reel, a pair of deleted scenes, and a short saying goodbye to Leonard Nimoy and Anton Yelchin. There are eight other featurettes, which include multiple shorts on characters in the film, locations, and design. The best of the bunch is "To Live Long and Prosper," which uses almost 8 minutes to celebrate the 50th anniversary of Star Trek.
It should be mentioned that all of the special features are located on the standard Blu-ray. There are no 3D-enhanced extras.
Final Thoughts
If you've been waiting to see the latest Star Trek cast back in action, you'll love Star Trek Beyond. It's all about action. Unfortunately, all of that eye candy leaves little room for depth to the story, but that doesn't mean this isn't a fun ride. It helps that the Blu-ray has decent video and a nice extras section, but the audio is a real highlight here. That alone makes Star Trek Beyond worth picking up on Blu-ray.
Product Details
Actors: John Cho, Simon Pegg, Chris Pine, Zachary Quinto, Zoe Saldana, Karl Urban, Anton Yelchin, Idris Elba
Director: Justin Lin
Audio/Languages: Dolby Atmos/Dolby TrueHD 7.1 (English), Dolby Digital 5.1 (French, Portuguese, Spanish), DVS 2.0 (English)
Subtitles: English, English SDH, French, Portuguese, Spanish
Aspect Ratio: 2.39:1
Number of Discs: 3
Rating: PG-13
Studio: Paramount
Blu-ray Disc Release Date: November 1, 2016
Run Time: 122 minutes
List Price: $35.99
Extras:

3D Blu-ray
2D Blu-ray:

Deleted Scenes
Beyond the Darkness
Enterprise Takedown
Divided and Conquered
A Warped Sense of Revenge
Trekking in the Desert
Exploring Strange New Worlds
New Life, New Civilizations
To Live Long and Prosper
For Leonard and Anton
Gag Reel

Standard-Def DVD
Digital Copy
UltraViolet Digital Copy
Where to Buy: