PS3 Gets Netflix App for Disc-Free HD Streaming in Dolby 5.1 Surround
By Chris Boylan
One of the few limitations of Netflix streaming, when compared to VOD providers such as VUDU and Amazon, is the lack of surround sound audio.  Although high definition video is available on many streaming TV and movie titles, the sound has always been limited to two channels.  But that changes starting on October 18th, as Netflix has partnered with Dolby for 5.1 channel surround sound streaming, courtesy of Dolby Digital Plus.
---
UPDATE (10/20): I tested the Netflix App update on our old school first generation PS3, and, although I could not find any examples of 1080i or 1080p streaming (and Netflix does not identify which titles are available in 1080i or 1080p), I did find a few titles with Dolby Digital Plus 5.1 surround sound ("Food, Inc." and the creepy "Let the Right One In" were two movies available in 5.1). The option for "audio and subtitles" now appears on the movie listing in the Netflix interface.  Interestingly enough, I could not get 5.1 sound from the PS3 unless I went into the PS3 menu and enabled Dolby and DTS bitstream outputs.  With the PS3 set to internally decode to PCM, the Netflix streams were still delivered by the PS3 in 2-channel (stereo) PCM.  But enabling Dolby bitstream output allowed the PS3 to deliver the sound as standard Dolby Digital 5.1 surround over the HDMI output
The PS3 should be able internally convert the Dolby Digital Plus soundtrack to multi-channel PCM sound, but it appears that it cannot. And setting the PS3 to PCM is the only way that it can properly support lossless codecs on Blu-ray Disc (Dolby TrueHD, DTS-HD Master Audio).  I suspect this is not a problem on the newer "slim" PS3 as it is able to bitstream the DTS-HD and Dolby TrueHD streams and it should also be able to bitstream the Dolby Digital Plus stream without changing any settings.  And in any case, having 5.1 surround on Netflix is a welcome enhancement and one that's worth a little extra effort.  We hope to see this option on more devices soon.
---
Dolby Digital Plus is one of Dolby's new "high definition" audio codecs found on next generation optical media such as Blu-ray Disc.  Although it is not a lossless codec (which means there can be some audible compression artifacts), Dolby Digital Plus does offer more efficient encoding than traditional Dolby Digital, so it can offer high quality surround sound at the lower bandwidths required by streaming media providers.
Next week, Sony's PS3 will become the first consumer electronics device to support 5.1-channel surround sound on movies streamed from Netflix.  Netflix tells us that more devices will be added over time to support streaming digital surround sound.
"Netflix is committed to delivering an unparalleled experience to its members who watch TV shows and movies streamed instantly over the Internet," said Greg Peters, Netflix vice president of product development.  "Netflix required an audio solution that could efficiently deliver an outstanding surround sound experience for a wide range of consumer devices.  Dolby Digital Plus proved to be the best solution to meet our needs and the needs of our device partners."
In order to support Dolby Digital Plus surround, your playback device or audio/video receiver must include Dolby Digital Plus decoding.  Most recently manufactured home theater receivers and many HTiB (Home Theater in a Box) systems already include such codecs.  If your receiver does not, don't despair as the PS3 (as well as all current Blu-ray players) include Dolby Digital Plus decoders on board so the player can handle the decoding instead of your receiver if need be.
"Dolby Digital Plus makes the online entertainment experience rich, realistic, and memorable," said John Couling, vice president, marketing, products & platforms, Dolby Laboratories.  "Dolby is excited to be working with Netflix and its partners to provide premium Dolby surround sound to Netflix subscribers.  This collaboration will enable subscribers to enjoy movies and TV shows presented in surround sound just as the artists and directors intended."
PS3 Goes Disc-Free and Gets Higher Def
In addition to the Dolby Digital Plus upgrade for Netflix, the PS3 is expected to be able to support Netflix streaming without the Netflix PS3 Blu-ray streaming disc also on October 18th.  According to a blog post by Mr. Peters on the official Playstation blog, a native PS3 app will be available next week that eliminates the need for a streaming disc to be inserted in the player.  It also adds major enhancements to the user interface allowing you to browse, search and add new titles to your queue right from the app instead of having to load up a web browser and add the titles to your instant queue from the Netflix web site. Streaming quality should be improving as well, with select titles on Netflix to be offered for the first time in 1080i resolution (previous limit to Netflix HD streaming was 720p). [editor's note: Sony and Netflix later corrected this announcement to say that certain titles would be available in 1080p, not 1080i].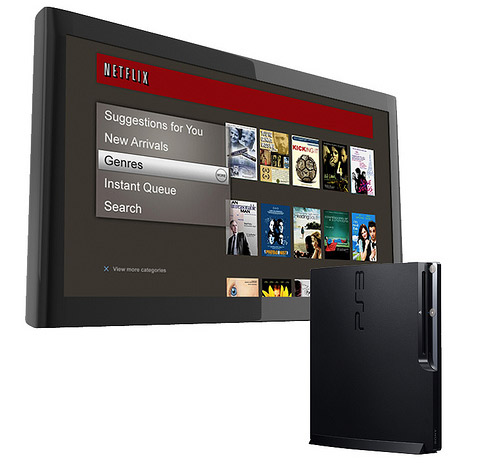 More Information:
Where to Buy: