Sony BDP-S590 Blu-ray 3D Player Review
By Rachel Cericola
Edited by Chris Boylan
All I Need, at a Price I Like
Manufacturers are cranking out Blu-ray players at an alarming rate. The super-expensive top-of-the-line Blu-ray player is still out there for people who want to pay for it. However, there are plenty of affordable options as well, and many provide features and performance that would have cost you a lot more three years ago.
Right now, a decent Blu-ray player can be had between $100 and $200. And these are not the bare-bones kind, either. There are inexpensive models that can play Blu-ray 3D Discs and tap into various web-based streaming services and apps.
At $149.99 (MSRP), the Sony BDP-S590 Blu-ray 3D player packs in an insane amount of extras. It's almost unfair to call this a Blu-ray player, as Blu-ray discs are just one of the many offerings in this player's arsenal. It supports 3D playback, wireless networking and a wealth of web extras. In fact, it probably has more extras than any Blu-ray player I've ever seen. Try to control your salivating while we break this baby down.

The Setup
At this point, most Blu-ray players don't have many surprises to unbox. The BDP-S590 comes with a power cord, its own remote, and old-fashioned RCA A/V cables which you will want to avoid using, if you want high performance audio and video. The one thing that's a bit of a surprise is the shape of the actual unit. At 16.9-by-1.6-by-7.8 inches, it's slightly smaller than a standard Blu-ray player and has a little curve around the edges, which should make it stand out in an otherwise boring AV cabinet.
That said, it's not exactly built like a tank. It's very lightweight and it doesn't seem like you need to be a Hulk to smash this thing with your bare hands. However, unless you plan to toss it around your living room, it shouldn't be a problem. It takes up very little space in an AV cabinet, where it will probably live out its days.
The setup process is pain-free, with selections for the type of TV connection, network settings and whether you want to suck up a little extra power by using the Quick Start mode. To start, I went with the preferred HDMI cable (not included) and a wireless network connection -- because this comes with built-in WiFi and I don't need the extra Ethernet cable added to the already frightening assortment of wires behind my AV cabinet.
It Likes It On Top
This player cries out to be on top of your equipment stack, or set in its own space in the cabinet. Besides giving it that curvy shape, Sony has top-mounted a few of the basic controls. The top of the player has buttons for power, eject, play and stop. The front also has a USB port that's covered when not in use. Also, and this is very important for those of you with wee ones, the front has a child lock. Pressing this button for 10 seconds will keep those little food-covered fingers from opening the disc tray and snapping it off like a pretzel (or putting a pretzel in it, as the case may be).
The back is equally simple, with a single HDMI output, composite video, analog stereo and digital audio outputs, an Ethernet jack and another USB port. As with most of the competition, there's no component video option, but you're going to need to go the HDMI route anyway if you want to play around with any of the 3D features or take advantage of the lossless audio formats.
Since you probably won't just use this player for web streaming, it's important to note that it also has all of the audio goodness you'd want in a new piece of equipment. The BDP-S590 supports Dolby TrueHD, Dolby Digital Plus, DTS-HD Master Audio and DTS-HD High Resolution formats in addition to the standard PCM, Dolby Digital and DTS legacy formats.
Also worth noting: During my brief time with this player, it required two separate software updates. One was upon setup, with another coming later while trying to access the web browser. Both took just a few minutes and were pain-free, but worth mentioning.
Once setup is complete, you'll be directed to the main menu -- where you could literally spend a few hours. This area has a bevy of options to browse through. Besides Setup options, the player offers categories for Photos, Music, Video, Network, the Sony Entertainment Network, and Recommendations.

Streaming Dream
For the money, the BDP-S590 offers an impressive selection of apps. Under the Music heading, there are options for Slacker, NPR, Pandora, Berliner Philharmoniker, Lollapalooza Radio, Moshcam, and Sony's own Music Unlimited.
Music Unlimited is a neat option, offering users access to millions of songs through the player, as well your PC and other compatible devices. However, you're going to have to pony up the $9.99 monthly subscription fee. If you're not in a paying mood, you can snag 30-second clips or sign up for a free Pandora subscription, check out the free Slacker Radio, or opt to stream tracks from your own networked collection.
Under Network, users can access Facebook and the Opera TV Store. The latter allows you to play games and access Twitter through an app called Tvitter. Sony has also included a web browser under this section. It's a nice touch, but will probably be your least used feature on this player. There are so many other services to tap into here. Having to type using the remote is sort of a hassle, the pages are slow to load, and the text was microscopically small on my 50-inch 1080p plasma. What is the point of that?
Video also has its share of interesting options, including Amazon Instant Video, Netflix, VUDU, Hulu Plus, NHL Vault, YouTube, Crackle, and much more. There's also Video Unlimited, which is Sony's movie service. It also features something called 3D Experience, which offers free 3D music videos, trailers, film clips, travel snippets, sports clips, and more.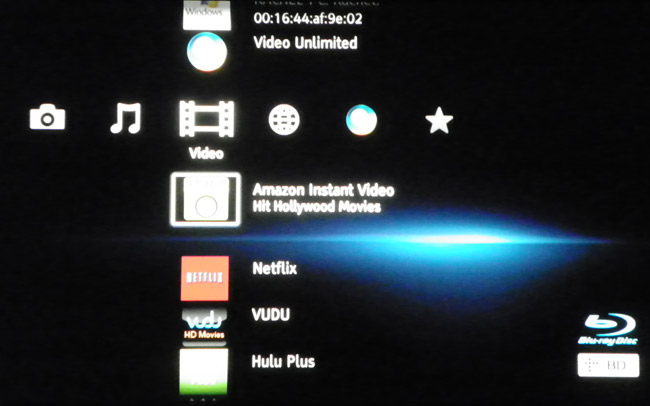 Picture Perfect
Overall, the BDP-S590 produces a pretty fantastic picture. Ocean and surfer imagery from the Billabong channel made me want to grab a board, Livestrong's Yoga section got me into bendy positions, and The Wiggles -- well, they sort of made me want to punch someone in the face. Some of the video isn't so great, but that's not the player's fault; it's dependent on the source material. For instance, the Michael Jackson channel (they have one of those!) had all SD videos, which didn't look as bright and detailed as the some of the recent live concerts on the Moshcam. Netflix and Amazon Instant Video streamed nicely over my FiOS connection, both with 5.1 sound. VUDU viewers will also appreciate that this player also supports VUDU 3D, which has a nice selection of 3D films in high definition as well as plenty of free clips.
After spending time with new, web-based material, it was time for a few stand-by selections to test out the player. The standard-def DVD of Spider-Man 2 and Blu-rays for Kick-Ass and The Incredibles were all awesome. What can I say, I like my superhero flicks! I also like them to look good. Thankfully, the BDP-D590 displayed gorgeous colors and crystal-clear images. The Blu-ray 3D of Avatar jumped off the screen, with stunning colors. I didn't have one complaint.
The player also performed extremely well during the HQV Benchmark test DVD. The BDP-S590 passed all of the jaggies tests with flying colors (and flags). However, the player didn't do as well during the noise reduction portion. I wouldn't call it a deal-breaker -- not by a long shot. However, it was just a little disappointing, given the player's performance during the rest of the disc. Details were great and 3:2 cadence was locked down almost immediately.
Gorgeous images are great, but a lot of you have short attention spans. So how does the BDP-S590 perform with load times? For each disc, the stopwatch was fired up right when the play button was pressed. My go-to standard-def DVD (Old School) took about 21 seconds to get to the DreamWorks logo. A standard Blu-ray (Hitch) took about 25 seconds to load, while a BD-Java title (Pirates of the Caribbean: The Curse of the Black Pearl) loaded to the Disney logo in about 32 seconds.
Next was the notoriously slow, BD-Live heavy title, Inglourious Basterds. With the web connected, this title took just 42 seconds to load. What a nice surprise! The last of the lot was the Blu-ray 3D Disc of Avatar, which loaded to the Fox logo in 64 seconds.  OVerall, these times are pretty speedy, particularly Basterds which has been know to take close to 2 minutes to load on some earlier players.
Get in Control

A remote is a remote, right? Not when it's the remote for the Sony BDP-S590. This smallish remote does have all of the standard buttons, as well as one dedicated to Netflix access. What makes this remote a standout, however, is that it also has a SEN button. SEN stands for Sony Entertainment Network, and this button provides instant gratification to those Sony-specific services.
Sony also offers a free Media Remote app, which I tested out using the iPhone 4. After a minute or two of setup, this option displayed a lot of the same functionality as the factory remote, all the way down to the SEN button. However, it also adds in plenty of links and social features. For instance, during a preview of The Descendents, there were options to share the clip with Facebook and Twitter, as well as search for additional content through YouTube, Wikipedia, Twitter and Sony Essentials. The app also has a "Catch & Throw" feature, which allows users to surf through the app's web browser and "throw" the content over to the big screen -- and vice versa. Of course, having the keypad makes the iPhone the easier choice when searching for content. It's hard to speak for every Sony product under the sun, but as far as the BDP-S590 is concerned, Sony seems to have covered all of the bases; it's definitely one of the better Blu-ray player apps I've seen.
Turn Ons
Stunning 2D and 3D images
Mind-boggling number of web-based features
Built-in WiFi
Great companion app
Turn Offs
Construction seems flimsy

Slow, clunky web browser
Final Thoughts
Sony's BDP-S590 seems a little on the small side, but wow wee -- they certainly packed a lot into this little player. It offers a mind-boggling amount of entertainment. Of course, it's still a Blu-ray player first and foremost, and it does that very well, in 2D and 3D. With an MSRP of $149.99 (and a street price even less), this player offers a lot of bang for the buck. Consider it money well spent.
Manufacturer's Specs:
Manufacturer's Contact Information:
Sony Electronics Inc
16530 Via Esprillo
San Diego, CA 92127
Phone: 877-865-7669
On the web: www.sony.com