Snow White and the Huntsman Blu-ray Review
By Rachel Cericola
The Film
Earlier this year, dueling films took on the classic tale of Snow White. One had Lily Collins and Julia Roberts; the other ultimately broke up "Robsten."
Unless you steer clear of the likes of TMZ, Entertainment Weekly and People, you probably know that star Kristen Stewart crushed the hearts of Twlight fans everywhere, by cheating on her on/off-screen love interest Robert Pattinson with Snow White and the Huntsman director Rupert Sanders. Will the poisonous publicity be long remembered over the movie? Let's take a closer peek at this dark depiction of the fairytale.
When the film begins, we see King Magnus and Queen Eleanor loving and living the After wishing on the prick from a rose, Snow White is soon born. Of course, this fairytale can't last forever, tragedy strikes and Eleanor dies. Soon after, a heartbroken Magnus goes for a trophy bride, who turns out to be the evil Ravenna (Charlize Theron). She kills Magnus and keeps Snow White as a prisoner for years, until she grows up (and is played by Stewart), and escapes as a teen.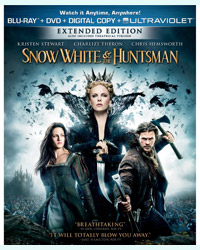 Naturally, having her die in the Dark Forest isn't enough. Ravenna needs Snow White's heart, so she enlists the help of the Huntsman (Chris Hemsworth) to retrieve the young beauty. Well, when the Huntsman finds out that he's being played, he goes all
Thor
on the Ravenna's men.
Dizzy yet? We haven't even touched upon Snow White's childhood love William, that crazy mirror on the wall and the dwarves -- who are played by Ian McShane, Bob Hoskins, Ray Winstone, Toby Jones, Nick Frost and Eddie Marsan. It doesn't really matter. This movie is about the action, with Theron being the gem of the lot. She is deliciously evil down to her poisonous apple's core. She's also the most interesting character in the film.
Speaking of which: K-Stew as Snow White just isn't up to snuff. Supposedly, she possesses powers to enchant, but maybe you just need to get to know her or something. None of the audience ever gets that pleasure and she seems pained to be here. You're not the only one, honey.
All of the film's faults don't really matter, though. Snow White and the Huntsman will fill your medieval action quota.
Want to be truly enchanted by another view of this movie? Check out Joe Lozito's theatrical review of Snow White and the Huntsman.
The Picture
As one would expect, Snow White is quite stunning. The film is dark in tone and palette, but colors are rich and the detail is wonderful in this 2.35:1 transfer. Occasionally, you'll catch a little softness, but that adds to the film's dark, spooky, and sometimes trippy imagery. Many of the scenes have a real three-dimensional quality and close-ups are divine.
The Sound
The film's dialogue is low, but you'd better keep that remote close by. This Snow White is soft-spoken, but carries a rather loud stick -- or sword, in this case. When effects come rumbling through, this DTS-HD Master Audio 7.1 track can get loud. Horses gallop, soldiers clash, waves crash, and fire crackles throughout the entire soundfield. Most notable is when Snow White ventures into the Dark Forest, which includes trippy sound effects, a troll encounter, and plenty of other sounds whipping around. It's an interesting track for sure.
The Extras
This 2-disc release includes an extended version of the movie, but there are just a few, barely noticeable extra minutes. Otherwise, Universal has packed Snow White and the Huntsman with a hearty collection of extras. There's a comprehensive audio commentary, a picture-in-picture track with interviews and behind-the-scenes snippets, and the Second Screen option for getting your computer, tablet or smartphone into the viewing process. Also expect a nice collection of featurettes, including shorts covering the production, the film's fairytale inspiration, and the special effects.
Final Thoughts
Snow White and the Huntsman isn't exactly a fairytale, with too many characters and Kristen Stewart's less-than-enchanting lead performance. However, if you had to pick between the two Snow White films released this year, an excellent Blu-ray and a wickedly wonderful performance by Charlize Theron edges this one out as the fairest one of them all.
Product Details
Actors: Kristen Stewart, Charlize Theron, Chris Hemsworth, Sam Claflin, Ian McShane, Bob Hoskins, Ray Winstone, Nick Frost, Toby Jones
Director: Rupert Sanders
Audio/Languages: DTS-HD Master Audio 7.1 (English), DTS Digital Surround 5.1 (French, Spanish), DVS 2.0 (English)
Subtitles: English SDH, French, Spanish
Aspect Ratio: 2.35:1
Number of Discs: 2
Rating: PG-13
Studio: Universal
Blu-ray Disc Release Date: September 11, 2012
Run Time: 128 minutes (theatrical), 132 minutes (extended)
List Price: $34.98
Extras:

Extended Edition
A New Legend is Born
Reinventing the Fairytale
Citizens of the Kingdom
The Magic of Snow White and the Huntsman
Around the Kingdom: 360-degree Set Tour
Feature Commentary with Director Rupert Sanders, Visual Effects Supervisor Cedric Nicolas-Troyan and Co-Editor Neil Smith
Second Screen
Picture-in-Picture
D-BOX Motion Code
BD-Live
Standard-Def DVD
Digital Copy
UltraViolet Digital Copy