Shigurui: Death Frenzy The Complete Series on Blu-ray Disc Review
By Brandon A. DuHamel
The Series
Let me start by prefacing this review with the statement that, like many animé productions,
Shigurui
, is most definitely NOT for younger audiences. Although it falls just short of being Hentai (pornographic animé productions),
Shigurui
does in fact contain a lot of nudity, sex, bondage, near-rape, incestuous overtones, and generally abusive treatment (physically and psychologically) of its subservient female characters, in keeping with the Edo period in which the story takes place. Apart from those things, there is, of course, plenty of graphic violence, but there is also some cannibalism as well. So, parents are advised to use their better judgment and squeamish adults should probably keep away as well.
The series is based on the first chapter of the novel Suruga-jou Gozen Jiai by Norio Nanjo and tells the story of two rival samurai, Seigen Irako and Gennosuke Fujuki, at a dojo under the tutelage of a ruthless and demented sensei Kogan Iwamoto. Fujiki and Irako battle each other not only for the honor of learning the secret Kogan swordplay technique that is passed on only to the ones deemed worthy successors by the sensei and helps to keep the Kogan-style feared and unrivaled, but they battle for the rights to marry and, subsequently, breed with Mie, Kogan Iwamoto's daughter and only child.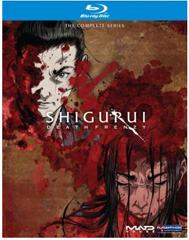 It is seen as important that a child be born of Kogan to carry on his seed and keep Kogan-style alive, and when Kogan has deemed that his daughter, whom he refers to as "the vessel," is ready by sexually accosting her one night while she lays asleep, he decides to choose between Fujiki and Irako as his daughter's husband by pitting them against each other in a battle using bokken (wooded swords) that turns brutal. The outcome being that Irako unexpectedly prevails.
Mie is shattered as she had secretly harbored a crush on Fujiki her entire life and things turn even more brutal when her father, in one of his states of dementia, has Mie held down by all the members of the dojo and orders Irako and Mie to breed, right there after their wedding. The only thing that saves her is a plea from Irako imploring Kagan that doing such a thing might cause her to kill herself, thus defeating the purpose.
If it seems that
Shigurui
could not get any darker, it certainly can and does, when things take a very terrible turn for Irako after he is found to be sexually involved with Kogan's mistress Iku and first branded, blinded, then banished from the dojo. This turn of events sets off the central conflict of
Shigurui
and will lead to some of the most violent confrontations of the series.
There are many animé series out there dealing with weighty themes and samurai --
Samurai Champloo
,
Samurai 7
, and
Afro Samurai
are just some that come to mind. They can be violent and at times introspective, but there is always something to lighten the atmosphere. That is not the case with
Shigurui
.
Shigurui
is laden with gravitas. There is not one moment during this series where the mood lets up. Unlike Afro Samurai, there's no Ninja-Ninja for comic relief. Every moment feels filled with dread, and none of the characters has very many redeeming qualities. The closest is Mie, but her undying loyalty to the murderous Irako certainly leaves something to be desired as well.
Still, the style, character and set designs of
Shigurui
and drama are unquestionable. This is animation as art and it is riveting stuff even at its most shocking.
The Picture
Shigurui
is a purposely gritty production, with intentionally heavy grain, and splashes of deep red blood juxtaposed against a drab palette of earth tones. The AVC/MPEG-4 1080p/24 transfer to Blu-ray of the original 1.78:1 framing preserves this look flawlessly. Whether it is reference material to show off your display is up for debate, but the encoding never gets in the way, and that is what one should be looking for in a the best of any Blu-ray transfer.
The transfer's line art is well defined, shadow delineation is strong and there's good contrast. No edge enhancement or excessive DNR (Digital Noise Reduction) can be noticed, so detail is retained, even in the grittiest of scenes.
The Sound
Although
Shigurui
is supplied with a lossless Dolby TrueHD 5.1 soundmix, it is disappointingly only available for the English dub. The original Japanese language track is relegated to a lossy Dolby 2.0 mix. Fortunately, there are literal translations of the Japanese supplied in the form of English subtitles, so one could listen to the 5.1 mix while reading the subtitles, but that can becoming a bit disorienting.
As for the mix itself, the TrueHD mix is very well done. The surround channels are alive with atmospheric sounds and discrete sound effects; low frequencies give the subwoofer a healthy workout as every blow that lands during a fight sequence lands with an authoritative "boom." The high frequencies are also, thankfully, smooth and reserved which makes the numerous metallic sound effects of blades crossing and clanking easy on the ears.
There's a good amount of directional use of the front soundstage as well to follow action across the screen as sounds pan across the three speakers. Dialogue is clean and never lost in the din of the action. This is yet another reference-quality soundmix from the folks at FUNimation.
For the diehard animé fans out there who will surely insist on listening to the original Japanese soundtrack, the 2.0 mix itself is no slouch either. Its only encumbrance is that of its lossy encoding. Its dialogue is intelligible and clean and there is a good amount of low frequency response and a balanced midrange, but high frequencies are a bit harsh and ambient effects sound little diffuse. Separation is not quite as distinct as in the TrueHD mix, but it is certainly not bad by any means.
The Extras
There's not an overabundance of supplemental materials relevant to
Shigurui
supplied in this set, but the audio commentaries for episodes 4 and 10 from the U.S. cast and production crew should be of interest to fans as should the production sketches that are provided.
The extras provided on this release are:
Disc 1:
Audio Commentary: Episode 04 -- "A Children's Song"
The opening and closing songs played without credits
Disc 2:

Audio Commentary: Episode 10 -- "Kengyou's House of Punishment"
Production Artwork:
Trailers:

Speed Grapher
Baccano!
Ghost Train
Tokyo Majin
Claymore
Trinity Blood
Darker than Black
D. Gray-Man
Final Thoughts
Shigurui
is certainly not for everyone, but this 12-episode series is well written, superbly animated, and brought to Blu-ray in another excellent transfer from Funimation.
Where to Buy
Product Details
Actors: Laura Bailey, John Burgmeier
Directors: Christopher Bevins
Video Codec: AVC/MPEG-4
Language: English Dolby TrueHD 5.1, Japanese Dolby Digital 2.0
Subtitles: English
Region: Region A
Number of discs: 2
Rating: Not Rated
Studio: FUNimation
Blu-ray Release Date: March 31, 2009
Run Time: 300 minutes
List Price: $69.98
Extras:

Marathon Play
Audio Commentaries
Production Artwork
Textless Songs
Trailers