School of Rock Blu-ray Review
By Rachel Cericola
The Film
Without a doubt, 2003's School of Rock is one of the best films on Jack Black's resume -- at least one of the best where he isn't playing a kung-fu fighting panda. Despite the $131 million haul, this film has never made it to Blu-ray. Weird? Best Buy seems to agree, so they released this one as an exclusive.
Black plays Dewey Finn, a wannabe rocker desperately in need of cash. He's actually a total (surprise!) loser. Instead of seeking out a real job, he snags one meant for his roommate Ned (Mike White, who also wrote the film), a substitute teacher. Of course, Dewey can barely function as an adult, let alone teach. In other words, don't expect him to transform into the next Joe Clark, Mr. Holland, LouAnne Johnson or even Robin Williams. Instead, he tweaks the lesson plan to create his own pint-sized supergroup.
If you've seen any of Black's movies, you know he can be hit or miss. However, his hammy, cocky persona and experience as one half of Tenacious D is a real asset here. It should also be noted that the School of Rock kids can actually sing and play all of their own instruments. They do pretty well with acting, too. All of this adds up to an enjoyable film, which is something that should be commended. Often when kids are thrown into the mix, the end result is, well... not that funny. School of Rock defied all of those odds and can still rock your socks off, even after all these years.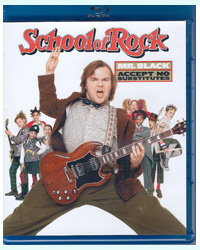 Want to rock out a little more to this movie? Tune in to Joe Lozito's theatrical review of School of Rock.

The Picture
School of Rock dazzles on Blu-ray. Of course, you have to be willing to find the freckles on Jack Black's back to be dazzling. The 1.78:1 transfer has a nice little layer of grain and a lot of great details on faces and a lot of the clothing. The colors are especially nice, and very lifelike. Occasionally, you'll catch a soft scene, but it's hardly noticeable. This is a very nice upgrade.
The Sound
The DTS-HD Master Audio track rocks early and often. The dialogue is certainly a main focus, and it's clear. However, the fun is the soundtrack, which fills the surrounds with the likes of AC/DC, The Ramones, Cream, Led Zeppelin, and much more.
The Extras
All of the extras have been ported over from the DVD release here. It would have been nice to catch up with the kids now or even have new commentary tracks. However, this release does have a hearty collection of extras highlighting Jack Black, as well as the kids in the film. It's especially awesome that there are two commentary tracks. One has Black sitting down with director Richard Linklater, while the other gives the kids a chance to giggle and give a different perspective of the movie.
Final Thoughts
Most people can agree that Jack Black isn't for everyone. School of Rock sort of is, though. Even if you don't like Black's antics, his schtick is very much appreciated here. The content may work on varying ages, but the Blu-ray upgrade is certainly something that all you aging rockers will appreciate. Even without any new extras, it looks like Best Buy snagged a nice little exclusive. You should do the same.
Product Details
Actors: Jack Black, Joan Cusack, Mike White, Sarah Silverman
Director: Richard Linklater
Audio/Languages: DTS-HD Master Audio 5.1 (English), Dolby Digital 5.1 (French, Portuguese, Spanish)
Subtitles: English, English SDH, French, Portuguese, Spanish
Aspect Ratio: 1.78:1
Number of Discs: 1
Rating: PG-13
Studio: Paramount
Blu-ray Disc Release Date: December 2, 2011
Run Time: 109 minutes
List Price: $22.98
Extras:

Commentary by Actor Jack Black and Director Richard Linklater
Kids' Kommentary
Lessons Learned on School of Rock
Jack Black's Pitch to Led Zeppelin
School of Rock Music Video
Kids' Video Diary: Toronto Film Festival
MTV's Diary of Jack Black
Dewey Finn's History of Rock
Theatrical Trailer
Where to Buy: