Say Anything Blu-ray Release Brings Army of Lloyd Doblers to NYC
By Chris Boylan
In celebration of the 20th Anniversary of Cameron Crowe's Say Anything, and its release on Blu-ray Disc, an army of Lloyd Dobler lookalikes converged on New York City today, boom boxes in hand.  It was a little surreal and led to a few turned heads of otherwise jaded New Yorkers. 
I caught up with them in front of the Krispy Kreme at Penn Station (hey, even Lloyd Doblers can't resist that sweet sugary goodness). The purpose of the stunt, of course, was to recreate the famous - almost iconic - image of John Cusack's Lloyd Dobler, standing in front of the house of his ex-girlfriend (Ione Skye), cranking Peter Gabriel's "In Your Eyes" with boom box raised above his head - part of Dobler's approach to "do anything, say anything" to win her back.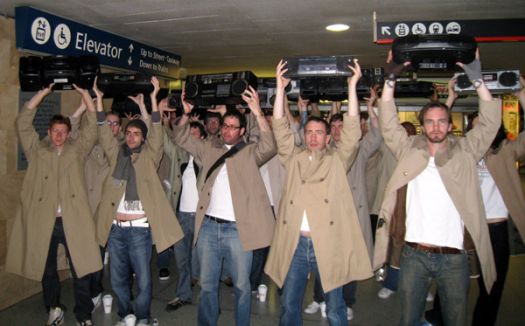 The troupe of Dobler doppelgangers (Dobler-gangers?) will continue their antics through New York, stopping at Washington Square Park, Union Square, and then finishing up in Times Square at 4:00 today with a live acoustic concert at 4:30 by indie rock band Lloyd Dobler Effect, who will perform an assortment of tunes including the Peter Gabriel song. 
Apparently director Cameron Crowe almost lost his opportunity to use the song in the film as Peter Gabriel originally said no, as he felt that this would be an inappropriate use of his music.  But Crowe called him to make a final plea.  Gabriel said, "Well when he takes the overdose it just didn't feel like the right kind of use of the song" to which Crowe replied, "huh?"  Gabriel had thought Crowe was asking to use the song in a John Belushi biopic.  When Crowe straightened things out, and Gabriel actually had a chance to watch the film, he agreed to let Crowe use of the song in the film.  And the rest was history. (Note: you can read more about this part of the story in Entertainment Weekly).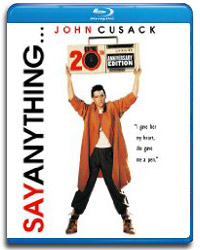 Starting today, you can bring 
Say Anything
 home on Blu-ray Disc, remastered in high definition 1080p resolution, with lossless DTS-HD Master Audio surround sound.  For bonus materials, the Blu-ray Disc offers running commentary by the director and stars as well as all new bonus features including an all-new retrospective featurette, "An Iconic Film Revisited:
Say Anything
... 20 Years Later" and an all new trivia track containing over 200 questions and answers about the film.
Both the 20th Anniversary anniversary Blu-ray Disc ($34.99) and a 20th Anniversary DVD edition are available today.
Where to Buy: