Samsung Launches the GALAXY Note 10.1 Tablet
By Ian White
You're gonna need a bigger tablet...
With all of the excitement this week surrounding the Blu-ray release of Jaws, it is almost ironic that Samsung decided to drop something rather large into the shark-infested tablet category. It has been an interesting summer for the Korean manufacturer which is currently locked in an intense (if not somewhat strangely comical) legal battle with Apple. It's one of those fights that is going to have an ugly ending for both parties. On the positive side, Samsung's smart phones and Note tablets (more than 10 million Note tablets versus Tab) are selling like crazy around the globe and it is one of the few consumer electronics manufacturers showing a strong balance sheet. With CEDIA 2012 only weeks away, and the Olympic hangover in full swing, Samsung decided that this week was the best time to fire a major shot across the bow of the folks in Cupertino. Enter the dragon. Enter the GALAXY Note 10.1 tablet.
If you have never ventured into Samsung's high-end boutique in New York (West 60th Street, Time Warner Center), you owe it to yourself to see a technology store done properly. Not only is it a gorgeous space, but the amount of technology that you can try is somewhat overwhelming. Samsung also designed it as an event venue and few companies throw a better party (nothing like great food and celebrities to make a $30 train ride into Manhattan worthwhile for the a/v press) and today's product launch at Jazz at Lincoln Center was no exception.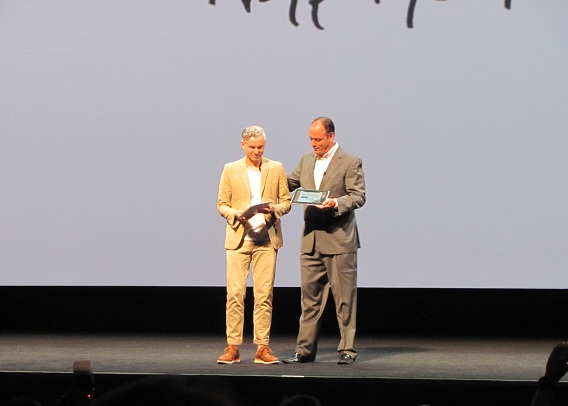 Zac Posen? Not my personal fashion guru (I prefer
www.suitsupply.com
) but he's a bonafide superstar in the world of fashion and an extremely nice Jewish boy from SoHo, so what's not to like. Posen explained how the Note 10.1 allowed him to draw and share new designs in real time with other designers in his business and how effective the S-Pen was.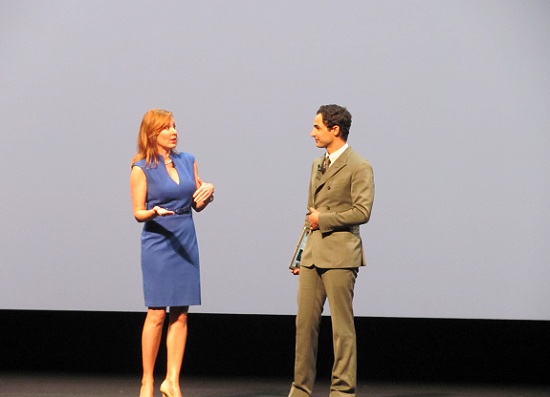 Baz Luhrmann is a name that should ring a few bells (we forgive you for
Australia
) with BPBS readers (
Strictly Ballroom
is still my favorite), and the famed Australian director was also on hand to explain how the GALAXY Note 10.1 can be utilized to further the creative process. Luhrmann called the Note 10.1 a "creative toolbox" and loved "the ability to share and collaborate in real time."
What is pretty clear from the press event is that Samsung views their product as a creative platform, something that has been missing from the iPad in their opinion. Tablets are great as media players, but Samsung feels that the real power of the Note 10.1 is its ability to create. In essence, the iPad is a toy for surfing and watching movies and television reruns while the Note 10.1 is a real device for people who need it to do a lot more.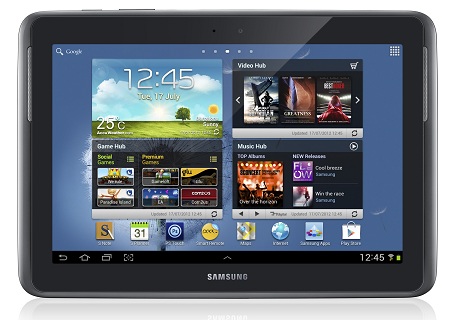 Members of the Apple cult (as a thirty-year user who started with a 128k Mac, I don't place myself in that camp) have a nasty habit of bashing anything that doesn't originate in Cupertino, and a genuine smugness surrounding the iPad and its superiority to everything else. Is the iPad a great product? Absolutely. Do I love my iPad 2 and carry it with me 24-7. Not as much anymore.
With the release of the GALAXY Note 10.1, Samsung has reason to crow. Seriously. Not only is the 10.1 tablet a genuine competitor to the iPad, but it's a great deal at $499 for the 16GB model ($549.00 for the 32GB).
The internal guts include a 1.4GHz quad-core processor and 2GB of internal RAM. The screen (this is where the Retina screen lovers will howl) is a 10.1" LCD (WXGA, 1280 x 800) that supports HD (1080p) playback.
The operating system is Android 4.0 (Ice Cream Sandwich...who comes up with these names? I think Kimchee or Shark Fin Soup would be a lot cooler) which I have not had enough experience with to really dissect but it ran extremely smoothly on the demo device and certain warrants further attention from yours truly...the old Apple guy who colors his hair.
The 10.1 comes with two cameras; a 5 Megapixel auto focus camera with LED flash on the backside of the tablet, and a 1.9 Megapixel VT camera on the front. I took a few shots in the event room with the tablet and have to say that my initial impression was kinda mixed. Weird lighting in the room, but the image was not very crisp. Hopefully, the review sample in more natural light will fare better.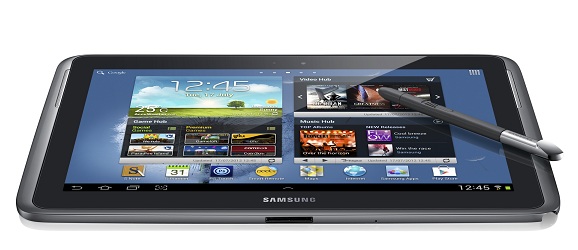 From a codec perspective, the 10.1 seems to support everything but AIFF files on the audio side (not good), but I like the fact that it supports FLAC. On the video end, the tablet supports every relevant format and offers 1080p playback and recording.
From a connectivity perspective, the GALAXY NOTE 10.1 supports Bluetooth v4.0, Wi-Fi 802.11 a/b/g/n (2.4 and 5 GHz), Wi-Fi Channel bonding, mHL, has a 3.5mm headphone jack, IR LED (Universal Remote), and has a microSD slot (up to 32GB).
So how does it really differ from the iPad?
Samsung has gone the stylus route with the new S-Pen which has 1,024 levels of sensitivity (Doesn't Trojan claim that as well?) and which fits neatly into a slot in the tablet. Samsung emphasized at the event that the S-Pen is not a stylus but a complete rethinking of the technology.  What is unique about the S-Pen, is that when you remove it from the tablet, it launches a taskbar with immediate access to S Pen apps such as S Note, Polaris Office, and...Adobe Photoshop Touch. Photoshop Touch is a $9.99 app, but it comes included for free on the tablet. I'm married to an industrial designer who uses Adobe Illustrator all day long, so I'm hoping that a tablet version of that program also shows up. I've used a stylus on my iPad 2 and I can't say that I loved the experience. Granted, my illustrations always include a smiley face, so I'm not the intended audience.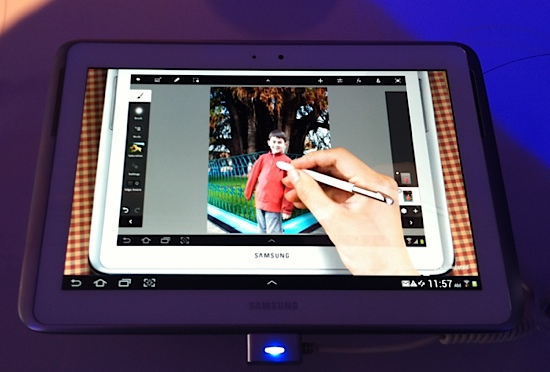 Another significant difference between the two tablets is that you can use two different applications side-by-side; you can watch a movie on one side of the screen, while writing a document on the other. It is actually a really strong feature that works great in practice. You can change the size of the video window (almost PIP) via the Popup Play feature which Samsung introduced on the GALAXY S III smartphone. You can also move it anywhere on the screen so that you can utilize others apps at the same time.
Samsung is also taking a swing at Amazon with the Note 10.1 offering a strong mix of ebook apps which include a textbook platform from Kno, a pioneer in education software, and a preloaded version of the Nook app from Barnes and Noble.  As a former Nook guy at Barnes and Noble, I am pretty experienced with the technology and interface and I must say that Samsung has done an admirable job with it. Streaming books to your television (comics and children's books look great) worked flawlessly and I can see that being a huge attraction, although I'm not sure I would read War and Peace on the Samsung LCD HDTV in my bedroom.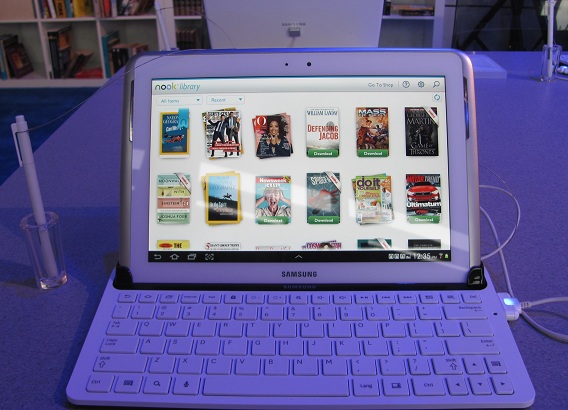 Samsung is also trying very hard to make the GALAXY Note 10.1 easy to use with other products, and is offering a free two-year subscription to Dropbox (50GB of storage space) to entice you ever further.
From a home theater perspective, the 10.1 has the ability to transform into a Samsung Smart Remote, powered by Peel (using the built-in IR emitter) and we look forward to seeing how well it works with brands other than just Samsung.
The tablet also utilizes AllShare Play, which allows you to share content with a large group in real-time (Samsung ran ads promoting this throughout the London 2012 Olympics on NBC...worst coverage), which includes music, photos, music, and even documents.
My initial impression is that the GALAXY Note 10.1 offers a really interesting platform for those of us who work in the creative world (Photoshop Touch) and that Samsung is truly committed to developers looking to create apps for consumers and enterprise. Why am I so sure of this? Samsung announced a $4,000,000 grant/award program for developers. More information about the program is available online.
The S-Pen is really brilliant. It really works like a real pen and if your handwriting is atrocious, the software will turn it into crisp text.
The internal hardware is also quite impressive. The display samples were very quick, although with 100+ people trying to surf at the same time in the same room, web pages didn't load that quickly.
My only real gripe with the tablet so far was the screen. The real test will be with video at home via Netflix and others, but the resolution of the screen bothered me. Why swing for the fences with an iPad-killer and offer an inferior screen? I plan on comparing the Note 10.1 with my iPad 2 to truly see and may even pop into the local Apple temple to compare with the iPad.
Big Picture Big Sound has one of the first review samples, so look for our review in the next few days.
When is this available?
Tomorrow.
August 16th.
For more information:
Where to Buy: