Rush: 2112/Moving Pictures Classic Album Blu-ray Review
By Ian White
The Film
Back in the day when I was a long-haired freak and felt imprisoned behind the concrete walls of my high school, there were two camps; the cool kids who stood outside by the tennis courts smoking and listening to the Grateful Dead and the Who (still my favorite band of all-time...which only added to my torment), and the uncool kids who hung out in the basement listening to everything else. My "everything else" consisted of a weird mixture; U2, the Cure, and Rush.
Growing up in Toronto, one would think that it was a given that more kids would love the hometown prog rock trio from the suburbs. It was never the case, and it also explains why Rush hit it big in the United States long before Canadian headbangers appreciated their music. Rush reached for the stars, and that was not a Canadian thing to aspire to. Major no-no. Their experience was not unique; take a look at the number of major movie stars/musicians/comedians that left the Great White North (me included...I'm a big shiny star) to make it in the business.  I mean Martin Short, paople: Martin freakin' Short!
Rush hit it big in the U.S. because they were unlike anyone else, supremely talented as musicians, and persistent as hell. The release of 2112 in 1976 was an important milestone for the band. It was their fourth studio album and it was by far, the most daring. Possibly, the most daring by any band in the music business. The concept album, with lyrics penned by drummer Neil Peart, was way out there; both lyrically and musically. Record executives hated it. The opening track (which is one of the greatest showcases of the band's musical abilities when performed in concert) is more than twenty minutes long and not exactly a radio song. It's brilliant, but one can understand how DJs had an issue with it. It was never an album to impress the ladies with. More than thirty years later, it still stands out as one of the best prog rock albums of all-time. Can anybody play the bass as well as Geddy Lee? Not many. Has there ever been a better rock drummer than Neil Peart? Keith Moon would be the only one that comes close in my book, but it is one of those fights not worth picking.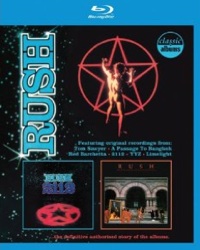 If
2112
was not a huge commercial success, then so be it. The best was yet to come from Geddy, Alex, and Neil. Fast forward a few years to
Moving Pictures
. Not only was this the album where
Rush
finally found its voice, but it soared on the charts. It sold more than four million copies which was huge for any band, let alone one from Toronto. The first side of the album is one of the strongest in rock history; "Tom Sawyer," "Red Barchetta," "YYZ," and "Limelight." There wasn't a single crappy note on the entire album. Seven songs. Every one of them kicked ass. "YYZ" was nominated for a Grammy and remains one of the best rock instrumentals of all-time.  And its signature rhythm was based on the morse code for Toronto's International Airport Code (call letters of which are, you guessed it: Why-Why-Zed!).
Eagle Rock deserves a lot of credit for their Classic Albums series. 2112/Moving Pictures is aimed at diehard fans for sure, but the material is interesting enough for any real music fans and the price, for a high quality, high definition release, is remarkably reasonable. One of the most intriguing things about the band is how well it has stuck together over the past forty years, through some pretty hard times -- particularly for drummer Neil Peart -- which makes their success even sweeter. These guys really like one another, and it shows up on camera. There is a clear respect for each others musical abilities and ideas. The film/documentary takes us on a journey through the creation of these two landmark albums and it is all quite intriguing.
The Picture
The picture quality on Rush: 2112/Moving Pictures is a lot better than one usually gets on a documentary. The main feature is a MPEG-4 1080i/60 AVC encoding and it looks very sharp. There is little to no video noise, and the colors are superb. The older archival footage looks dated, but it is still quite watchable.
The Sound
I was a little disappointed to discover that the audio is only a 2.0 LPCM soundtrack, but it does sound quite good. The dialogue is extremely clear and all of the music sounds quite punchy. They did such a good job, that one can only wonder what a 5.1 release would have sounded like.
The Extras
There was a lot of extra footage shot for this film that never made its way into the final cut for broadcast, but thankfully it is all available on the Blu-ray release. There are an additional 54 minutes included which contains exclusive footage and additional interviews. It's not going to be of much interest to non-fans, but Rush diehards will enjoy it.
Final Thoughts
Moving Pictures and 2112 may never earn the type of accolades that albums such as Who's Next and Led Zep's Houses of the Holy received, but the Candian trio's place in rock history is well earned. The Classic Albums series release has done a superb job of documenting their importance and it is a worthy addition to any music lover's collection. Very highly recommended.Product Details:
Aspect Ratio: 1.78:1

Video Codec: AVC/MPEG-4

Resolution: 1080i/60

Audio Codec: English LPCM 2.0 Stereo

Subtitles: English, Dutch, French, German, Italian, Japanese, Portuguese, Spanish

Region: A

Rating: Not Rated

Discs: 1

Studio: Eagle Rock Entertainment

Blu-ray Release Date: September 28, 2010

List Price: $19.98
Extras:

Additional interview footage and deleted scenes