The Site for Home Theater and Movie Reviews
Rio Blu-ray Review
By Chris Chiarella
The Movie
One of the last two blue macaws on Earth, Blu (yes, as in "-ray," voiced by Jesse Eisenberg) has lived such a sheltered life in frigid Minnesota, he's never even bothered to learn how to fly. But when he and his owner are invited down to Rio de Janeiro to breed with the only living female (voice of Anne Hathaway) and save the species, it's an offer too exciting to pass up.
Of course, being so rare also makes the pair incredibly valuable, and before they can close the deal they are birdnapped, to be smuggled out of the country and sold on the black market. They escape, but a wild chase is on, and chained together the couple shares a once-in-a-lifetime adventure across the erstwhile capital city during carnival, and the experience is every bit as lively and colorful as we would expect. Rio is full of catchy music and amusing characters, suitably entertaining for young and old viewers.
The Picture
No surprise, the animation is exquisite, boldly designed and rendered. Quite often, every strand in every feather is visible, the leaves and tropical foliage are razor-sharp, and the colors are as vibrant as you are likely to see on any disc this year. I noted some video noise and streaking within the 2.4:1 frame, but overall this could qualify as a showoff disc.
The Sound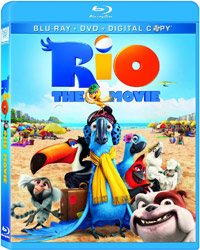 The music creeps in slowly around us and before we know it, we are swept up in the pageantry of Rio de Janeiro. Sergio Mendes himself was tapped to be the executive music producer for the film, and the songs gets most of the love in this DTS-HD Master Audio soundtrack, with an aggressive 5.1-channel mix and crystalline resolution, backed by thunderous bass. Some voices and incidental sound grace the rears, but in general the movie action does not conspicuously exploit the available speakers.
Interestingly, no Portuguese audio or subtitles are provided.
The Extras
A wealth of bonus content is supplied, much of it quite inspired in its creativity and use of Blu-ray technology. We can design and share our own virtual postcards via the remote control and an internet-connected player, and later we can dance along with one of our favorite characters or with a Samba line. The interactive map/tour of the movie locations is remarkably deep with lots to discover, much of it hosted by director Carlos Saldanha, himself a native of Rio. All of the video appears to be in HD.
The set also includes a DVD with a subset of the features listed below, and a Digital Copy disc for iTunes and Windows Media.
Final Thoughts
While lacking the de rigueur pathos of recent Disney/Pixar hits, Fox/Blue Sky's Rio is nonetheless an engaging ride through exotic locales with some charming companions, well-suited to the high technical standards of Blu-ray. I thoroughly enjoyed it, and I'm guessing my kids will make it their new "it" movie.
Product Details
Voice Actors: Anne Hathaway, Jesse Eisenberg, Leslie Mann, Rodrigo Santoro, George Lopez, Jamie Foxx, will.i.am, Jemaine Clement, Tracy Morgan
Director: Carlos Saldanha
Audio Format/Languages: DTS-HD Master Audio 5.1 (English); Dolby Digital 5.1 (Spanish, French, English Audio Description)
Subtitles: English SDH, Spanish
Aspect Ratio: 2.40:1
Number of discs: 3
Rating: G
Studio: Fox
Release Date: August 2, 2011
Run Time: 96 minutes
List Price: $39.99
Extras:

"Blu Shows the Way" (Introduction)
"Scrat's Continental Crack-Up" animated short
"Explore the World of Rio" interactive map/tour:

Beach
Jungle
City
Stadium

"Boom-Boom Tish Tish: The Sounds of Rio"
"The Making of Hot Wings"
"Saving the Species: One Voice at a Time"
"The Real Rio"
Deleted Scene: "Fruit Stand"
Postcards from Rio
Carnival Dance-O-Rama, with:

Blu
Jewel
Luiz
Monkeys
Nico and Pedro
Raphael
Samba Line

Rio de JAM-eiro Jukebox:

"Real in Rio"
"Pretty Bird"
"Hot Wings (I Wanna Party)"
"Fly Love"
"Real in Rio (New Home)"

"Welcome to Rio" Music Video
"Telling the World" Taio Cruz Music Video
Angry Birds Rio Videos:

Trailer
Nigel Mash Up
Instructional Video

15 Exclusive Levels for Angry Birds Rio game
BD-Live:

What's New with "The Acting Animators" featurette
Live Lookup powered by IMDB

DVD with select bonus features
Digital Copy
pocket BLU
What do you think?
| | |
| --- | --- |
| Overall | |
| Video | |
| Audio | |
| Movie | |
| Extras | |
Explore Big Picture Big Sound