Quantum of Solace on Blu-ray Disc Review
By Rachel Cericola
The Film
Every movie should open with a car chase. Welcome back, Bond; we missed you. In a departure from the other 007 films,
Quantum of Solace
allows our favorite agent to pick up where he left off: He's a total bad-ass with a bone to pick.
Bond is on a rampage due to the death of the one Bond girl that apparently mattered -- Vesper Lynd (Eva Green) last seen in
Casino Royale
. However, seeking vengeance isn't all that easy, but it is picturesque.
Yes, there is also plenty of action. In fact, 30 minutes in, you'll be treated to a minimum of one car chase, a boat chase, and two fights -- one of which takes place
on a rope
. There's also plenty of crashing through windows and leaping across rooftops. This action is unlike any that we've seen in previous Bond adventures. Instead, they seem to be taking a page from the Jason Bourne playbook.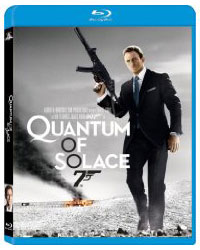 Not that there's anything wrong with that. In fact, they might have wanted to take another page or two. Because the first half has the movie getting fired out of a cannon, and the rest is more like watching smoke clear. It's like the special effects department used up all of the explosives in that first 30 minutes.
Of course, Bond isn't always at his best. Craig still rocks the role, the Bond girls are as blazing as ever, and the villains... well, Dominic Greene (Mathieu Amalric) wasn't exactly Grace Jones, but he could have been a bit more evil. Still, his demise (well, duh) scores a point for some originality.
Check out Joe Lozito's review of the theatrical release of
Quantum of Solace
.
The Picture
It may not be the best Bond movie, but it's probably the best looking. Much of the film delivers shots straight out of the A/V demo room, with exotic locations and bikini chicks aplenty. However, this one throws in a ton of action and an actual plot -- bonus! Still, if you're into sightseeing, this 2.40:1 transfer will deliver a vacation's worth of scenery from six different countries. The action is crisp and colorful, the blacks are deep and often dirty, and the Bond girls -- well, is it possible for any of them to ever look bad?
The Sound
The roar of an Aston Martin, bullets flying, feet flying up and over buildings, glass breaking, and opera;
Quantum of Solace
is just as much of a feast for your ears as your eyes. The DTS-HD Master Audio soundtrack barely allows you to take a break, let alone a breath. On those occasions where the movie isn't giving your surrounds a serious workout, the dialogue is sharp. This will definitely be your go-to disc for demo material for months to come.
The Extras
For such an action-packed movie, many of the extras play like something from the History Channel; they are interesting, with a slightly boring delivery. Much of the material is typical, showing off the babes and exotic locations. Serious fans of the secret agent will want to check out the "Crew Files," which gives detailed production info (sometimes too much) from people working behind the scenes.
Final Thoughts
Casino Royale
was one of the best Bond flicks in years, so trying to make a topper that's also a sequel is double trouble. It's hard to live up to those expectations. That doesn't mean you shouldn't strap yourself in to take a ride.
Quantum of Solace
isn't the best of the Bond franchise, but with stellar audio and video, this release is a great way to shake or stir up your Blu-ray collection.
Where to Buy:
Product Details
Actors: Daniel Craig, Olga Kurylenko, Mathieu Amalric, Judi Dench, Giancarlo Giannini, Gemma Arterton, Jeffrey Wright
Director: Marc Forster
Audio/Languages: DTS-HD Master Audio 5.1 (English), Dolby Digital 5.1 (Spanish, French, Portuguese)
Subtitles: English SDH, Spanish, Cantonese, Portuguese, Korean, Mandarin
Aspect Ratio: 2.40:1
Region: A
Number of Discs: 1
Rating: PG-13
Studio: 20th Century Fox
Blu-ray Disc Release Date: March 24, 2009
Run Time: 106 minutes
List Price: $39.99
Extras:

"Another Way to Die" Music Video
Bond on Location
Start of Shooting
On Location
Olga Kurylenko and the Boat Chase
The Music
Crew Files
Theatrical and Teaser Trailers