Punisher: War Zone on Blu-ray Disc Review
By Chris Chiarella
The Movie
Before scoffing at the mention of the cinematic Punisher--this is the Marvel Comics anti-hero's third attempt at making it big in Hollywood, after all--remember that he was for a time even more popular than Wolverine, comicdom's "It" character. That being said, this version of the skull-chested vigilante has its good and bad points. Punisher: War Zone comes closest to his comic book roots, specifically the work of writer Garth Ennis and artist Tim Bradstreet, giving him an authentic comic book villain to fight, and is grotesquely, deliciously violent. (I didn't see a "Brains Fabricator" listed in the credits, but it must have been someone's full-time job.)
But despite ample action and more than a dash of humor, the movie falls victim to the clichés of its genre: simplistic good guys, too-tough bad guys, and a lot of macho talk and gunplay. It's fun to watch, but don't expect a crossover with a genuine A-lister like Spider-Man anytime soon. (The Punisher first appeared in Amazing Spider-Man #129.)
Also check out Mark Grady's review of Punisher: War Zone.
The Picture
The movie was created in a rather extreme style of color: Sometimes an entire scene is bathed in a single shade, or only three main hues will dominate. It's striking, if a bit quirky. The blacks--and there are many--tend to be mushy and lacking in the sort of natural detail I was hoping for. Overall the 2.35:1 image is inconsistent: Smoke is used frequently for example, reproducing cleanly in one shot but digital-looking in another. Similarly, soft backgrounds can look fine in one scene but buzzy elsewhere. There's also a surprising amount of distracting grain for such a slick modern action film.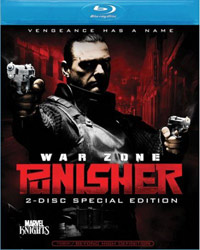 The Sound
You want gunshots? The heart-racing DTS-HD Master Audio 7.1 track gives all your speakers a workout as it offers textbook directionality with hot hollowpoint lead flying every which way, precisely and quite convincingly, an orchestrated cacophony of blasts, hits and ricochets. There are multiple high-action sequences with almost non-stop discrete rear-channel activity--off-camera voices, doors, cars, incidental effects--and solid bass, although not as many explosions as you might expect. (That's not The Punisher's style.) There's also the de rigueur whip-phasing effect during flashbacks to painful memories, plus an outstanding multichannel mix of the music.
The Extras
In addition to an audio commentary by director Lexi Alexander and cinematographer Steve Gainer, the disc serves up multiple brief featurettes, all in HD. "The Making of Punisher: War Zone" (nine minutes) provides a good general overview, "Meet Jigsaw" (three-and-a-half minutes) is an often amusing look at Dominic West's transformation into the horrific villain, "Weapons of the Punisher" (four-and-a-half minutes) explores the guns and beyond, "Training to Become The Punisher" (six minutes) lavishes praise upon the skills of star Ray Stevenson and "Creating the Look of the Film" explains the aforementioned color choices.
This is another MoLog-enabled Lionsgate disc that lets viewers create "The Ultimate Movie Log" by adding text, graphics and audio to clips from the film and then share them with friends or the entire online community via BD-Live. The necessary software took about a minute to download and install on my PS3 but it was buggy as all hell.
The second platter, a DVD, carries a Digital Copy of the movie for iPod/iTunes, Windows Media Player and compatible devices.
Final Thoughts
This one came and went in theaters but might have been unjustly maligned. I confess to a fondness for ultra-bloody shoot-'em-ups with at least an iota of artistic value, and Punisher: War Zone delivers buckets' worth of sweet red vigilante justice.
Where to Buy:
Product Details
Actors: Ray Stevenson, Dominic West, Doug Hutchison, Colin Salmon, Wayne Knight, Dash Mihok, Julie Benz, Stephanie Janusauskas, Mark Camacho
Director: Lexi Alexander
Audio Format/Languages: DTS-HD Master Audio 7.1 (English), Dolby Digital 5.1 (French)
Subtitles: English, English SDH, Spanish
Aspect Ratio: 2.35:1
Number of discs: 2
Rating: R
Studio: Lionsgate
Release Date: March 17, 2009
Run Time: 103 minutes
List Price: $39.99
Extras:

Audio Commentary by Lexi Alexander and Steve Gainer
"The Making of Punisher: War Zone"
"Meet Jigsaw"
"Weapons of the Punisher"
"Training to Become The Punisher"
"Creating the Look of the Film"
MoLog (BD-Live)
Digital Copy