Prison Break: Season Three on Blu-ray Disc Review
By Brandon A. DuHamel
The Show

From the time its very first season premiered on the Fox television network in 2005, Prison Break has commanded strong ratings and acquired a loyal fan base. Following in the long wake of its network companion 24, Prison Break followed a similar formula to success, no doubt spurred on by the success of the former. Using a single story arc played out over entire season with a methodical yet still quick pace and constantly growing tension peppered with much nail biting drama, action sequences and egregious amounts of gratuitous violence, it is dream fodder for the Madison Ave. prime demographic.

The first season of Prison Break placed the main characters, brothers Michael Scofield (Wentworth Miller) and Lincoln Burrows (Dominic Purcell), in the fictional level one maximum-security Fox River State Penitentiary, where Lincoln was on death row awaiting execution and Michael had gotten himself purposely incarcerated with the intention of breaking himself and his brother out. Season Two followed the brothers and the seedy characters they had to take on as allies in Fox River after the break out and further extrapolated upon the conspiracy (first introduced in Season One), of a clandestine group of high powered businessmen and politicians known simply as the Company who framed Lincoln as the man who assassinated the U.S. Vice President's brother and put him on death row.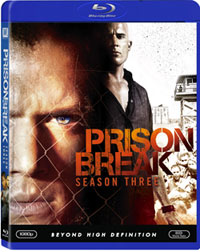 At the end of the second season, Michael Scofield, the crooked drug addicted FBI Special Agent Alexander Mahone (William Fichtner) and a Fox River correctional officer Brad Bellick (Wade Williams) who were chasing them, and one of the brothers' fellow inmates and escapees Theodore "T-Bag" Bagwell all found themselves in prison. This time they landed in a prison called Sona in Panama -- a prison so bad, that the guards all pulled out to only stand watch from beyond its walls with high-powered machineguns, forming a deadly perimeter for anyone who dare attempt escape. This is where
Season Three
picks up, back to Prison Break in its element, and it doesn't take long for it to be revealed that the entire scenario was orchestrated by the Company so that Michael could help a man named James Whistler (Chris Vance) break out of Sona.
As their bargaining chip, the company kidnapped Lincoln's son and Michael's nephew, L. J. Burrows (Marshall Allman) and the woman Michael loves, Dr. Sarah Tancredi (Sarah Wayne Callies), who was the doctor in Fox River and aided in the brother's escape at the end of
Season One
and helped them throughout
Season Two.
Season Three
, therefore, follows Lincoln's travails outside of Sona as he is being manipulated by an operative who presumably works for the company, Gretchen "Susan B. Anthony" Morgan (Jodi Lyn O'Keefe), and Michael as he battles new, and even more hardened criminals inside Sona while trying to devise a plan of escape for himself and Whistler. Sona's kingpin is an inmate named Lechero (Robert Wisdom) to whom the guards have given the power to run Sona and Michael must first get in Lechero's good graces and also get him to remove the bounty he has placed on Whistler's head before the ultimate escape plan can finally come to its fruition.
Just as in
Season One
,
Season Three
relies on botched breakout attempts and guards that continue to allow Michael Scofield to roam free unhindered despite their suspicions he is trying to escape. Cynics might very well say that Season Three "jumped the shark," to use popular culture parlance. In fact, the very idea that
Prison Break
is on the air beyond the first break-out episode and readying for a forth season might be cause enough to raise an eyebrow, however the series continues to maintain a level of suspense and drama that draws viewers in.
This third season placed Prison Break back in its proper element -- in a prison with the seeming savant-like Michael Scofield using his exceptional IQ and talent as an engineer to escape. Although it is always known that it is the Company manipulating things, there are less allusions to the vast conspiracy that is the Company than in Season Two, which is a good thing. It is the tension of what happens next -- how will Michael escape, will someone find out and ruin his plans -- that makes Prison Break an interesting show. With the convolution that is the subplot about the Company being moved to the background, Season Three almost attains the level of quality that made the series such a breakaway success in its first season.


The Picture

Prison Break: Season Three comes to Blu-ray Disc in a brilliant 1080p/24 AVC/MPEG-4 video transfer from Fox in its original 1.78:1 aspect ratio. Stylistically more cinematic in its appearance than many other shows on television, Prison Break is originally filmed on Super-35 then, utilizing a digital intermediate, usually converted to video for its HDTV broadcast. The series is deeply textured and sharp with plenty of film grain and a color palette that is full of rich, warm mid-tones and deep blacks. Fox's high bitrate AVC encoding captures this look tremendously. The 1080p Blu-ray Disc release is so superior to the 720p over-the-air MPEG-2 broadcasts of Prison Break I am so accustomed to seeing, that it is laughable to even compare the two. Where the broadcasts always show a slight softness and tend to pixelate in active scenes, none of those things are present on these BDs.

These BDs show a fine level of foreground and background detail. Every bead of sweat, every fleck of dirt on a character's skin, and every strand of hair is picked up. Clothing and skin textures look so realistic they make you want to reach out and touch them. This transfer's black levels are impeccable -- blacks like coal, yet shadow detail is maintained with crush never becoming an issue. Contrast is perfect, showing no blooming or washing out of details in brighter scenes, and flesh tones are realistic. Like Disney's Lost: Season Three, Prison Break: Season Three is a reference for what TV on BD should look like.

The Sound

Fox has standardized on DTS-HD Master Audio as the high quality, lossless option for all of their Blu-ray releases. At first thought DTS-HD MA may seem like overkill for a television series soundtrack and, certainly, some other studios feel that a lossy Dolby Digital soundtrack is all that is needed for such a release. The reality is, however, that Prison Break's English DTS-HD MA 5.1 soundtrack (also available in Spanish & French Dolby Digital 5.1 dubbed versions on this release) is quite lively for a television series and benefits greatly from the lossless treatment.

Like the visual look of the show, Prison Break's sound mix is cinematic in its scope. As to be expected, the dialogue is kept full center and always clear, but throughout the show Ramin Djawadi's original scoring fills the soundstage, helping to build tension at every turn. There is hardly a moment in Prison Break, when the surrounds aren't filled with something from the chatter of the prisoners in Sona, to leaky pipes dripping in the prison. The liveliest moments come from the numerous fight scenes within the prison as the chanting of the inmates fills the room. There are many other discrete sounds mixed into the rear or to the sides, such Sona's alert siren, the ubiquitous gunfire, and the sound of rainstorms mixed throughout all the channels for an encompassing aural presentation. Low frequencies are quite weighty; they may never reach the thunderous levels of a feature film, but they have adequate heft to provide some rattle.


The Extras

Spoiling an otherwise excellent set are the meager extras that are provided for this BD release. Consisting mainly of fluff pieces and some behind-the-scenes featurettes offered mostly in standard definition, most of the supplemental materials offer no real added value and may as well have been left off of this set.

The extras offered on this release are:
Season Three: Orentación (1.78:1/high definition) -- In this featurette the cast members are all briefly interviewed and they discuss their work on the third season of the series, including what they believe to be the psychological issues that drive their characters.
"Breakout Episode" (1.78:1/high definition) -- This behind-the-scenes featurette shows the cast and crew on-location in Florida filming the season's "break out" episode, where the main characters finally make their escape from Sona prison.
Director's Takes (4:3/standard definition) --These are a series of brief behind-the-scenes featurettes for each episode wherein the director for each episode discusses the production of that episode.
Between Takes (1.78:1 & 4:3/standard definition) -- This is completely fluff; the actors are interviewed and discuss what they do with their time around the set when they are not filming.
Final Thoughts
Prison Break
continues to be one of the most successful hour-long dramas on television, despite the fact that the show should have run out of steam after the first season's breakout. Although
Prison Break: Season Three
seems a bit silly in its premise, it still offers much edge-of-the-seat drama to keep viewers hooked from one episode to the next. For all fans of the series, or for any newcomers, this BD release is pure reference-quality material that is worth the price of admission. All series on Blu should be done this well.
Where to Buy
Product Details


Actors: Dominic Purcell, Wentworth Miller, Amaury Nolasco, Wade Williams,
Robert Knepper, William Fichtner
Format: AC-3, Color, Dolby, DTS Surround Sound, Dubbed, Subtitled, Widescreen
Language: English DTS-HD Master Audio Lossless (48Khz/24-Bit), French & Spanish Dolby Digital 5.1
Subtitles: English, French, Spanish
Region: A
Aspect Ratio: 1.78:1
Number of discs: 3
Rating: Not Rated
Studio: 20th Century Fox
Blu-ray Disc Release Date: August 12, 2008
Run Time: 568 minutes
List Price: $70.98
Extras:

Season 3: Orientación Featurette
Breakout Episode Featurette
Director's Takes Featurette
Between Takes Featurette