Polk Blackstone TL2 Satellite/TL250 Home Theater Speaker System Review
By Greg Robinson
Edited by Chris Boylan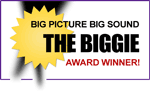 Polka, Polka, Polka!
In most situations, a sane person would quickly get tired of answering the same questions repeatedly. Being the guy most of my friends and family turn to for home theater buying advice, the same questions do crop up time and time again.  Rounding out my top three most frequently asked questions - close behind "Which TV should I buy?" and "Which Blu-ray player should I buy?" - is the age old favorite, "I want to buy a 5.1 speaker system. What do you recommend?"

Fortunately, although I do consider myself to be of sane mind, I never tire of this question. My answer to those looking for speakers is usually an interrogation, during which I attempt to ascertain exactly what type of speaker system is in order. When a small bookshelf (or "satellite") speaker system seems like the best fit, I have a short list of high value systems I like to recommend. Today that list welcomes its newest member: the Polk Blackstone TL250 System, featuring four of the TL2 satellite speakers plus one TL2 Center speaker.
The first thing you'll notice upon unboxing Polk's 5-piece speaker system is the surprising heft of the compact TL2 satellite. Also available in white, my TL250 sported Polk's titular "Blackstone" glossy finish, which looked great when first unwrapped, but quickly became a magnet for fingerprints and smudges. Polk's unique PowerPort design employs a rigid diffuser/foot on the speaker's base allowing it to sit sturdily on flat surfaces, while threaded inserts and keyhole slots out back provide additional mounting options.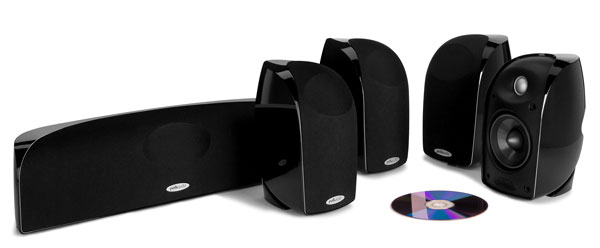 Among the features the TL2 shares with its Blackstone TL siblings (the TL1 and TL3) is Polk's "Time Lens" design. In a nutshell, Polk has staggered their driver array such that the acoustic centers of both the tweeter and the mid-bass driver are on the same plane, thus presenting a more "cohesive waveform." This is coupled with a unique grille design which incorporates a molded "lens" to help disperse the silk dome tweeter's output and improve frequency response. That's all very interesting, I know, but how do they sound? Better than they should at this price point, I can tell you that.

Making use of the Polks' gold-plated, 5-way binding posts, I connected the TL250 quintet to my Onkyo receiver and let them stretch their legs for a few days before diving into the fun stuff. These being satellite-class speakers, they are designed to be used with a subwoofer to avoid a bass hole in frequencies below 100Hz.  The published frequency response on these TL2's is 95Hz-24kHz, so I set my receiver's crossover at 100Hz and enjoyed great results when pairing the TL250 with a PSW10,  Polk's inexpensive but highly capable 10-inch, 100-watt subwoofer.

Although many consumers buying the TL250 are undoubtedly looking for a surround system for movies, stereo music is always the best test of any speaker, particularly for imaging. That being the case, I tore right into one of my favorite test tracks, "Turn Me On" from the SACD recording of Norah Jones' debut album, Come Away With Me. Played on my Oppo BDP-93 universal disc player, I was blown away by the TL2's remarkably wide, airy soundstage and wonderful imaging, with Norah's coarse, jazzy vocals floating in space precisely where they ought to.

From there, I spun up my Audio-Technica turntable and broke out some Mumford & Sons and Foo Fighters vinyl and once again I could not help but be impressed by these impossibly tiny speakers. Polk's aforementioned PowerPort, a unique bass venting system, helped the TLs deliver a superb mid-bass performance. Shutting my eyes during the Foo Fighters' bass-heavy "Rope," these TL2's had me convinced I was listening to much larger speakers.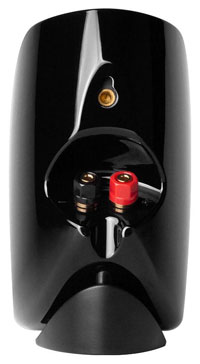 Although their movie performance seemed a foregone conclusion, I couldn't resist popping in my
TRON: Legacy
Blu-ray Disc for some Daft Punk fun time. Once again, the TL250 speakers handled this bass-heavy soundtrack with surprising ease, though this time adding crisp, intelligible dialogue and plenty of surround channel activity to keep the rear TL2's from getting jealous. Most impressive.
Turn-Ons:
Big beautiful sound, small speakers
Sturdy, attractive build quality
Turn-Offs:
Glossy black finish is a fingerprint magnet
Subwoofer required (sold separately)
Currently selling for well under its $499 price tag, the TL250 is a high-value, powerhouse 5-speaker system. You'll need a subwoofer, but that's why they call them "sub/sat" systems. Although Polk's PSW10 certainly did the job during my testing, you could easily step up to Polk's PSW111 - or something else entirely - if your goal is a slightly more refined low end. Focusing on the speakers themselves though, Polk's TL2 series is a sonic achievement. For anyone looking for big sound without resorting to big speakers or a big budget, the TL250 deserves your serious attention
Manufacturer's Specifications:
Manufacturer's Contact Information:
Polk Audio
5601 Metro Drive
Baltimore, MD 21215
866-764-1801

On the Web: www.polkaudio.com