Polk Audio Reveals LSi M Series Loudspeakers, Including Flagship LSiM 707 Towers
By Chris Boylan
It has been nearly 10 years since Polk Audio first introduced the LSi series of home loudspeakers.  Since then, a number of specialty and consumer publications have heaped praise on the original LSi series, not to mention the cult of dedicated (nearly fanatical) owners that has developed as thousands of audio and video hobbyists and regular folk have brought these tasty transducers into their home and into their lives.
So Polk was not about to enter lightly into the upgrade path of such a well-regarded product, but neither have their designers and engineers been resting on their laurels.  This week, Polk unveiled a completely overhauled LSi line, the LSi M Series, which maintains the objectives of the original LSi series: open, transparent, three-dimensional sound in an elegant cabinet.  And while a low price is not one of the requirements (Polk has other speaker lines for that), the LSi still must represent the best value possible at its price point.  To this end, the new LSi M series benefits from the latest developments in speaker design and prototyping technology as well as advances in the manufacturing process itself.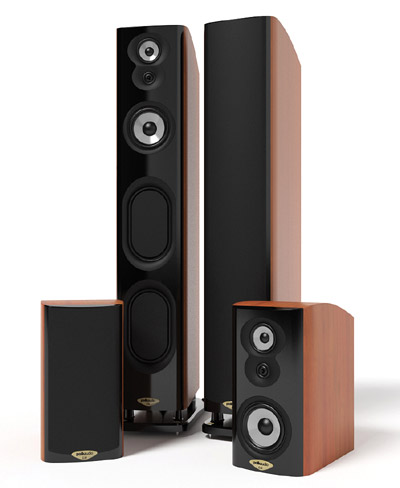 The new Polk LSiM series encompasses a full range of tower, bookshelf, center and surround channel models, each of which is designed with the finest materials available and Polk's advanced acoustic engineering and design processes.  In a recent visit to Polk's headquarters in Baltimore, Maryland I witnessed another competitive advantage that Polk applies to its products: experience.  Fully 60% of Polk employees, from speaker designers to marketing executives to support personnel, have tenure of 10 years or more with the company.  Many current employees date back to the earliest days of the company in the early 1970s.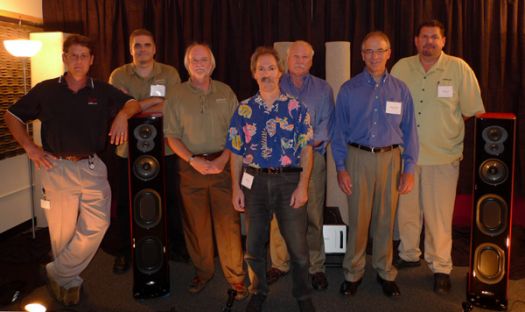 This wealth of experience and deep personal relationship between the company and its employees spills over in the enthusiasm that was present during our factory tour -- these people know speakers and care about how they sound, how they look, and how they perform in the real world.  It also means that when a customer calls Polk Audio's support line, they'll get a real person who actually understands the products they support.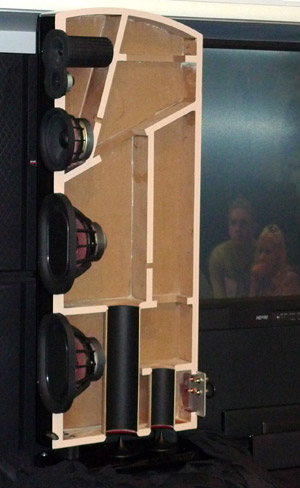 After briefings on the technology and design advancements that went into the LSi M series (the "M" stands for "More" by the way... long story), we were treated to an extended listening session of the flagship LS
i
M 707 tower speakers, 4-way behemoths with a fairly slim footprint that can reproduce the full frequency range of human hearing without any help from external subwoofers.  And they do so with the precision of a pair of tweaky audiophile mini monitors.  Imaging was deep and wide with real depth and presence to the soundstage.  Instruments maintained their cohesion and placement, even when spanning multiple octaves.
The secret to their success lies not only in careful speaker driver design and selection, nor even in advanced crossover components (both of which they have), but also in meticulous cabinet design.  The exact cabinet depth, baffle construction and internal geometry are elements that Polk engineers have painstakingly tweaked over the past few years by experimenting with different materials and components.  Through the use of computer-based modeling and design tools, much of the hard work of driver and cabinet design can be accomplished in the virtual world, rather than on a carpenter's workbench.
When it's time to put theory into practice, the computer model can be turned into a physical prototype in just a few hours, through the use of modern (and expensive) Rapid Prototyping machines.  Feed the machine a computer rendering, and it builds a physical 3D model of the speaker out of a composite material in a matter of hours.  It isn't exactly the replicator from Star Trek ("Tea: Earl Gray, Hot"), but it doesn't seem too far off.  This physical model helps designers to verify their ideas and expectations about the system before commiting to final prototype assembly.
I could elucidate on the AIR (Advanced Isotropic Ring Radiator) Tweeter, or the Dynamic Sonic Engine that houses the tweeter and midrange, the advanced ELM woofers with their Super Cell Aerated polypropylene cones, any of which merits its own white paper, but you can find that information in the press release.  The final result is a true Gestalt which transcends the individual merits of its components.  It was designed as a system, and behaves accordingly.
Of course, even an extended audition of a near-final prototype is not enough time for me to proclaim the 707 tower the best speakers available for under $10,000, but I did like what I saw (and heard) and think LSi M owners are going to be in for a treat.
The LSi M line is expected to begin shipping in Q1, 2011 and includes these models (all prices are per speaker):
LSiM 707 Tower Speaker ($1,999 each)
LSiM 705 Tower Speaker ($1,499 each)
LSiM 703 Bookshelf Speaker ($1,099 each)
LSiM 706c Center Channel Speaker ($1,099 each)
LSiM 704c Center Channel Speaker ($699 each)
LSiM 702f/x Bipolar Surround Speaker ($749 each)
More Information: