Pioneer VSX-919AH Home Theater Receiver Review
By Grant Clauser
Edited by Chris Boylan
VSX-919AH Receiver Review
Beyond Basic Home Theater
Electronics marketers used to position their home theater components around the products' performance as audio components. The emphasis now is more on convenience and connections rather than raw audio power. That's not to say that sound quality is lost in today's market. The situation is actually just the opposite. High quality sound has gotten much cheaper, so much so that even many entry-level products will sound damn good. Pioneer's recently released VSX line of receivers offer respectable sound quality and some competitive connectivity features boxed in moderately-priced products.
The VSX-919AH we pulled in for review is not the top of the VSX line, but it's close. Priced at $399, it's going head to head against some Sony, Denon, Onkyo and Yamaha products, many with similar feature sets, but the Pioneer includes more of them - a true all-in-one product. The VSX-919 is a 7.1 system that can also be set up as a 5.1 system with a separate 2-channel second zone (for another room or backyard). It's got three HDMI inputs, analog-to-HDMI transcoding (but no resolution scaling), auto speaker setup and room calibration and a fair selection of audio format decoding. All that is fairly standard at $400.
What makes this product stand out is it's iPod/iPhone connectivity. While most new receivers are compatible with iPhone docking systems, all sold separately, the VSX-919AH comes with an iPod cable: it's ready for your pocket player right out of the box (more on this later). Yamaha charges an extra $99 for its iPod dock as do many other AVR vendors.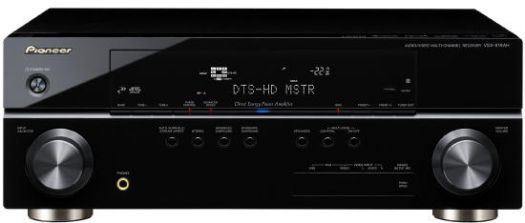 Set Up
One of the nice things about hooking up receivers these days is that HDMI has, for the most part, made the process a little less of a hassle. Because this receiver has enough HDMI inputs (3) for all my components, and it converts analog inputs to HDMI digital outputs, the cable clutter can be considerably cut down. I hooked up a FiOS TV box and a PS3 via HDMI and a Nintendo Wii via composite and let them all output via HDMI to the 56-inch Samsung HDTV. No audio cables (except for the Wii of course), no three-wire component cables. That was the easy part.
The hard part was hooking up the speaker wires. Because this receiver is fairly small, the speaker terminals are packed in tight as crayola crayons. Squeezing 12AWG speaker wire into the terminals, while my arms were wrapped behind the furniture, was a challenge akin to a drunken game of Twister (not that I'm advocating player Twister, mind you).
Once all the ins and outs were in the proper place, I hooked up the calibration microphone to let the receiver do the detail work. Automatic calibration systems are not uncommon on home theater receivers, but they're not as common on systems at this price point. In fact, the $100 cheaper VSX-819 also includes the same MCACC auto calibration feature, so Kudos to Pioneer for bringing calibration power to the people.
The remote includes a button that takes you directly to the auto calibration menu. The process is extremely simple. With the microphone placed at your seating position, the receiver first sends out a series of test tones to determine how many speakers you have connected. In fact, the first sweep told me I had two speakers wired out of phase. One was the subwoofer (I must have bumped the phase switch when I was moving it), and the other was the center channel, which meant I had to scrape my knuckles again with those speaker terminals.
Next, the system runs through a few more test tone sweeps, measuring things like distance and balance. It takes into account your room's audio characteristics in its measurements. Again, that's an unusual feature at this price.
For a second zone, you have the option of using the surround back channels for the zone 2 speakers (and limit your zone 1 to 5.1) or connect an external amplifier to the ZONE2 OUT jack. Zone 2 also has one composite video output for a TV. The receiver can play one source though zone 1 and a separate component through zone 2. The remote includes separate zone 2 controls. It's not exactly an elaborate whole home entertainment system, but it's good enough for a basic multi-room audio system.
As easy as the receiver is to set up and run, the remote is small, confusing and a bit tedious. It's covered with tiny print. Most buttons perform multiple functions depending on what mode you're in, and some related functions are at opposite sides from each other. The most important buttons -- master volume up and down -- are barely any larger than the rest of the buttons.

The Pictures... The Sounds...
The VSX-919AH does very little in the way of video tricks, other than convert analog sources to HDMI (which was magic just a few years ago). It doesn't change the resolution, so if you want upconversion of your standard def sources to high definition resolution you need to do it either at the source (such as an upconverting DVD or Blu-ray player), in the display itself or with an outboard scaler (though I doubt buyers of this product will use an outboard scaler). It did a fine job converting my Wii composite signal to HDMI, which means it didn't do any harm in the process.  And from there my HDTV was happily able to upconvert that 480i signal to 1080p.
Where the Pioneer did do a little harm is in HDMI source switching.  I occasionally had to turn sources on and off or check connections when the HDMI handshake failed between source, receiver and TV. The symptom of a bad handshake is no video from the source device appearing on the TV screen.  This happened more often with my PS3 (two separate PS3s in fact) than with my FiOS box. I've had some HDMI switching issues with other receivers, but not as frequently as with this one.  Fortunately a quick source power cycle usually did the trick.  Also, if you power up the TV first, then the receiver, then the source component, then this should minimize the problem (a start-up sequence like this is easy to program into a Logitech Harmony or other advanced universal remote control).
Pioneer has a good heritage as an audio company so you'd expect, excellent sound quality, and in this respect the receiver doesn't disappoint.  Pioneer outfitted the VSX-919AH with a respectable assortment of audio decoders and processors. It supports DTS-HD High Resolution, DTS-HD Master Audio, Dolby TrueHD, Dolby Digital EX, Dolby Digital Plus, DTS-ES/DTS 96/24 and WMA9 Pro. The 120 Watts per channel of rated power is supplied by Pioneer's Hybrid II PHAT technology. Onboard there's a Freescale dual-core 400MIPS processing DSP chip and for stereo listening, a Wolfson two-channel DAC (Digital to Analog Converter).
Multi-channel movie performance, tested with Blu-ray discs, was very satisfying. I turned to a few of the scenes in House of Flying Daggers, particularly the scene with the drums and the beans. In that scene, a male character tosses individual beans at drums while a female snaps the same drums with ridiculously long silk scarves. It's an excellent selection for a surround sound demo, and the Pioneer did a fine job recreating the range of high pings to low pongs as the kung fu dance progressed. Musical soundtracks on the same movie played through clear and clean, with a good sense of spacial depth.
For stereo music, I listened to a little Henri Mancini -- "Peter Gunn" from the 1959 LP -- played through an Audio Technica record player. Despite the hissing and pops native to the format (and the ancient LP) the sound was mesmerizingly rich. The receiver produced a nice orchestral image at moderate to high volume, though things got a bit cloudy when I seriously cranked it up.
Apple Pie
As I pointed out earlier, this receiver is ready and willing to mate with your iPod or iPhone right out of the box. To do so, it comes with a USB input and a USB iPod cable. It's not as attractive as a dock, but it serves the same purpose. This system offers the best iPod on-screen interface I've seen for such a bargain price. You get complete control of your digital library on-screen through the remote (which includes a subset of iPod controls), though scanning through your artists and tracks is a bit slow.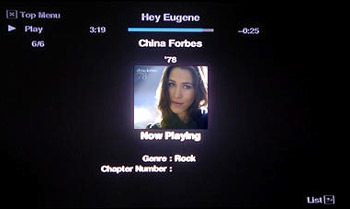 I connected my older iPod Video, pressed the iPod button on the remote and was quickly able to pull up some tracks to sample. The VSX-919AH serves up a pretty sweet iPod GUI with artist/track name and album art. Videos would not play on the big screen from my particular iPod (perhaps because of its age), though the manual states that videos should be playable from newer iPods/iPhones.
That minor quibble aside aside, the iPod connection worked very well. Pioneer has built in some proprietary sound modes to enhance compressed digital music, and they do seem to work well in softening the edge on compressed music files. My lossy iTunes versions of Hey Eugene by China Forbes sounded airy and crisp while Black Sabbath's Iron Man had plenty of stomp to it.  And for iPhone users, the VSX-919AH will automatically mute A/V playback if a call comes in.
Turn Ons
Fast and easy-to-use auto calibration feature (MCACC)
Excellent iPod/iPhone integration
Two zones for the price of one!
Full HDMI video and audio support with on-board decoding of DTS-HD, Dolby TrueHD and multi-channel PCM
Affordable
Turn Off
Speaker terminals are tightly packed, which makes it difficult to connect
Dull, non-backlit remote is awkwardly arranged
Some HDMI switching issues with PS3
No switched AC input
Final Thoughts
The VSX-919AH is an excellent package at $400 MSRP (less if you shop around), though it does have some drawbacks. HDMI switching was not perfect - you can overcome this by hooking up your sources directly to the display, but then there goes the advantage of a single cable solution from receiver to display as well as the sonic advantages of HDMI audio decoding.  There's no video resolution upconversion or music IP streaming, and the remote is small and confusing -- but these are all things you'll usually pay more for anyway. On the other hand, there's a decent zone 2 feature, excellent iPod compatibility and good sound performance. Unless you need more advanced features or more inputs, this unit will move your home theater well beyond the basics.
Where to Buy:
Manufacturer's Specifications
Power 120 x 7 Channels
THD: 1 kHz w/0.05% THD @ 8 ohm
MCACC Speaker Calibration

Symmetric EQ
Standing Wave Control
Phase Control
EQ Bands: 9
Calibration Memory Presets: 6
X-Curve Compensation

Freescale Digital Audio Processing Digital Engine
On-board decoding of: Dolby TrueHD, Dolby Digital Plus, Dolby Digital EX, Dolby Digital 5.1, Dolby Pro Logic IIx, DTS-HD Master Audio, DTS-HD High Resolution, DTS-ES, DTS-Express, DTS 96/24, DTS NEO:6, DTS 5.1, PCM (up to 7.1), WMA9 Pro, Neural THX
HDMI SACD Transfer
HDMI DVD-Audio Transfer
Digital Video Processing
SD Video Adjustment
HDMI 1080p Video Repeater
Analog Video Conversion to HDMI Digital output
PureCinema I/P Converter
Deep Color
Virtual Surround Back
Dialogue Enhancement
Sound Retriever: Advanced (Multi-Channel)
Midnight Mode
Loudness
Tone Control
Sound Delay (Lip-Sync Adjustment)
PQLS (Music CD)
Digital Noise Reduction: 3
HDMI In x 3
iPhone/iPod Digital USB - Made for iPod® and Works with iPhone® Certified
Sirius Satellite Radio-Ready
2 Component Video inputs
1 Digital Coaxial Input
2 Digital Optical Input
Analog Multi-ch input: 5.1
Headphone Out
Speaker A/B Outputs
Multi-Room 2-Zone A/V output
Display Dimmer
Sleep Timer
Front A/V Terminals
AM/FM Presets: 30
Volume Limit Setup
Dimensions (inches): 16 9/16 x 6 1/4 x 13 3/4
Weight: 19 lbs 3 oz
Warranty: 1 Year
MSRP: $399.99
Company Contact Information:
Pioneer Electronics (USA)
2265 E. 220th Street
Long Beach, CA 90810
On the web: www.pioneerelectronics.com