Paths of Glory Blu-ray Review
By Chris Chiarella
The Movie
Probably my second favorite Stanley Kubrick film (after Dr. Strangelove of course), Paths of Glory is a riveting drama that raises some disturbing questions about the nature of war and the men who wage it. In World War I France, a general is asked to send his men on a clearly impossible mission to take a fortified German position, and he declines, until he is offered high military honors if he should succeed. Blinded by his own ambition, he orders the upstanding, compassionate Colonel Dax (Kirk Douglas) to lead his troops into battle, fully expecting greater than 50% casualties.
The attack is a colossal failure, and when the general begins searching for scapegoats, Dax--a lawyer in civilian life--defends the three men all being unfairly court martialed on charges of cowardice. The trial is a frustrating farce, and all of the proceedings both on the battlefield and off serve to reveal the ego, the incompetence, the true weakness of character and the outright ass-kissing rampant within the upper echelon of the armed forces.
At less than 90 minutes, this is one of the shortest feature films of Kubrick's entire career, but that atypically dense structure gives Paths of Glory all the more impact.
The Picture
This extensively restored edition of Paths of Glory utilizes slight pillarboxing (black bars left and right) to achieve the original 5:3 (1.66:1) aspect ratio. I noted a very faint film grain and I would guess that it has been deliberately reduced for the high-def debut. There's video noise in the shadows and out-of-focus areas of the frame, and modest compression in instances of smoke, but with only a few exceptions I found the image here to be remarkably clean, free of dirt, scratches and other analog impurities. And although it's slightly soft, which is to be expected, I found plenty of natural detail.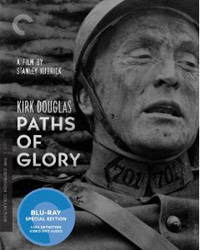 The Sound
The audio too has been restored for this release, although the resulting Linear PCM mono track has no real "wow" factor. It's mostly across the middle, no real highs or lows, although the mix does an admirable job layering in the various sounds of battle. But as was the style of the era (1957), it all emanates from a single speaker, a far cry from modern depictions of warfare in cinema. Dialogue thankfully is always legible.
The Extras
The director and star are featured in archived interviews, Kubrick's a two-minute audio clip with photos, circa 1966, Douglas on a British TV show from 1979 (29 minutes). Also included is a three-minute excerpt from a 1997 French news program about Corporal Théophile Maupas whose tragic story partly inspired this film.
New for this disc is the audio commentary by film critic and author Gary Giddins, who brings a variety of insights to the on-screen action and behind-the-scenes tales. New interviews have also been conducted with producer James B. Harris (21 minutes), frequent collaborator Jan Harlan (nine minutes), and actress/artist (and Stanley's eventual wife) Christiane Kubrick (seven minutes). All of the video extras are in some form or another of high definition.
Final Thoughts
This is a solid edition of a tightly budgeted gem more than half a century old, surprising in its video quality and pleasing in its variety of new and old supplementary material. I can heartily recommend this all-time-great war drama on Blu-ray.
Product Details
Actors: Kirk Douglas, Ralph Meeker, Adolphe Menjou, George Macready, Wayne Morris, Richard Anderson, Joseph Turkel, Susanne Christian
Director: Stanley Kubrick
Audio Format/Languages: Linear PCM 1.0 (English)
Subtitles: English
Aspect Ratio: 1.66:1
Number of discs: 1
Rating: NR
Studio: Criterion Collection
Release Date: October 26, 2010
Run Time: 88 minutes
List Price: $39.95
Extras:

Audio Commentary by Gary Giddins
Stanley Kubrick audio interview
Kirk Douglas TV interview
James B. Harris interview
Christiane Kubrick interview
Jan Harlan interview
Théophile Maupas news excerpt