Panasonic: Plasma vs. LCD TV, Battleground Manhattan
By Chris Chiarella
Panasonic brought their wares to The Big Apple this week, not to debut any new products but rather to demonstrate the superior performance of Plasma HDTV technology versus the more popular and ubiquitous LCD. To this end, a rival manufacturer's 120Hz edge-lit LED LCD panel was set up alongside a pair of Panasonic's larger plasma displays (58-inch and 65-inch models were on hand). Each was configured at "Default" or "Standard" levels, or left at its out-of-the-box mode, as this is how most consumers will watch their TVs.
After a brief discussion of the basics of entertainment technology, quoting sources from Dolby Labs to 20th Century Fox, we did some critical watching of identical content on the three big screens. One of our first observations was that the color on the LCD was washed out relative to the plasmas, particularly when viewed off-axis. Interestingly, some colors fade on the LCD, whereas red does not, so what we're actually experiencing is a color shift, which moves us away from a truly accurate HD image.
LCD is a transmissive technology in that the light is emitted from behind the liquid crystal in order to create the picture, as compared to self-luminous or emissive plasma, which generates light and color simultaneously. As a result, the uniformity of the image (demonstrated with an extremely dark scene) is compromised with either the traditional CCFL backlighting lamps or edge-lit LED backlighting found on many current LCD televisions. Similarly, the full-pixel control of plasma renders superior black and peak levels as compared to the "blocks" of local dimming LEDs in some of the latest LCD TVs.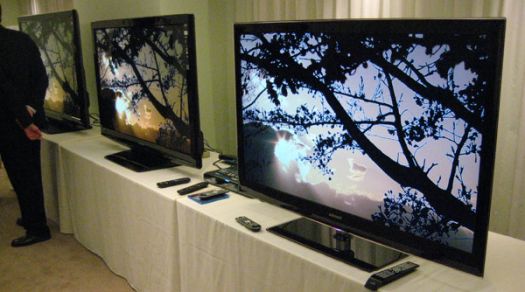 Most noticeable yet were the fine lines of the moving picture resolution test pattern, some of which were indiscernible on the 120Hz LCD. Smaller images were actually brighter on the plasma, although as a white test image grew to fill the entire screen, the LCD was ultimately brighter. Panasonic was quick to dispel some of the lingering plasma myths, noting that their products offer 100,000 hours of actual use before hitting half-brightness, and although they cannot legally claim zero burn-in, they tell us that this is pretty darned close to being a non-issue. And although they would not tell us hard numbers for LCD versus plasma wattage, they also insist that they are closing the energy consumption gap, particularly if your set is properly calibrated (or set to THX mode, as is the case with Panasonic's upper end plasmas).
Successive generations will surely offer even better energy efficiency, superior image quality with an eye on professional performance for Hollywood and other markets, as well as furthering Panasonic's commitment to 3D. Had they promised superior brightness in the future, this is where I would have made a joke about wearing shades.
Where to Buy: