Nurse Jackie: Season Four Blu-ray Review
By Rachel Cericola
The Film
This is Edie Falco's fourth season starring as the title character in Showtime's Nurse Jackie. When we last left our favorite pill-popping nurse, she was peeing into a bag and kicking her cheating husband Kevin (Dominic Fumusa) to the curb. Of course, Jackie is no stranger to infidelity herself, but that's a whole other issue -- and a highlight of this season as well.
That said, Nurse Jackie: Season Four kicks off with something slightly different for this show. After a life-changing evening with Green Day's Billie Joe Armstrong (who does not play himself), Jackie checks herself into rehab. Can she really quit this time? Well, that's for you to watch and see. It's not going to be easy, though. If the pressure from Kevin and her two daughters didn't seem like enough, she's also dealing with a new, tough-as-nails hospital administrator (Bobby Cannavale) -- and he just loves to make things more challenging.
It's impressive that Nurse Jackie remains as fresh as ever in this fourth season. Much of that has to do with the cast. Falco is obviously very capable of carrying the show on her own. However, Cannavale is a great addition to a talented crew, which includes Eve Best, Anna Deavere Smith, Paul Schulze, Merritt Wever, Peter Facinelli, and Stephen Wallem.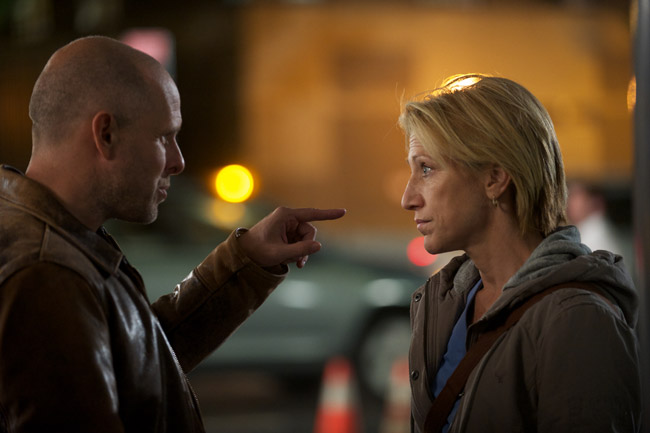 The Picture
If you've seen any of the other seasons, Nurse Jackie: Season Four doesn't have too many surprises. The 1.78:1 image has spot-in colors, even though many of them are really drab. Most impressive is the detail here, both in and outside of the hospital setting. Edie Falco's worried, weathered face is definitely a highlight here.
The Sound
It's pretty awesome that Lionsgate has continued to give this show a DTS-HD Master Audio 7.1 track. While the focus is definitely on the dialogue, it does have a lot of surround sound -- espeically for a TV show that's this mellow. The show's soundtrack is probably the most noticeable part of the track. However, there are a lot of subtle sound effects from inside the hospital as well as out on the city streets.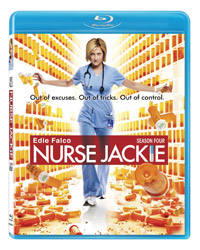 The Extras
Like the show's title character, Nurse Jackie can't seem to get a break as far as extras are concerned. There's not too much to indulge in here, with a brief gag reel, short interviews, and commentary tracks for only three of the season's 10 episodes. The highlight is probably "Cruz Control," which puts a spotlight on Bobby and Jake Cannavale, who guest-star as father and son this season.
Final Thoughts
If you've been following the drama so far, it's hard not to give accolades to Nurse Jackie: Season Four. Edie Falco continues to captivate audiences and her character does a good job at exploring new territory this season. Bobby Cannavale is also a nice addition (as he is in most things -- so underrated!). Also, the season goes out with a nice little bomb that should leave you pretty anxious for the show's April return.
Product Details
Actors: Edie Falco, Bobby Cannavale, Eve Best, Peter Facinelli, Paul Schulze, Merritt Wever, Anna Deavere Smith
Directors: Miguel Arteta, Bob Balaban, Randall Einhorn, Seith Mann, Linda Wallem
Audio/Languages: DTS-HD Master Audio 7.1 (English)
Subtitles: English, English SDH, Spanish
Aspect Ratio: 1.78:1
Number of Discs: 2
Rating: NR
Studio: Lionsgate
Blu-ray Disc Release Date: February 12, 2013
Run Time: 280 minutes
List Price: $39.97
Extras:


"Kettle-Kettle-Black-Black" Audio Commentary with Richie Jackson, Edie Falco and Anna Deavere Smith
"The Wall" Audio Commentary with Richie Jackson, Edie Falco and Liz Flahive
Gag Reel
"Handle Your Scandle" Audio Commentary with Richie Jackson, Edie Falco and Liz Flahive
On the Floor at All Saints
Cruz Control