Notorious Blu-ray Review
By Chris Chiarella
The Movie
Her family disgraced, her father imprisoned for his anti-American activities following World War II, the Notorious Alicia Huberman (Ingrid Bergman) agrees to help the U.S. government on a secret mission to Rio de Janeiro. She is recruited and mentored by dashing federal agent Devlin (Cary Grant), but when he falls in love with her, and she with him, her assignment becomes extremely complicated. She's going undercover to gain the confidence of an enemy scientist (Claude Rains) who was once enamored of her, and before long her ruse is so convincing that the scientist asks her to marry him, and she agrees, pushing the deception further than anyone had anticipated.
Notorious is quite the psychological drama, as the entanglements and underlying emotion of the mission become increasingly cloudy. But moving in and exploring her new home gives Alicia access to the scene of all the intrigue, and soon she learns that a locked wine cellar holds the secret that the feds have been looking for, and so this is also a first-rate spy thriller, at least for its day. By today's standards it might seem timid, perhaps a bit slow, but that's largely because director Alfred Hitchcock was busy inventing many of the cinematic conventions we now take for granted. Case in point: Some bold, cutting-edge camerawork greatly livens up the proceedings.
The Picture
The movie was restored for its 2008 DVD reissue but the 4:3 HD image still shows a fair amount of film damage. A brief restoration comparison is tucked among the extras, laying bare the before-and-after versions of the film, and the more egregious offenses have indeed been purged, while a lot of grain remains, combined here with some video noise, particularly in clouds. Detail is acceptable, fine bits of dark sand reproduce well in one key scene, but it's a tad murkier than Spellbound, which was produced during the same period, restored in the same batch and now released in the same wave as Notorious.
The Sound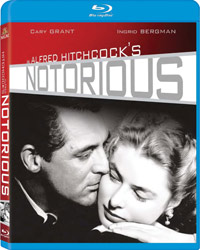 The mono soundtrack is encoded here as DTS-HD Master Audio 2.0 (still mono) with a pleasing overall fullness despite the challenges of the original element quality, dating back as it does more than 60 years. The audio restoration has rendered a legible accompaniment to the image, but nothing about it really stands out.
The Extras
The movie has been given not one but a pair of audio commentaries, by film professors Rick Jewell and Drew Casper, these in addition to an isolated music-and-effects track.
"The Ultimate Romance: The Making of Notorious" (28 minutes) explores the significance of this classic as a love story, in contrast to the tricks of a different genre explored in "Alfred Hitchcock: The Ultimate Spymaster" (13 minutes). All of these bonus materials were originally produced for the 2008 DVD.
A brief granddaughter-narrated clip from a 1979 AFI Hitchcock tribute ties in nicely to Notorious, emceed by Bergman, who also stars alongside Joseph Cotten in a one-hour audio dramatization from the Lux Radio Theatre. Relevant Hitchcock audio interviews are provided by two admirers who are/were accomplished filmmakers themselves: Peter Bogdanovich and Francois Truffaut.
Final Thoughts
Exploring themes that would become common across the Hitchcock canon (overbearing mothers, the toll of patriotism, lovely ladies in distress), Notorious is an influential, sexually-charged espionage adventure that looks and sounds a mite better on Blu-ray than on DVD.
Product Details
Actors: Cary Grant, Ingrid Bergman, Claude Rains, Louis Calhern, Leopoldine Konstantin
Director: Alfred Hitchcock
Audio Format/Languages: DTS-HD Master Audio 2.0 (English)
Subtitles: English SDH
Aspect Ratio: 1.33:1
Number of discs: 1
Rating: NR
Studio: MGM/Fox
Release Date: January 24, 2012
Run Time: 102 minutes
List Price: $24.99
Extras:

Audio Commentary by Rick Jewell
Audio Commentary by Drew Casper
Isolated Music and Effects Track
"The Ultimate Romance: The Making of Notorious"
"Alfred Hitchcock: The Ultimate Spymaster"
"The American Film Institute Award: The Key to Hitchcock"
1948 Radio Play
Hitchcock Audio Interviews by Peter Bogdanovich and Francois Truffaut
Restoration Comparison