Mutiny on the Bounty Blu-ray Review
By Chris Chiarella
The Movie
An Academy Award-winning Best Picture 75 years ago, Mutiny on the Bounty is still an affecting drama, adapted from a trilogy of novels by Charles Nordhoff and James Norman Hall. Although it might not appear so to modern audiences, the production required two years and a then-princely sum of two million dollars to complete. The result is a great seafaring epic.
In 1787, the two-year voyage from Portsmouth, England to Tahiti and back aboard The H.M.S. Bounty would be grueling under the best of circumstances, but under the brutal dictatorship of Captain Bligh (Charles Laughton), each day is a glimpse into hell. The hungry, thirsty, physically beaten crew's only champion is First Officer Fletcher Christian (Clark Gable), a decent sort who is ultimately pushed to the breaking point and undertakes the unthinkable: mutiny, a crime punishable by death.
Seizing control of the ship is no quick fix however. Rather than execute the despised captain and those loyal to him, he sets the group adrift in a small boat on the high seas, while The Bounty and her liberated men take refuge back on Tahiti. But Bligh has a few surprises of his own, and is not about to forgive this offense.
The Picture
The 4:3 black-and-white classic has been restored and remastered for its 75th anniversary. It's soft in many shots certainly, with the indications of some film damage remaining, along with some flicker and noisy skies. But overall this new transfer reveals more detail than expected from a movie of this age, right down to the texture of the uniforms, the faint mist visible across the deck, even a tiny drop of spittle when Capt. Bligh shouts "My ship!" All factors considered, the video here is ship-shape.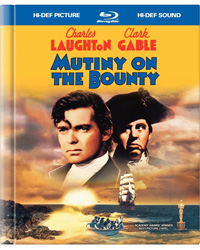 The Sound
Warner has also made a commendable effort in cleaning up the audio, with results that are legible and pleasant enough now that they are reborn as a high-resolution DTS-HD Master Audio mono track. The sound here is in no way spectacular, as we can hear the strain as it attempts to go higher or lower than the quality of the source elements will allow, with varying levels of hiss as well. This is a big-deal reissue of a very big-deal film however, so this is probably the best they could do for now.
The Extras
The vintage short subject "Pitcairn Island Today" (ten minutes) serves a dual purpose, a mixture of promotional featurette for Mutiny on the Bounty and a documentary about the exotic location. The 1936 newsreel "'Mutiny on Bounty' Wins 1935 Award" (one minute) is an amusing look back at how the Oscars used to be run, with a rude audience that won't even give their attention as Frank Capra presents the statue for Best Picture!
Trailers are included both for this film and the 1962 Marlon Brando remake. All of the extras are in standard definition. The disc arrives inside another of Warner's lovely little hardbound digi-books full of photos and interesting text.
Final Thoughts
A timeless tale of honor, spite, and tough choices, Mutiny on the Bounty has been admirably restored for its Blu-ray debut, and its keepsake packaging makes it a handsome addition to any library of classic films.
Product Details
Actors: Charles Laughton, Clark Gable, Franchot Tone, Herbert Mundin, Eddie Quillan, Dudley Digges, Donald Crisp, Henry Stephenson, Francis Lister
Director: Frank Lloyd
Audio Format/Languages: DTS-HD Master Audio 1.0 (English), Dolby Digital 1.0 (French, German, Spanish, Castilian Spanish, Portuguese)
Subtitles: English SDH, German SDH, Spanish, Norwegian, French, Castilian Spanish, Portuguese, Brazilian Portuguese
Aspect Ratio: 1.33:1
Number of discs: 1
Rating: NR
Studio: Warner
Release Date: November 16, 2010
Run Time: Approx. 133 minutes
List Price: $34.99
Extras:

"Pitcairn Island Today"
"'Mutiny on Bounty' Wins 1935 Award"