Moxi HD DVR Review
By Peter Suciu
Edited by Chris Boylan
Moxi DVR Review
Think Outside the (Cable) Box
About six weeks ago I was wired up with the Moxi HD DVR. The sleek black box has been talked up for a couple of years now and formally introduced last winter at the Consumer Electronics Show (CES).  After a wait for revamps and tweaks I was finally able to get a review unit in August. The timing worked out well, as it gave me time to offer some first impressions on the unit, before I headed for a three-week trip overseas. This allowed me to put the unit to the test to see if the remote programming features would really deliver.
Now after returning from my lengthy travels I have spent every evening, and many an afternoon really experiencing the Moxi HD DVR. And having been a long time cable set top box DVR user I can say that in a head-to-head showdown against my Time Warner Scientific Atlanta Explorer 4250 HD it is... very, very close. While there are plenty of features on the Moxi that are simply amazing, the truth is that there is also a learning curve and worse, some kinks in the system, that keep this from being the ultimate HD DVR.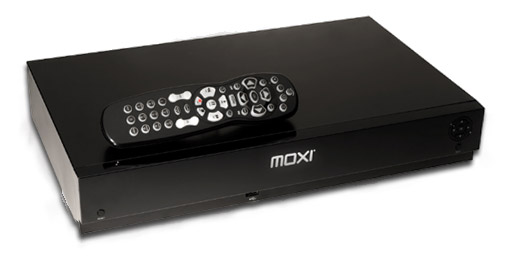 Becoming a Program Manager
The problem with any new device that replaces a similar device is that it can do essentially the same things but with enough differences that it makes for some frustrating moments when you just want to do one specific thing. It was notable that the Moxi has multiple ways for you to surf for programming using the channel guide. You can hit the nifty "Moxi" button on the remote, and that pulls up a channel list - scroll over a particular channel and you can see what is on now and coming up over the course of the next few hours.
However, this seems a bit counterintuitive compared to the traditional grid guide. Fortunately the Moxi offers that option too. Instead of pressing the Moxi button, you press the diamond button twice. Does this make sense? Not initially, but everything makes sense after a while (How else can you explain why talent-based reality TV has become so popular?). But moving on, what the Moxi DVR provides is multiple ways to find shows to watch. So think of this as having it both ways.  Nothing wrong with that.
Recording programs is generally pretty straightforward as well. You highlight a show, click on it and are provided with options for recording - such as whether it is a one-time recording or as a season record option. The latter option was a bit confusing at first, especially when programming online (but more on that in a moment), because if you try to record a show such as The Simpsons in "season record" mode (or any show that is running in syndication and/or on multiple channels) you might end up recording the new episodes on Sunday evening as well as the syndicated episodes during the week if these happen to run on the same channel. This isn't likely as much of a problem for say Two and a Half Men because most CBS affiliates aren't running old episodes in syndication.
So going to the CBS HD channel and selecting the record function from a new episode of Two and a Half Men means that you'll just record the show once (or each new episode once, depending on the option selected).  But in New York City the Fox channel runs The Simpsons seemingly 20 times a day plus the new episodes on Sunday night.  This requires the extra step of programming shows such as this to only record at its regularly scheduled time (in this case 8pm ET on Sunday) - so you have to hope that the network doesn't run a bonus episode at another time. That would have to be set manually.
This is a fairly minor complaint, but it is made worse because this option was even harder to find online via the remote programming feature. Of course given that the Moxi holds up to 75 hours of HD content or 300 hours of SD content (even more if you plug in an external eSATA Hard Drive), the worst case is that you'll just have to delete episodes you didn't intend to record.
The Moxi is also an always-on device, with two built-in tuners so it can record up to two programs at a time.  You can watch one of the shows you're recording or watch a pre-recorded show saved to the DVR while the two new programs are being recorded.  But the Moxi lacks the "Restart From Beginning" option that some cable providers (including this reporter's) provide with some programming if you weren't already on that channel. [editor's note: this type of functionality - restarting a show that you have not been viewing or recording on your DVR - can only be provided by the cable operator as it requires that the show be stored on their servers].
Also, due to the Moxi being built on the one-way CableCARD technology, on-demand programming is not available, including HBO or Showtime content or any cable pay-per-view.  If Pay Per View or on-demand programming is something you care about, then you'll need to look elsewhere.
Really Remote Recording
One of the life-changing options for me was the ability to schedule recordings remotely via the computer. And while this is not unique to the Moxi, it certainly wasn't possible on my Time Warner DVR so it was new to me.  This was something that I tried while traveling, and while it was possible to access the site from a mobile smartphone (a BlackBerry Tour world phone in my case), it isn't something that I would recommend. The service offers fairly dense screens that render much better on a desktop or laptop screen.  However, even from half way around the world I was able to log into the Moxi service and set the DVR to record my shows. The Web site features content about eight days out, so that beats my current cable DVR, which can only handle six days.
The Web programming interface is generally clear-cut, and as with the program guide interface on the TV, offers options for category sorting such as HD, Movies, News, Kids and Sports. This makes scrolling through a massive grid with hundreds of channels that much easier. One really nice feature is that you can even review what programming is still on your box remotely, so should you think you missed something you can try to catch it at another possible time.  However, you still can't access it and actually watch it remotely (but we can dream).
My only complaint with remote programming was that toward the end of my travels the box did lock up once (which I confirmed as my cable box set up on another TV did not go out, thus proving that it wasn't a loss of cable signal), and there was no way to reset it remotely.  Thus two days of programs did not record. I could see this via the remote programming interface, but was powerless to do anything about it.  Had we left apartment keys with a friend, I could have had them physically reset the box for me but that was not an option.  Basically I was left knowing that some shows didn't record and would not record until I returned home.  Don't worry though - I survived because in this day and age anything I miss is likely online somewhere!
Playback's a Bitch (Sometimes)
Once I returned home I was able to catch up on TV programs (alas except for those that didn't record). It was disappointing to find that the DVR had locked up, but this is a problem that traditional cable and satellite set box owners also have to endure. There doesn't seem to be a rhyme or reason to it, but it is a fact of life.  [Editor's note: Our DISH Network ViP722 DVRs haven't locked up in the year plus we've owned them, but maybe we're just lucky?]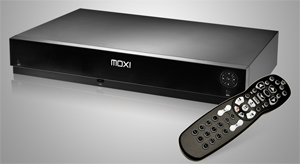 The shows that did record were neatly organized, with each program offering sub-menus for easy navigation. This makes it easy to see the air date, get a show recap and of course view the show. Likewise, individual episodes can be deleted or you can delete all the episodes at once - so if you accidentally record The Simpsons 45 times you can delete the individual episodes or all. Unfortunately there isn't an option to just save the one you really want, but otherwise this offers plenty of options for true Captain Videos such as myself.
Playback is also straightforward enough, but you do need to be quick on the button. While my cable box and TiVo DVR essentially "rewind" a few seconds when I fast forward through commercials and hit play, the Moxi doesn't do this - at least not in the x1 fast forward mode. There is a slight rewind with the faster fast forwards, but regardless it seems that I always need to fast forward and then go back just a tad. Anyone who regularly scans through Blu-rays or DVDs knows this dance all too well, but it isn't something I've had to endure as much with previous DVRs.
Picture-wise the Moxi delivers about the same level of quality as our current set top box, which makes sense since they are using the same cable feed.  And while there were a few audio drop outs in some of the programming this can be chalked up to the cable signal and not a problem with the DVR.
Feature Creature Comforts
The Moxi HD DVR was also designed to be far more than just a replacement cable set top box and DVR. At $799 (but with no monthly or lifetime service fee required), this was certainly a premium priced unit but the DVR has recently been lowered to $499. When Digeo introduced the product at CES they offered a peek into some of these more advanced features, which I've since had a chance to play with a bit. Since CES, it is also worth noting that Digeo has been acquired by ARRIS, a maker of broadband technology for the cable industry.
This is interesting because one of the key requirements of the Moxi DVR is a broadband internet connection, which is used to provide the programming listings (guide information), and further makes the remote recording feature possible. But the broadband connection also means that the box can do more than just time-shift your shows.
The box is Media Link compatible, so you can stream photos, music and videos from a DLNA server on your home PC to the box, and this means you can even access content from Hulu and Netflix, via a PC using the PlayOn media server app on your computer. This feature came in handy since the box didn't record a few shows, and I was able to find the missing episodes on Hulu and stream them to the TV using the PlayOn software. This did require an extra step, including setting up PlayOn, and given that I have a decent sized monitor for my PC I can't say it was really worth the effort compared to viewing these on my PC but it's still nice to get the programming on the box so I could enjoy it from my couch instead of my desk. The Moxi also allows you to move this content to your favorites tab as well, so the selection between this content and recorded TV can be even more seamless. The only other kink here may be that Hulu.com could start charging in the future, so enjoy it while you can.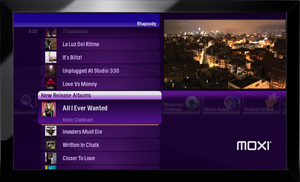 The Moxi's other value-added options include access to Rhapsody, Finetune and Flickr. Personally I can see the appeal for these services, and while I gave them a try I can't say that these would be a huge draw. Given that many TVs already offer photo-viewing options, and most digital cameras can be connected to a PC, I'm not sold on the need to stream photos. But it is a handy feature to have. Likewise, I never totally "got" the rationale for why cable providers include numerous music channels, so streaming Internet music (with its compressed sound) through a computer and then to the Moxi, so it could be sent to the receiver or TV speakers isn't a big draw for me. The feature works well enough, but there seem to be enough ways to get music to my receiver already so it's not something I will use often.
The same holds true for using the Moxi Net built in Web browser to view my "favorite Internet" sites on my TV. Convergence is a great thing, but there are times I want to use a computer and times when I want to watch TV, so this is a good feature that has limited usefulness.
One other notable feature from Moxi is a ticker that can be toggled on and off - something likely aimed at multi-taskers and information junkies, who need to get updates on weather and news while watching their shows. This can be easily turned on or off with the press of a button, so it could come in handy during commercials I suppose, or to get important information without needing to turn on the news.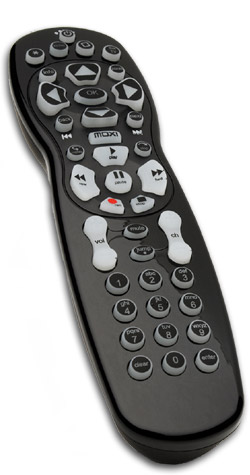 The Moxi also tries a little too hard with some other features, notably the inclusion of a dozen or so interactive games. These are simple arcade styled games that evoke 1980s era video games, as well as silly distractions such as an app that allows you to throw tomatoes at the screen during a program. Neither this application, nor the games really makes or breaks the system. The games are another nice feature, but the remote really doesn't do justice as a video game controller, making for something that brings only so much enjoyment to your TV.
Turn-ons:
75 hours of HD recording and 300 hours of SD recording (expandable via external HDD)
Web based recording
Plenty of extras (music, Internet, games)
No monthly subscription fee (other than those charged by your cable provider)
Turn-offs:
No PPV or Video On-Demand support
With rewind/fast forward, you'll need to be quick on the button
Remote not ideal for extra content, notably games
Relatively high up front cost ($499 for the Moxi box)
Final Thoughts:
So the bottom line is that the Moxi HD DVR is a really decent DVR with no additional per-month service charge or box rental fee. It has some features that go way beyond the basic cable box. It is a very good alternative to your cable-provided DVR, and while users will have to sacrifice some options - including Video On Demand from your cable provider - those who prefer to own their cable box rather than rent it will find Moxi a rather enticing option.
Where to Buy:
System Specs:
512 MB RAM
32 MB Flash
500 GB Hard Drive
Multi-stream unidirectional CableCARD-ready
RF cable input
HD component (Y, Pb, Pr) output
HDMI 1.3b output
S-Video output
Composite output
Stereo L/R output
Coax and Optical S/PDIF Outputs
2xUSB 2.0 (1 front, 1 back)
eSATA port
10/100 Mbps Ethernet
17"W x 3"H x 10.5"D
Approximately 15 lbs
Price: $499 (lowered from $799 in November, 2009)
System Requirements:
Digital Cable Subscription
Broadband Connection
Multi-stream CableCARD from your cable provider
Manufacturer's Contact Information:
ARRIS (Formerly Digeo), Kirkland Offices
8815 122nd Ave NE
Kirkland, WA 98033
Web site: moxi.com/us/home.html
Where to Buy: