Marantz Unveils New Flagship AV7701 Home Theater Preamp/Processor Packed with Performance and Features
By Rachel Cericola
It looks like Marantz wanted to please a lot of people with its new 7.2-channel AV7701 Preamplifier. The new component packs a lot of AV goodies under that chassis.
For starters, the AV7701 has all of the video processing you'd want in a new component, including the ability to upconvert SD and HD content to 4K high resolution video (3840x2160) for future displays.
It also features all of the latest digital audio decoders, for Dolby TrueHD, Dolby Pro Logic IIx, and DTS-HD Master Audio. There's also an option for additional front height or front width channels, as well as a bi-amp mode for the front main (L/R) speakers.
The AV7701 can even deliver new entertainment, through a host of networking features. Once the unit is connected to the web, it can stream Pandora, SiriusXM and Spotlify (assuming you have a subscription), as well as thousands of web radio stations.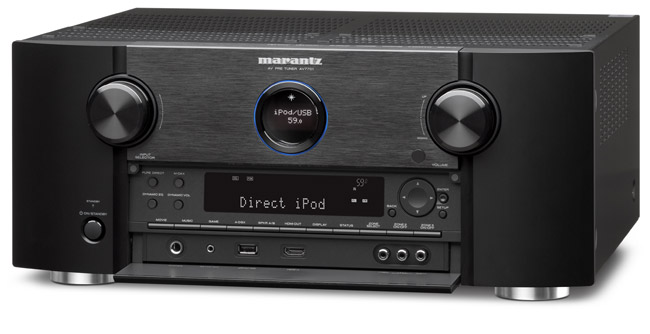 Another nice perk is that the AV7701 has Apple AirPlay. This hot little feature allows users to stream music from any networked iPad, iPod touch, iPhone, Mac or PC, right to the preamp. That includes all of the music you've got stored in iTunes, as well as streaming services like Pandora and Spotlify. If you don't have an iOS device or want to get another portable into the mix, you can pair the AV7701 with a Bluetooth device and the optional RX101 Bluetooth adapter.
Marantz has also designed the AV7701 to be quite the AV hub, with seven HDMI inputs, three HDMI outputs, a front-panel USB port and two sets of main audio outputs, including 7.2-channel unbalanced (RCA) jacks and 7.2-channel balanced (XLR) outputs.
There's also a full suite of Audyssey technologies, including the MultEQ XT automatic room acoustic correction, Dynamic Volume, Dynamic EQ, and DSX processing. Other features include Marantz M-DAX audio processing, DLNA 1.5 support, an aluminum front panel, and an illuminated front porthole display. This preamp also works with the newly designed Marantz Remote App, which is available as a free download for iOS and Android devices.
Marantz will be shipping the AV7701 this month, with an MSRP of $1699.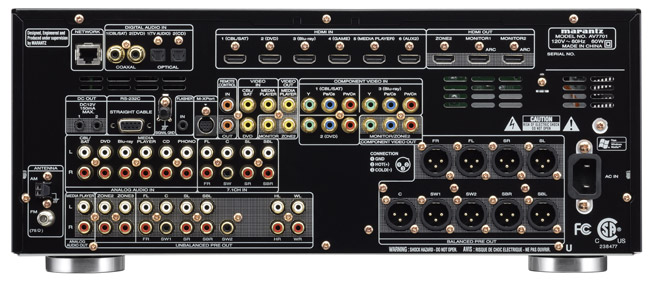 Where to Buy: