Making the Most of your Panasonic VIERA Plasma or LED TV
By Chris Boylan
We get lots of questions from readers (and from friends and family) as to how to make their TVs work or look their best. If you've recently bought a Panasonic VIERA TV, be it a plasma or LED/LCD set, here are a few things you can do to enhance your enjoyment of the set.
"Standard" Mode is Evil and Must Be Stopped
All TVs generally ship to the store and to customers' homes with a "Standard" picture mode that is far from ideal. In the old days, the brightness and contrast used to be cranked so as to make the set look good on a showroom floor but not so good in the subdued lighting of the home. In newer sets, particularly newer Panasonic plasma TVs, standard mode is set up to use the least amount of electricity. This is done in order to meet Energy Star power consumption guidelines. The result is a dull, lifeless picture in "Standard" mode.
The good news is that you can switch the TV over to "Cinema" mode, and get a picture that is not only brighter and more dynamic, but also closer to professional standards. In other words, the color temperature, color saturation, brightness and contrast are closer to what you'd find on a professionally calibrated TV. This makes the image more natural and realistic looking. Note that Panasonic TVs, like most other brands, will "remember" your picture mode choice for each input setting, so you should switch all of your inputs (HDMI 1, HDMI 2, TV, Network apps, etc.) to Cinema mode. Some high end Panasonic models also offer a "Home Theater" or "THX" picture mode which look pretty good as well. Experiment with these and see which looks best to your eye.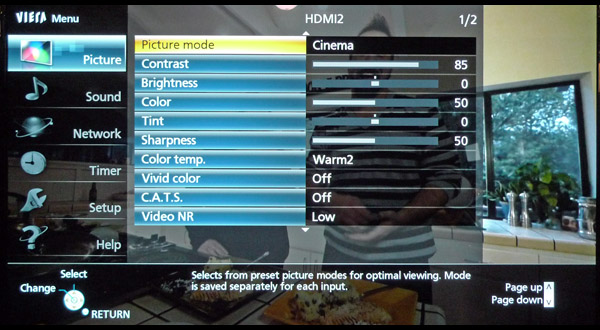 Ban the Banner Ads
One potentially unwelcome feature that reared its head in 2012 and continued on the 2013 sets was the little banner ad that loads when you first turn on the TV. Panasonic found a way to generate some extra revenue by offering sponsorship of its VIERA Connect apps platform. But if you don't like seeing these ads load every time you turn on your TV, there's an easy way to turn them off. Just hit the Menu button on your remote then hit the Setup tab, then go to "Display Customization... Viera Connect Banner" and switch that to OFF. The setting may be slightly different from model to model, but this is the exact setting on a VT60 series plasma.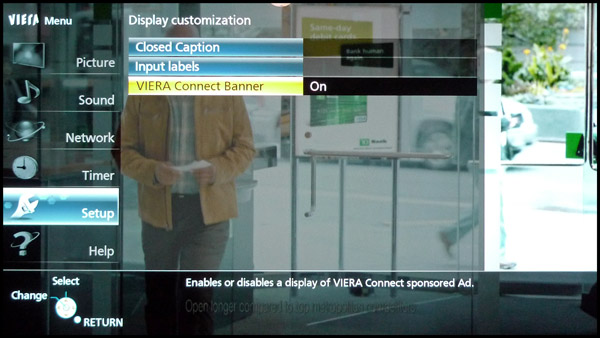 Why is my Picture so Small (that's what she said)?
The new 2013 VIERA TVs have a customizable Home Screen which loads up at start-up. Panasonic offers this option to make sure customers see all the great widgets and streaming apps that are available. But having this set-up means your TV programs are in a small window that takes up about 45% of the screen. A quick tap on the "OK" button on the remote will make the active image go to full screen. But if you want to just see a full screen by default at start-up, that's easy to change. Hit the "Home" button on the remote twice and select "Full Screen TV" to get a full screen image at start-up. Here you can also choose different home screen layouts if you desire.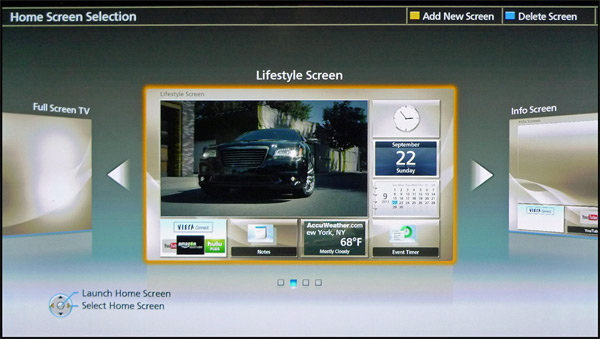 Smooth Operator
One feature that started out on LED and LCD TVs is something called "Motion Smoothing" or "Motion Interpolation." It was actually first introduced to make up for the inability of most LED and LCD TVs to reproduce moving images without some degree of bluriness or image trailing. But the motion smoothing feature has made it onto plasma TVs as well, and it's usually turned on by default. If you are watching a movie and notice that the motion looks artificially smooth (more like video than film), then you can easily disable this feature. Just go into the menu to picture settings, scroll down to page two and set "Motion smoother" to "Off."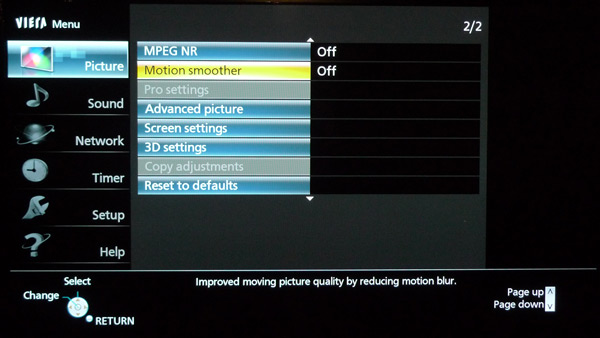 If you really want to make the most of your new HDTV, it's still best to hire a professional calibrator. But if you're just looking for a few tweaks, then the above should help enhance your enjoyment of that new VIERA TV.
Keep those cards and letters coming!
if you have a question for one of our home theater experts, shoot us an e-mail to "
Ask The Expert
." We'll select among these for future installments in this column. Due to the volume of requests we receive, we cannot reply to each question personally.