Star Wars Still Going Strong with New Blu-ray Discs, Games and Toys
By Peter Suciu
'Tis the season of holiday gift guide shows. Summer is ironically the time when various marketing and PR firms gather their upcoming products together to present them to the media. In the past few weeks there have been no shortage of holiday gift ideas.
It is enough to make the hard working members of the media ask, "isn't the economy in recession?" But gift guide shows and summer go together like the 4th of July and fireworks, and while this reporter has seen enough of gifts for "mom" already, Lucasfilm and LucasArts mixed things up for that inner geek in all of us, from aged 8 to 80.
This year all things Star Wars landed in New York City like an Imperial invasion of Hoth, if Hoth melted and was covered in water instead of snow (which New York is thanks to the wettest June on record). So while you might have to wait a little while to get your hands on these, the force was very strong indeed.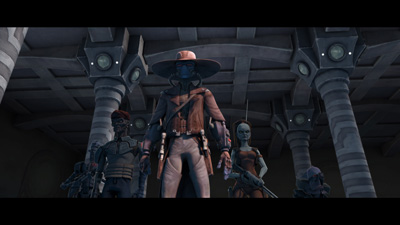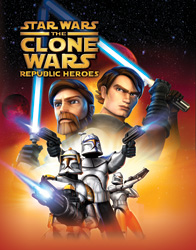 Star Wars: The Clone Wars
"Continue, these Clone Wars will," is something Yoda might say, or practically anyone in marketing at Lucasfilm. Set between Episode II and Episode III: Star Wars: The Clone Wars has been a hit for Cartoon Network, and the first season box set of the made-for-TV series will arrive this fall on DVD and Blu-ray. Available in a deluxe box set this will include a booklet with artwork, and other factoids from the series.
The battle between the Republic and the separatists will also continue in game form with the latest title, Star Wars The Clone Wars: Republic Heroes, which allows you to play as a your favorite Jedi or clone troopers (if you actually can tell the clones apart of course). You'll get to pursue a mysterious bounty hunter named Cad Bane, and battle the all-new Skakoan super villain Kul Teska. Since neither of these baddies was around for Episode III we assume you get to defeat them and send them to Sith hell in the games. But they'll get to live on in action figure form!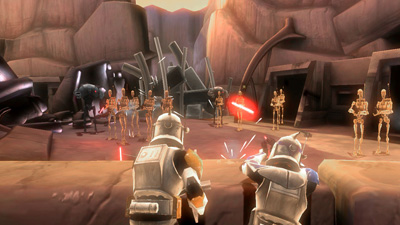 Star Wars The Clone Wars: Republic Heroes will release this September for the Microsoft Xbox 360 video game and entertainment system, PLAYSTATION 3 computer entertainment system, Wii, PlayStation 2 computer entertainment system, PSP (PlayStationPortable) system, Nintendo DS and PC.
Toys for Hardcore Fans of All Ages.
And speaking of action figures, LucasArts showcased many other products including the latest action figures that will available later this year. May the force be with you, and may your wallet be afford them all.