Logitech Squeezebox Radio Review
By Rachel Cericola
Logitech Squeezebox Radio Review
Rock Around the Dial
Logitech has managed to squeeze its Squeezebox media streaming product into a few new shapes and sizes since acquiring maker Slim Devices a few years ago. The Squeezebox Radio isn't the unit's smallest design (that would be the Squeezebox Touch). However, at $199, it does showcase the brand's smallest price tag.
That price is pretty sweet for access to thousands of radio stations around the world -- as well as the PCs around your house. If that's not enough, this streaming media player adds an insane amount of online services and even Facebook access, right from your bedside table.
The Set Up
Out of the box, the Squeezebox Radio is a cute, compact device with very few pieces. This makes for endless placement options and an easy setup. If you have a wireless network, all you will need to get the device going is an outlet for the included power cord. If you plan to hardwire it, you will need to place it within proximity of your Ethernet jack and also have your own cable to connect it. Plug that cable into the back, right above the power jack. There is also an auxiliary jack, so that you can add your iPod or other external music device. For this, Logitech has been kind enough to include a cord.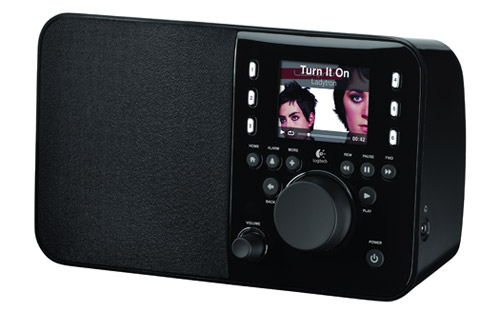 Plug in the device and Logitech will instruct you to "Free your music." They will also take you through a remarkably simple set-up process. First, choose your language by turning and pressing the giant dial, the most prominent control item on the unit. It took about a second for the unit to find our wireless network.
From there, if your network is password-protected, you will be prompted to choose between WEP 64-bit, which uses 10 characters, or WEP 128-bit, which has 26. Once we entered the password, it took less than 10 seconds to move onto the next step: a software update. The machine downloaded and installed the update, then rebooted -- all in just over 2 minutes.
Once we were installed and updated, we still had to create an account. You'll need to provide a valid email address and a password, which involves a lot of scrolling and little beeps from the device. After that, you are taken to the Squeezebox Radio home page. The selections include: Now Playing, My Music, Internet Radio, My Apps, Favorites, and Settings.
Ready to Rock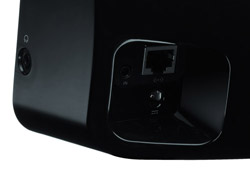 Internet Radio will get your some instant gratification. There, you can choose from Local stations or by genre (Music, Talk, Sports, and World). We went right for the Staff Picks, which allows you to choose from the Best of Internet Radio, Most Popular, By Genre or By City. We got right into the '80s station and started rocking. The selections were decent too, with most hits from Stray Cats, INXS, Oingo Boingo and The B-52's. While each song plays, you also get the band name, song title and station name on the Radio's 2.4-inch color LCD. Another thing the screen streams: commercials. After eight songs, we sat through three commercials before getting another block. Someone has to pay for that free music, you know!  It's important to note, however, that some internet stations (and services) are still (somehow) commercial free.
We responded to our '80s flashback by turning the volume up to 80, which gave us decent rocking levels. Even at full power, the Radio was loud, but never distorted. Still, this unit is obviously designed for one or maybe two rooms' worth of musical enjoyment. Don't expect to go down the hall, out to the yard or anywhere too far from view. This unit's 3/4-inch tweeter and 3-inch woofer just don't have the power to pump up the volume that loud.
The Squeezebox Radio doesn't just allow you to enjoy outside content, but also all of the music you've been hoarding on your computer. To tap into that collection, you will need the Squeezebox Server, a free download from the Squeezebox website. From there, just name your server, fill in an account email and password, and you can stream your computer's many music files -- the MP3, FLAC, WAV, AIFF, WMA, Ogg Vorbis, AAC, Apple Lossless ones, anyway. All of those files can be accessed under My Music in the Radio's main menu.
When we hooked our iPod up to the unit, the music sounded as nice as anything else that comes through the Radio. However, the navigation wasn't as pretty. You will need to use your iPod to scroll through songs. The Radio's LCD is basically useless during iPod play, only informing you that Line In is in effect. There's no album art, no song or band names and sadly, no video capabilities - it's just the audio.
Settings allows you to do things like Shuffle songs or albums, Repeat songs or playlists, add or delete Sound Effects on the device, set a Sleep timer or your Alarm Clock.
App Attack
To keep from confusing you, Logitech has labeled everything that's not from your home collection or web radio as an "app." Many of the apps are free, but others require you to create an account or pay fees.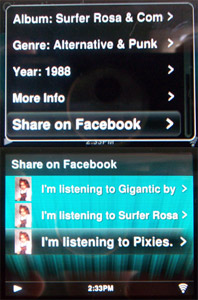 At the time of this review, there were two Featured Apps: Facebook and Queen. The Queen app is a limited-time peek at the band's new album. We downloaded the Queen app, only to receive error messages that we couldn't play any of the songs. We could view the photos, however. The next day, we turned on the radio, ready to contact customer support. Much to our surprise, the unit gave us a message that it was connecting to the Squeezebox server, and we were happily rocking out to Queen's greatest hits. We can't explain what happened, except that most likely, the server was down when we originally tried to access the music files.
With Facebook, we were able to share what music we were listening to, as well as view our News Feed, along with everyone's little avatar. If you see a status that looks remotely interesting, you can click on it (again, using the giant dial) and get the entire entry. We could also view our Wall, photos and a listing of friends. Click on friends to see their wall, photos and favorite music (if the user has entered that info). It's certainly not a necessity, but Logitech has made the Squeezebox Radio slightly more hip by adding this app. The only problem is that Facebook is all about being social. Aside from sharing music, the app is more for lurkers that don't want the ability to comment.
Another app is Sirius Radio. You'll need to pay for that pleasure, whether you have an existing account or not. Subscribers can add on another radio for $3 a month. If you're unsure, the unit offers a full 30-month free trial, which provided 24-hour access to all of the music channels, as well as NPR, Martha Stewart, Howard Stern and the endless other selections. The sound came in slightly better at higher volumes than some of the web radio stations that we tried out. Whether or not you need that many more musical selections will depend on your budget. For existing users though, another three bucks would be worth having access to that much music in your bedroom, office or kitchen.
Other apps include Live365, Last.fm, Sky.fm, Pandora, Slacker, Napster, Rhapsody, the Amazon CD Store, Podcast, Flickr, Mediafly, and many more. There's also a Sounds & Effects app. The Sounds come off like a slew of standard cell phone ringtones. The Effects seem a bit more useful, for those who hate to sleep alone, or who need to mask out the sound of the city or their neighbors with something more soothing like the sound of lapping waves. It's a cool little freebie, although we need to know:  Who needs the sounds of crickets or a blender?
Turn Ons
Decent sound for the size
Endless audio options, as well as access to Facebook
Insanely easy setup process
Can be synchronized with any Squeezebox or Transporter for whole-house music
Built-in Wi-Fi
Turn Offs
No remote
No artwork/control for iPod content
Somewhat bizarre musical sounds & sound effects
No ability to comment on Facebook
Final Thoughts
You may not be able to put a price on endless musical options from around the globe, or around your house, but we can. For $199, the Squeezebox Radio seems just right.
System Requirements

256MB RAM or 80MB available hard disk space
Ethernet or 802.11b/g wireless home network
Broadband Internet connection required for Internet radio and music services
Supported Operating Systems
Windows XP/2000/NT/7, Windows Vista, 733 MHz Premium
Mac OS X 10.3.5 or later
Linux/BSD/Solaris (Perl 5.8.3 or later)
Technical Specifications
3/4-inch soft-dome tweeter, 3-inch long-throw woofer
Bi-amplified class D design with digital crossover
6 presets buttons allow one-touch access to favorite radio stations and playlists
7-day alarm clock
Built-in 802.11g wireless
Supports WPA Personal, WPA2-AES and 64/128-bit WEP encryption
10/100 Base-T Ethernet port
Line-in via 3.5 mm stereo jack
2.4-inch 24-bit color LCD
Supports MP3, Ogg Vorbis, AAC and WMA web radio streams
Supports MP3, FLAC, WAV, AIFF, WMA, Ogg Vorbis, AAC, Apple Lossless music files
What's in the Box?
Wi-Fi Internet radio
Power adapter with removable plug
User documentation
Line-in cord for most iPod and other MP3 players
2-year limited hardware warranty
Manufacturer's Contact Information:
Logitech Inc.
6505 Kaiser Drive
Fremont, CA 94555
(800) 231-7717
Web site: www.logitechsqueezebox.com
Where to Buy: