Live From Abbey Road: The Best of Season One on Blu-ray Disc Review
By Brandon A. DuHamel
"Leave me out with the waste
This is not what I do
It's the wrong kind of place
To be thinking of you
It's the wrong time
For somebody new
It's a small crime
And I've got no excuse…"
- "9 Crimes," Damien Rice

The Series

In the absence of any notable amount of real musical programming on the once relevant MTV and VH1 cable networks there has been a proliferation of musical programming on other networks. PBS and those cable networks that cater to the arts such as Bravo and Sundance Channel in particular seem to have taken up the cause. Bringing back true live musical performance series that hearken back to the golden era of musical programming on television in the '60's and 70's, these shows revel in bringing a variety of true musical talents from all genres to perform live and they are a boon of musical entertainment to true music lovers all over. Shows such as Soundstage, the long-running Austin City Limits and a host of others have stepped up to fill the void.

Live From Abbey Road displays the strengths of the famous 70-year-old British recording studio made famous by The Beatles on the 1960s. It is the place where stereophonic recording was invented, with rooms specially built for sound recordings, it proves it is more than capable of capturing the sounds of all genres. In short, the strength of the Abbey Road brand name and the mystique surrounding the studio make for the perfect series for true music connoisseurs.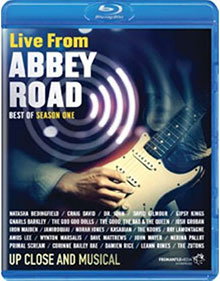 From the hip jazz of Wynton Marsalis' "You and Me," Irish singer/songwriter Damien Rice's pained confessional of a relationship turned sour "9 Crimes," and Iron Maiden's nearly operatic rendering of their metal classic "Hallowed Be Thy Name," to the frenetically dizzying, Sly and the Family Stone psychedelic funk influenced "Smiley Faces" from Gnarls Barkley or Corinne Bailey Rae's sweet acoustic rendering of her international hit "Put Your Records On," there's not much here for anyone to balk at. Move over American Idol, there's a real music show in town.
The Picture
You'll have to settle for 1080i for this release and, although it is competently done and looks quite good most of the time, there are some definite motion artifacts visible, particularly on the sound-treated walls of the studio in the background, and the picture has a slight softness that one can only attribute to the 1080i source. Other than those things, the picture looks well detailed with accurate color saturation, deep blacks and no noticeable compression artifacts visible in its AVC/MPEG-4 encoding.
The Sound
Abbey Road proves itself an excellent recording space for each of the varying musical styles that the series puts forth through two lossless mixes. BCI has provided both DTS-HD Master Audio 5.1 and Dolby TrueHD 5.1 lossless mixes for this superbly captured series. Whether you chose the former or the latter you will be entertained with masterfully mixed musical performance unsullied by any distortions, with clear vocals, clean and robust midrange and ample low frequencies.
The performances are all mixed using the surround channels for ambience with the music mixed across the front. Inexplicably, however, the center channel is only active for the brief interview segments between performances. During the performances, the mix is basically a 4.1 mix with a phantom center. This one flaw takes away from the clear, distinct center that should be present, but does not render the music less enjoyable in any way.

Some may be wondering of there is any advantage with one lossless codec over the other. I will say this, the TrueHD mix is mastered to a much louder level and in my own tests switching back and forth between the two, I felt that the DTS-HD MA offered a slightly wider dynamic range giving the music more breathing room.

The Extras

The extras offered on this release are limited to some brief interview segments with some of the artists featured on the disc and a short behind-the-scenes featurette. All are presented in standard definition and, while some are interesting, none are so compelling as to require repeat viewing.

Final Thoughts

After so many years of the musical drivel and spectacle that is the so-called "talent show" American Idol, and in the absence of any substantial musical programming of quality from MTV, it is truly heartening to finally see the reemergence of quality musical programming arriving on television. Sidestepping the contemporary trend of separating everything into categories, Live from Abbey Road highlights musical acts from all genres as long as they have the talent. This Blu-ray Disc release, which highlights the first season, is an excellent introduction to the series and should not be missed by any music fan.

Where to Buy

Product Details
Performers: John Mayer, Corinne Bailey Rae, Dr. John, Craig David, Damien Rice, etc.
Audio: DTS-HD Master Audio 5.1, Dolby TrueHD 5.1
Region: A
Aspect Ratio: 1.78:1
Number of discs: 1
Rating: Not Rated
Studio: Navarre Corporation
Blu-ray Disc Release Date: November 11, 2008
Run Time: 220 minutes
List Price: $26.98
Extras:

Extended Artist Interviews