Licence to Kill on Blu-ray Disc Review
By Chris Chiarella
The Movie
With Licence to Kill, star Timothy Dalton ended the shortest tenure of any 007 except one-hit wonder George Lazenby (despite the fact that many hardcore Bond-philes consider Lazenby's On Her Majesty's Secret Service to be the best of the entire film series) with only two Bond films under cummerbund. Sadly, by the end of the 1980s, drug dealer villains like we meet here had become passé, in films as diverse as Lethal Weapon and Blue Velvet, not to mention the weekly frolics of Miami Vice, which had run its course and went off the air the same year Licence was released.
This PG-13 movie is extremely dark at times, and not helped by some stiff dialogue and a sappy romantic subplot. But the stakes are quite high, as Bond is not merely alone but hunted by both the United States and British governments after going rogue on a quest for revenge, even before he runs afoul of a ruthless Colombian drug lord, Look for a young Benicio del Toro as a psycho killer, too.
The Picture
The 2.35:1 video here is largely stunning, highly detailed and wonderfully natural with no blemishes or distractions. Even slight anomalies in focus are preserved, and the colors are consistently vibrant. Perhaps some of the blacks, or the occasional background, or a dim, smoky bar scene could look a little sharper, but this is one Bond that is definitely dressed to impress.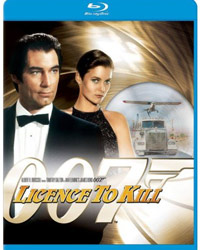 The Sound
I can hardly believe that this movie predates digital surround, as the transmogrified DTS-HD Master Audio 5.1 English soundtrack is a celebration of all the hardware on display: helicopters, tanks, bazookas, missiles, and of course guns, guns, guns! And once the tanker trucks start exploding you'd better hang onto your subwoofer, although the bass is actually pretty generous throughout the entire movie. The track is aggressive when it needs to be, brimming with smart environmental touches when smaller scenes call for them, while the music reveals the big, spacious sound of the orchestra. The rear channels too are exceptionally clear.
The Extras
The first of two commentaries pulls together director John Glen and select cast members, hosted by John Cork of the Ian Fleming Foundation and featuring Carey Lowell, Robert Davi, Benicio del Toro, David Hedison and Desmond Llewellyn. The alternate channel proffers the recollections of producer Michael G. Wilson, director of photography Alec Mills, production designer Peter Lamont, visual effects supervisor John Richardson, special effects supervisor Chris Corbould, production buyer Ron Quelch, assistant art director Neil Lamont, second unit director Arthur Wooster, advertising consultant Don Smolen, stunt coordinator Paul Weston and some of his stunt performers. From here, we are treated to the usual banquet of Bond vignettes new and old.
"Declassified: MI6 Vault" begins with nine deleted scenes with introductions by director John Glen (ten-and-a-half-minutes, in HD), followed by the "Bond '89" on-set interviews (twelve minutes, SD), "On the Set with John Glen," essentially him narrating video shot behind-the-scenes (nine-and-a-half minutes, SD, "On Location with Peter Lamont" (five-and-a-half-minutes, SD, ditto the production designer) and "Ground Check with Corky Fornoff" (five minutes, SD) peeking inside a specially rigged "story airplane." "Mission Dossier" includes "Inside Licence to Kill: A Documentary" (32 minutes, HD), a behind-the-scenes production featurette (five minutes, SD), the "Kenworth Truck Stunt Film" (nine-and-a-half minutes, SD) showcasing the work of the big-rig specialists, along with the Gladys Knight music video for her title song and Patti LaBelle's for "If You Asked Me To." Also on the disc is a still gallery ("Image Database") and publicity archive ("Ministry of Propaganda.")
Final Thoughts
Better than I remembered but still worn around the edges, Licence sent 007 on a six-year hiatus (until 1995's GoldenEye), but he certainly went out with a bang, one still ringing in my ears from all the DTS-HD multichannel action. And for fans of Bond or just good examples of hjigh definition sound and imagery, this disc has a license to thrill.
Where to Buy:
Product Details
Actors: Timothy Dalton, Carey Lowell, Robert Davi, Talisa Soto, Anthony Zerbe, Frank McRae, David Hedison, Wayne Newton, Benicio Del Toro, Anthony Starke, Everett McGill, Desmond Llewelyn, Pedro Armendáriz Jr., Robert Brown, Priscilla Barnes
Director: John Glen
Audio Format/Languages: DTS-HD Master Audio 5.1 (English), Dolby Digital 5.1 (French, Spanish), Dolby Digital Surround 2.0 (English)
Subtitles: English SDH, Spanish, Cantonese, Mandarin, Korean
Aspect Ratio: 2.35:1
Number of discs: 1
Rating: PG-13
Studio: MGM/Fox
Release Date: May 12, 2009
Run Time: 133 minutes
List Price: $34.98
Extras:

MI6 Audio Commentary by John Glen, Carey Lowell, Robert Davi, Benicio del Toro, David Hedison, Desmond Llewelyn, Michael G. Wilson, Alec Mills, Peter Lamont, John Richardson, Chris Corbould, Ron Quelch, Neil Lamont, Arthur Wooster, Don Smolen, Paul Weston et. al.
Declassified: MI6 Vault
Mission Dossier
007 Mission Control
Ministry of Propaganda
Image Database